There I was – my first time on a surfboard, standing proud, knees bent in a wide stance, arms stretched out to each side, sun on my excited face and the balmy Hawaiian breeze in my hair.
I was channeling everything I had ever seen about surfing for this one climactic moment: my very first surfing lesson, taking place on Kauai's infamous North Shore with Hawaiian Surfing Adventures surf school.
"Good job," said Masaijah Lani, my surfing instructor for the day.  "Now just remember what to do when you're actually out there on the water."  I stepped off my board, out of my daydream and onto dry land where we were doing a "dry-run" before heading out into the water for the real thing.
10 Surfing tips for first-time surfers and beginners
Despite my established snowboarding skills, I knew my first attempt at surfing wouldn't be easy and I was warned multiple times that I would never "get it" the first time.  Criticisms aside, I was more stoked than ever for my first surfing lesson and excited to prove that this Canadian-snowboarder-girl could learn to surf.
So, here are 10 Surfing Tips for First-Time Surfers and Beginners on what to expect and how you can maximize your first surfing experience!
1) Knowing how to swim is a huge plus!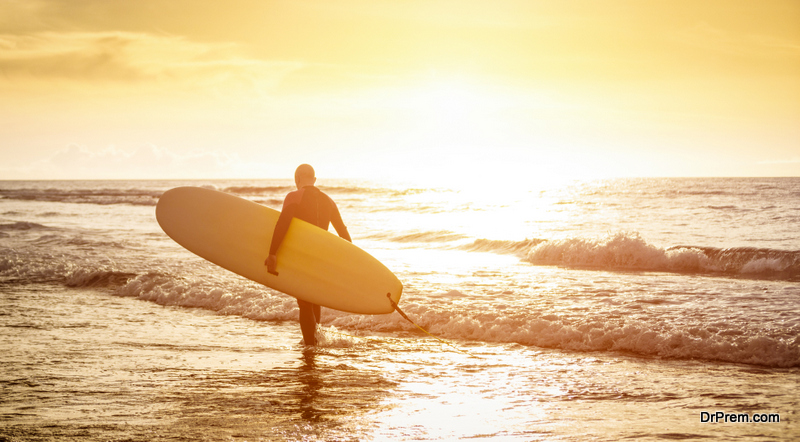 You wouldn't go snorkeling or scuba diving without knowing how to swim and the same goes for surfing.  After all, surfing is all about finding the best and the biggest waves to ride which often mean that there will be strong and powerful currents, dangerous to non-swimmers.  Lucky enough, I had years of swimming lessons and high school swim team training behind me.
2) Pick a good destination to learn how to surf
The destination of choice for my first-time surfing experience was Kauai's Hanalei Bay in Hawaii, noted as one of the best places in the world for surfing along with Hawaii's Maui, Big Island and Oahu.  In fact, tradition goes that surfing first came from the Polynesians and was a sport for royalty and clan chiefs to show their superiority.  The tradition was then passed on to Hawaiian islands when Polynesians migrated to the islands that would become one of the surfing capitals of the world.  Other well-known destinations include California, Florida, Portugal, Spain, France, South Africa, Australia, Tahiti, Fiji, Indonesia, Mexico and Costa Rica.
3) Take a lesson: find a surfing school or an experienced surfer/teacher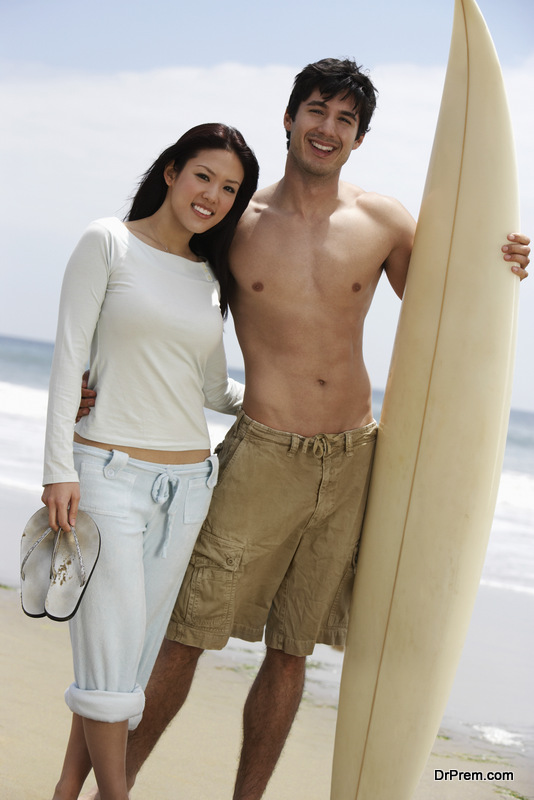 Learning the basics is important: how to stand, how to approach a wave, how to look for the right wave, watch for other surfers and stay safe when you're surfing.  My surfing lesson with Hawaiian Surfing Adventures took 15 to 20 minutes and before I knew it, I was applying my knowledge on the water – semi-successfully!  It's worth your time to learn how to do it properly for your own safety.
4) Be prepared to drink salt water
A downside to surfing are the wipe outs and mouthfuls of salt water that you'll inevitably swallow.  Fact of life.  Coming from a place where I'm used to mouthfuls of shockingly cold snow, the salt water isn't so bad – and it's much softer than snow and ice.
5) Wear a wet suit or rash guard long t-shirt
Wet suits are great for staying warm since most surfing waters can be chilly.  They also act as a rash guard for your skin since you will rub up a lot against your surfboard. Similarly, a rash guard acts as a barrier for the upper half of your body to keep your arms and torso from rubbing against the board.  Both are usually rented out at surfing schools but if you are planning on surfing more than a handful of times, it's worth your while to spring for a wetsuit since surfers are known to urinate in their wetsuits to stay warm – everyone does it, so I'm told.
6) Activities that will help you surf more easily
As a seasoned snowboarder, a yoga student and a semi-decent fitness/gym-ball balancer, surfing for the first time didn't instantaneously become second nature it was, however, a lot easier.  From my experience in snowboarding, core strengthening and balancing, I was actually able to stand up, ride a few waves and even change directions during the one-hour "in the water" session.  It must be all the natarajasana.
7) Time to start working out those arms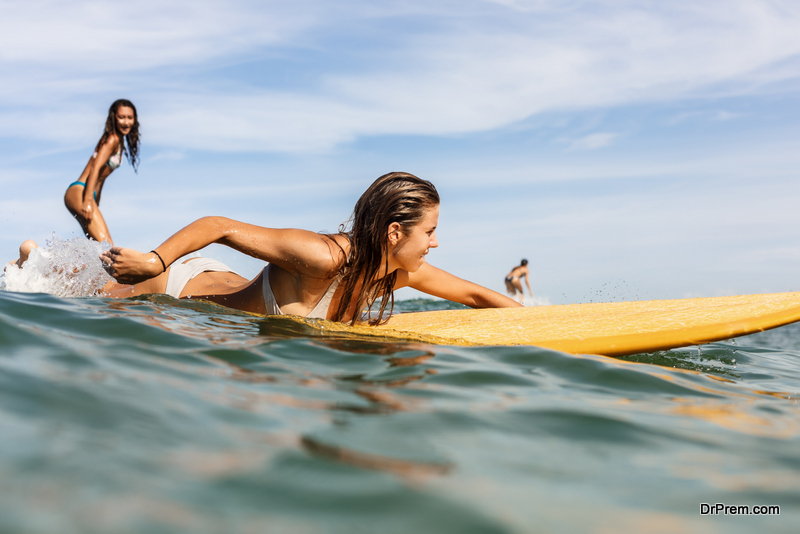 One thing that I wasn't ready for was the continuous "pushing up" that surfers have to do – to get on the board to lie down and paddle and then to get up to your feet once you catch a wave.  I'd better start those curls, arm raises and pushups.
8) Get the surf "stance" down

Bend your knees and keep your arms out, focus on an unmoving object in front of you and keep your feet firmly planted.  Seems easy, right?  It works when you're on dry ground!  The stance is important but so is being able to find your balance once you get into your stance.  Get the stance, remember to keep your knees bent and you're on your way!
9) Right on! Learn to talk like a surfer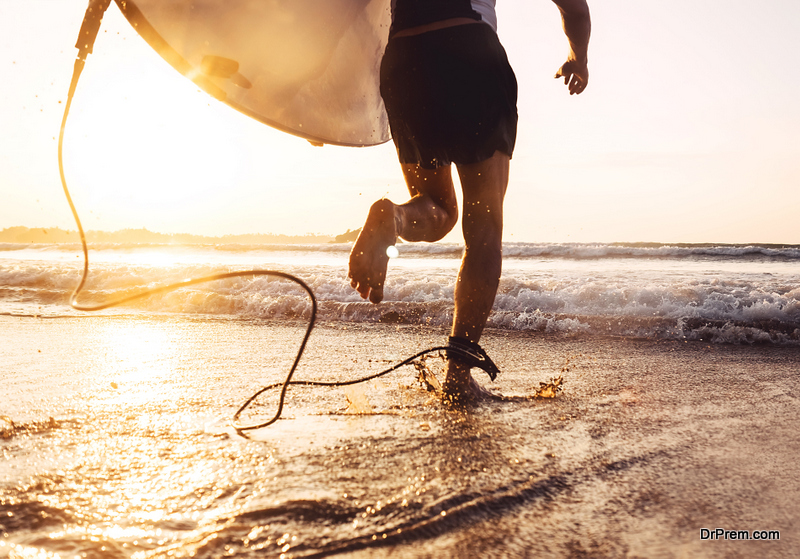 One of the most entertaining parts about learning how to surf was learning from Masaijah and others about the surfer lingo.  "So, what does 'catching a wave' actually entail," I asked Masaijah, my instructor, to his amusement.  "Silly Canadian," he probably thought.  "Yes, indeed, that was a – gnarly – ride, err, wave," I offered upon one of my bigger wipe-outs, all in good fun.
10) Keep getting up and don't give up
Keep getting up – no matter how sore your arms may be or no matter how tired you are of falling off!  Once you catch that wave, just as I did a few times during my first surfing experience, it's all worth it.
My outcome?  I'm proud to say that despite the little amounts of faith most people had in my first attempt at surfing, I was able to get up several times and rode a few waves until they broke near the beach.  Not bad for a silly Canadian snowboarder, eh?
Find out more about Hawaiian Surfing Adventures in Hanalei Bay on the North Shore in Kauai, Hawaii and be sure to say hello to Mitchell, Lynn and Masaijah!