The electric atmosphere of music festivals is unbeatable. You get carried away with the music, with hundreds of thousands of fans. There is special connection between you, the music and the other festival goers. Many friendships are formed in festivals, with people from around the world who travel to be a part of their favorite music scene. Check out this list of the top music festivals of the world so that you can pick the one that resonates with you.
22 top music festivals around the world
Envision Festival, Uvita, Costa Rica – 17-24 February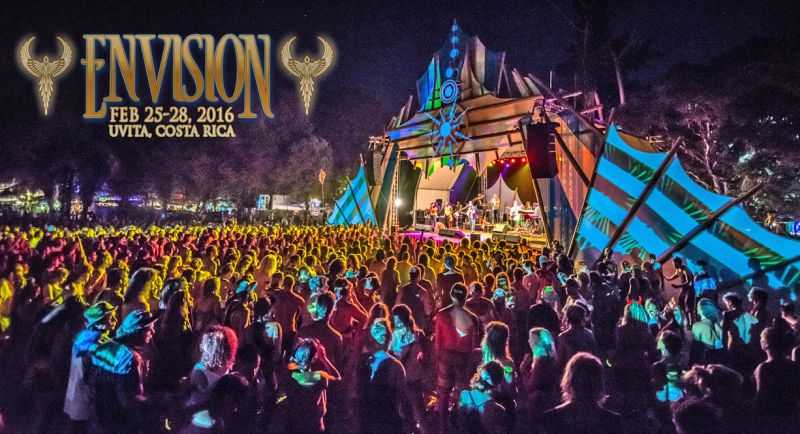 Image Source : news.co.cr
Surreal, mind blowing and unique, this festival  is 'The Original Jungle Festival', where various genres of music can be experienced. The festival is conducted with eco-initiatives as it supports permaculture, movement, health, acceptance as well as community. Situated at the edge of the jungle, and on the shore, the festival delivers a magical experience for seven days. You get to interact with like-minded people from all over the world.
Electric Daisy Carnival, Las Vegas, US – June, 2020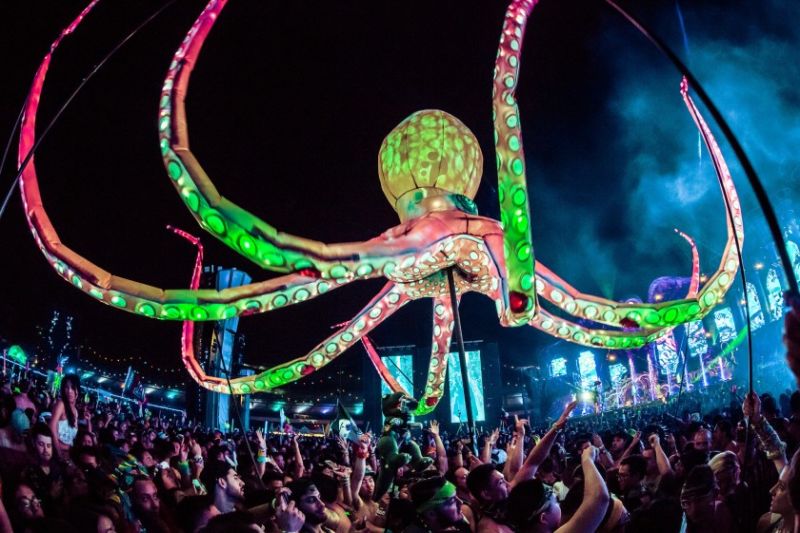 Image Source : ca-times.brightspotcdn.com
This is a classic rave fest held every year in June in Las Vegas. It's one of the top music festivals in the world, and the biggest EDM (electronic dance music) festival. House, hardstyle, techno, bass, bounce, trap and many other forms of EDM can be enjoyed. This festival is held in other parts of the world too, such as Mexico, Puerto Rico, New York.
It gained a lot of popularity when it was featured in the Documentary EDC 2013: Under the Electric Sky. DJs like Armin van Buuren, Yellow Claw, Dimitri Vegas and Like Mike have headlined here. Definitely the place to be, if you're into EDM!
SXM, Saint Martin, The Caribbean – March 2020
It's only 4 years since the festival came into being, but it has made a reputation of being one of the top music festivals around the globe for electronic music. The locations of the stages vary from villas, beaches, nightclubs and boats, thus managing to keep things interesting for the music lovers.
The festival's venues are artistically crafted from recycled materials. The performers are new, rising stars or established musicians of electronic, house as well as techno. Get into the party mood here with cocktail parties lasting until dawn, and pool parties all night long.
Sziget, Budapest, Hungary – August 2020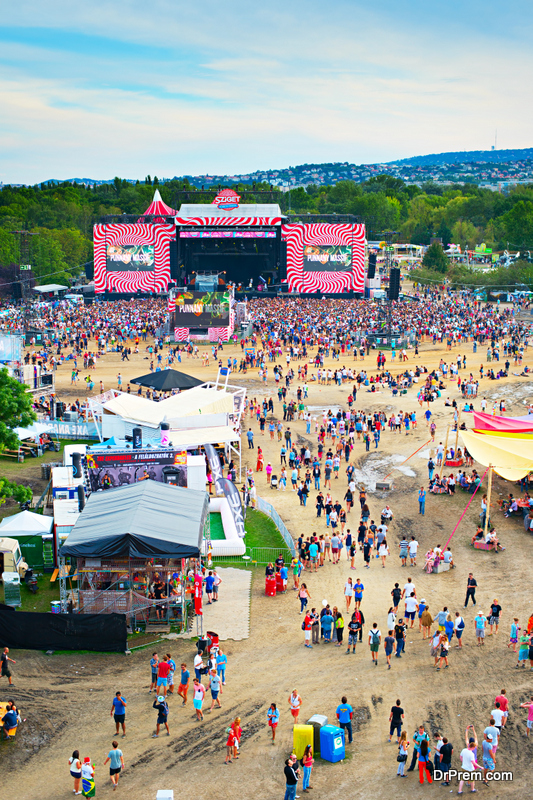 Held every year in Budapest, it had a somber beginning in 1993, during the student unrest and the political upheaval. It is undoubtedly one of the top music festivals around the globe, and one of Europe's best. Crowds of 500,000 Hungarians and other music lovers attend this festival, which offers a multi-genre taste of music. You have to put this festival on your bucket list and enjoy music from some of the most famous musicians such as Arctic Monkeys, Muse, Rihanna and more. There are dance stages, theatre, cinema, ultra modern circus shows, various sporting events and a beach near the Danube to keep you occupied.
Rock in Rio, Madrid, Lisbon –2020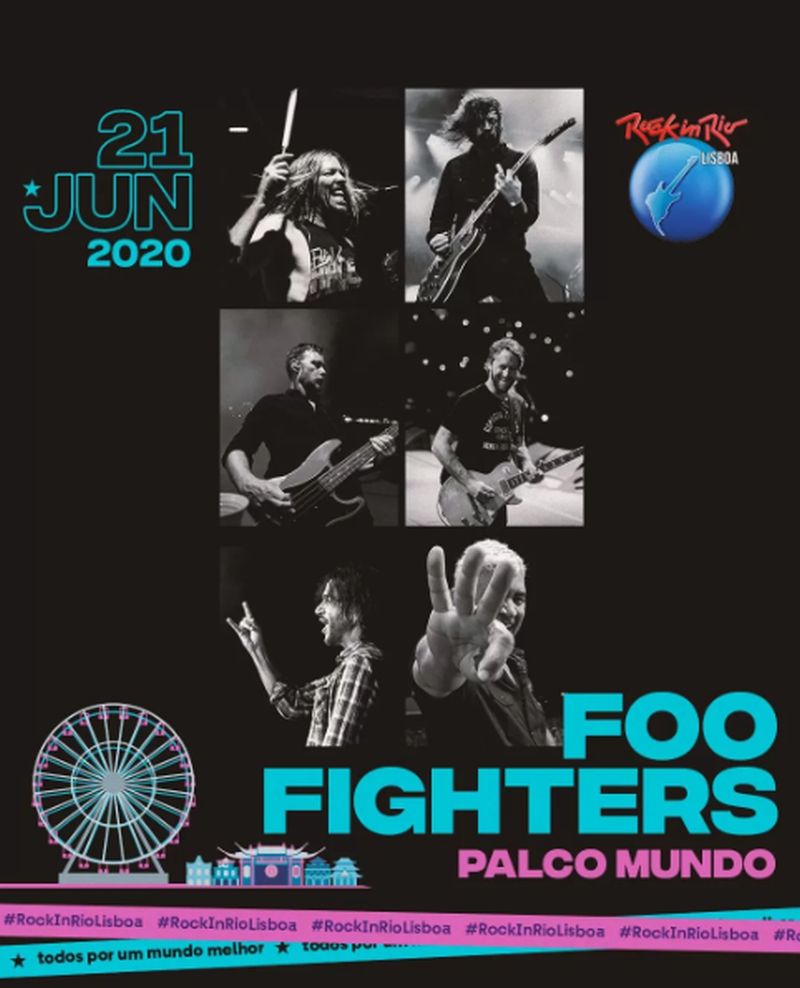 Image Source : en.concerts-metal.com
This is South America's biggest music festival, and the world's shiniest! It has a star-studded line-up packing in huge headliners. Katy Perry, Sir Elton John, Rod Stewart, Queen, Metallica and Rihanna have performed to huge crowds here. In 2021, it will be held in Brazil. The crowds here are mind-boggling – up to 700,000 in 2015. If you want to be part of one of the biggest music events of the world, be sure to attend this one.
New Orleans, Jazz and Heritage Festival, New Orleans, US – April, 2020
This is one of the top music festivals around the globe, which is steeped in the African American culture as well as history. The number of people attending is close to half a million as music lovers come to pay homage to blue, jazz and gospel artists.
Mysteryland, Haarlemmermer, Netherlands – August 2020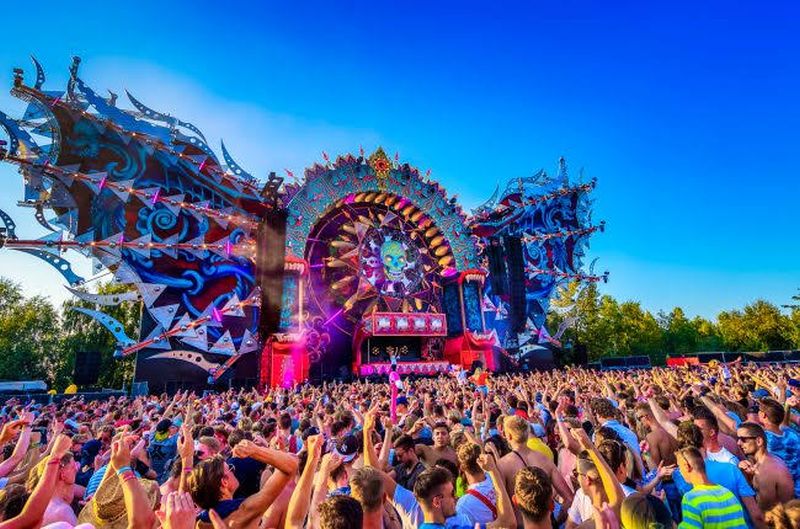 Image Source : encrypted-tbn0.gstatic.com
Started in 1993, this is the longest running top electronic music festivals of the world. It pioneered the dance movement, and has more than 300 artists performing over a period of 3 days. More than 130,000 music lovers turn up to explore the incredible music journey on offer, on the 17 stages.
Martin Garrix, Armin van Buuren, Deadmau5, Hardwell and others have headlined here. There are pre-parties and after parties galore for party animals who like to party hard. Tons of entertainment programs as well as delectable food make this festival an amazing one.
Mawazine, Rabat, Morocco – May, 2020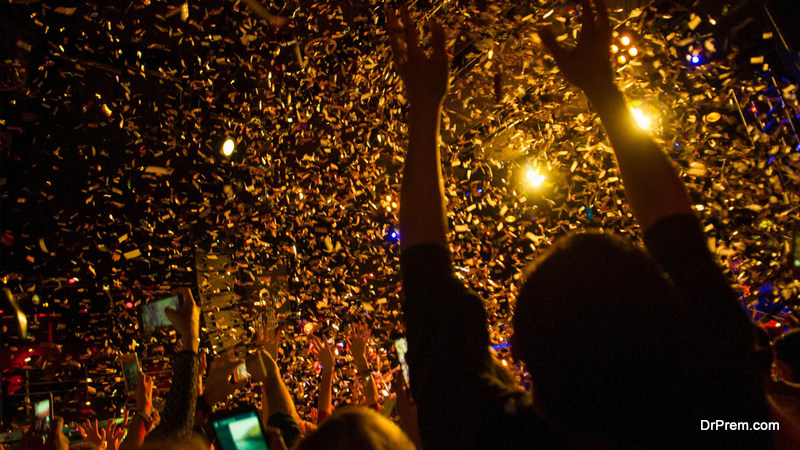 Mawazine festival has an annual attendance of around 2.65 million people and they sure have a big blast there. Huge acts such as Christina Aguilera, Rod Stewart, Justin Timberlake perform alongside African music greats such as Tinariwen and Amadou & Mariam. It is an amazing celebration of the Moroccan culture and was started by King Mohammad IV's personal secretary. It is one of the top music festivals you can't miss!
Wide Open Space, MacDonnell ranges, Australia – May, 2020
Experience music in the wide-open desert in Australia. The venue offers music nestled in the heart of nature in the summer. The festival is dedicated to the Arrente people, the custodians of this part of Australia. It's an event for solo travelers, couples and families. There is a space dedicated for children, market place selling all kinds of wares, and a number of workshops. There are 3 stages where music is played non-stop, camping fun by the river, private cabins and more accommodation options. Just remember to pack sunscreen and warm clothes to beat the chilly desert nights.
Lollapalooza, Multiple locations around the world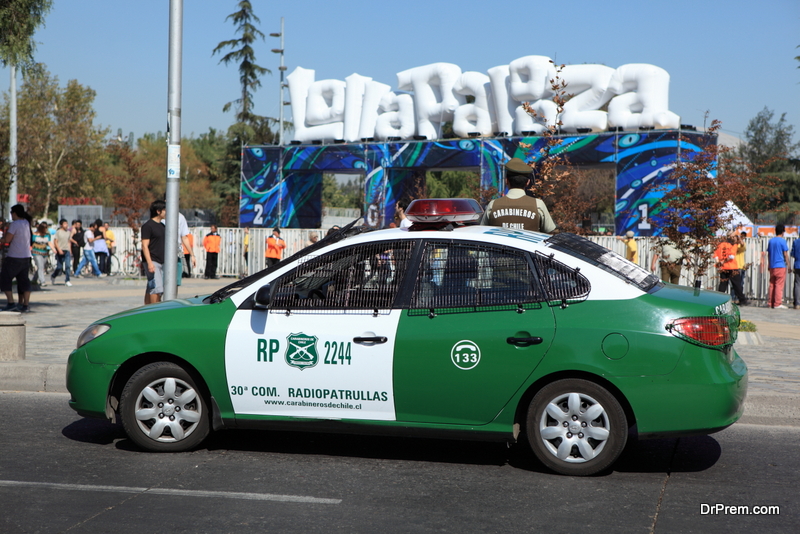 It started as farewell tour for the band Jane's Addiction and became a multi-city music fest for alternative music bands, till 1997. It was revived in the year 2003, and toured different cities until 2005. From 2005, it has been held in Chicago's Grant Park and in countries such as Chile, Germany, Argentina and Brazil. Being one of the oldest music festivals, it is a favorite for all music fans.
Woodstock, Poland – August 2020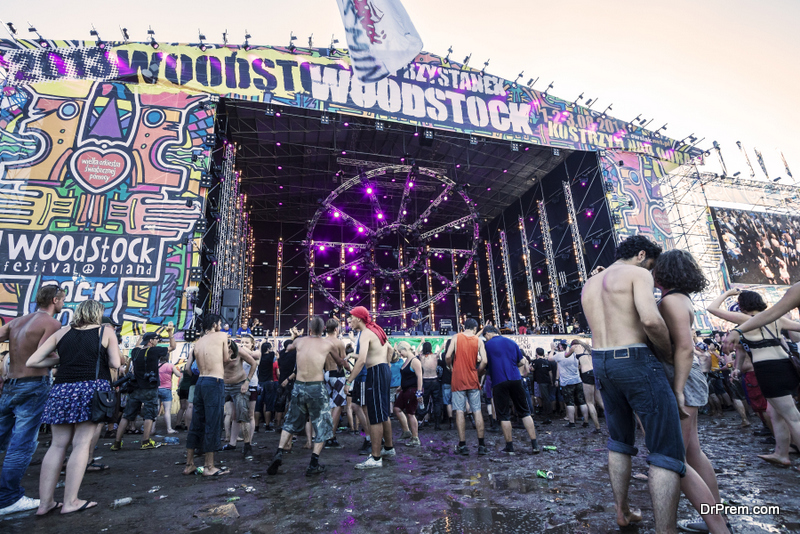 In 1969, the Woodstock festival in New York was a game changer. The Polish Woodstock is a tribute to the original Woodstock, and to metal, folk, pop and rock. The biggest names come to play here to crowds of over million people. The Prodigy has been one of the headliners here. It is one of the top music festivals where popular musicians are seen on a regular basis.
The best thing here is that it is entry free. The motto 'Love, Friendship and Music' speaks volumes about the festival.
Fuji Rock, Yuzawa, Japan – July 2020
It's one of Asia's top music festivals held outdoors, beginning in 1997. The location is the Naeba Ski Resort and showcases rock and electronic music, the two most beloved music genres in Japan. It's also renowned for following eco friendly practices. Artists who have performed here are Red Hot Chilli Peppers. Sigur Rose, Beck, Wilco and more.
Glastonbury, Scotland, UK – June 2020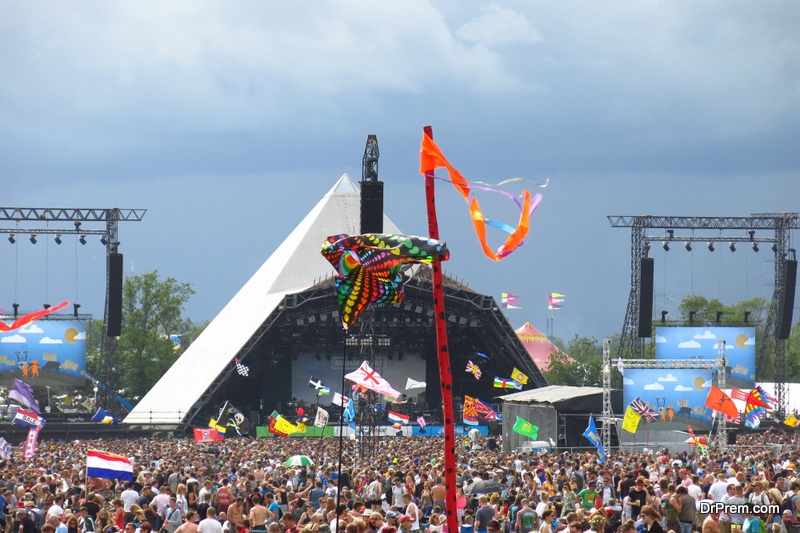 It's famous for getting soaked in rain and the mud as much as it is for being the most historical music as well as performance arts festival in the UK. Music greats such as Ed Sheeran, U2 and Adele have headlined here. Apart from the biggest acts here, you will be excited to see the legendary pyramid shaped stage. It is one of the top music festivals attended equally by hipsters and hippies. And according to reports, it totally delivers more than the hype, which is a welcome change.
Life is Beautiful, Las Vegas, USA – September 2020
It is a complete cultural experience for music lovers and has featured top groups such as The Weeknd, Florence+The Machine, Arcade Fire and is a city based festival. So no mud here, but clean, good, multisensory experiences abound. Downtown Las Vegas is transformed into an aesthetic delight by various artists' paintings outdoors and giant murals.
Melt Festival, Ferropolis, Germany – July 2020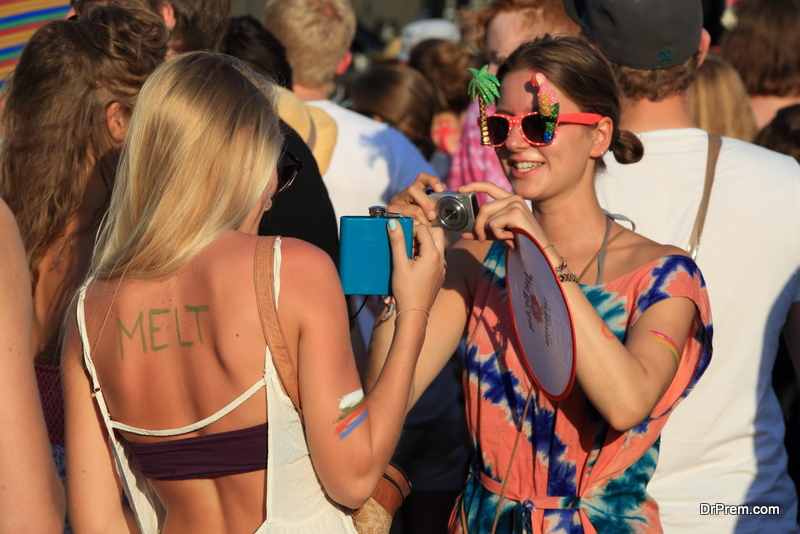 The venue is the Ferropolis, a museum of colossal proportions displaying mid-century industrial machinery. It is also known as 'city of iron'. As with other major music fests, Melt also sees huge acts. There is an impressive series of events planned and the notorious 'Sleepless Floor' keeps the party going constantly. And when you are completely wiped out, you can be refreshed by admiring the natural scenery at the Lake Gremmin nearby.
Balispirit Festival, Ubud, Bali – March, 2020
This is a slightly different kind of music festival, with yoga, music and transformation workshops featuring prominently. It's one of the top music festivals in the world that is safe for solo women travelers.
Undergo a week of inner healing and transformation, through realignment of the self. You would be energized and charged up when you return. Music is the medicine in this one of a kind music festival, where in the daytime you can jive to the vast array of music and dance, or book private sessions with teachers of alternative medicine or personal growth.
Sonar, Barcelona, Spain – June 2020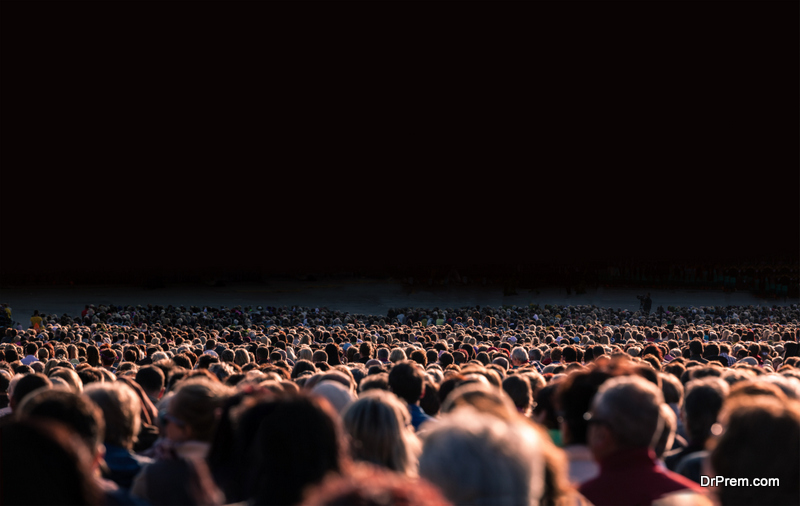 Sonar is one of the top music festivals reputed for showcasing new experimental sound, and engaging underground culture. There are hundreds of performers pushing the limits of creativity. Emerging artists are encouraged and welcomed as much as the established artist. There are artistic installations, talks, workshops, seminars and debates, offering something of interest for various types of people.
You will find music industry professionals mingling with the rest, in an effort to discover the next big talent. The venue in the daytime is called Sonar by Day at the foot of the Montjuic, and Sonar by Night is held at the stunningly beautiful Fira Gran Via.
Coachella, California, USA – April 2020
Voted consistently as the best outdoor music festival of the world, it is also the most profit making grossing 94.2 million dollars in 2016. Indie and alternative music are the mainstays of these top music festivals with popular musicians headlining. Lady Gaga, Radiohead, prince, Beyonce, even Paul McCartney has performed here. With such a range of thrilling music and other activities, the tickets to Coachella sell out within the first few hours of going online.
Summerfest, Milwaukee, USA – June, July 2020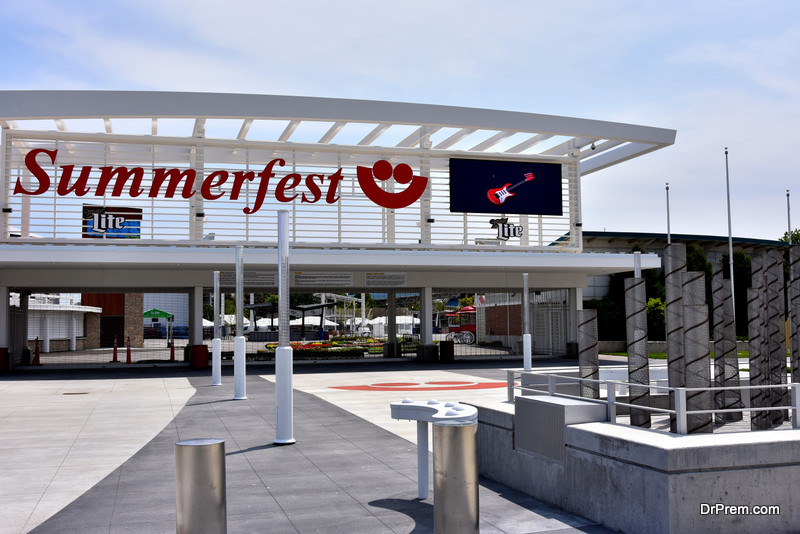 It is the largest and the cheapest music festival of USA. It costs only 20 dollars for a day pass, which can access everything. It is held for a whopping 11 days, where close to one million people attend. Music legends Paul McCartney, Bob Dylan, Pink and Red Hot Chilli Peppers have entertained the masses here. The local people are very much involved in this fest to make it a success year after year, making it one of the top music festivals.
Jai Thep Festival, Thailand – Jan-Feb
The Jai Thep Festival is a comparatively new festival on the scene as it is only 5 years old. It has an artsy twist and in 3 days, you can groove to Indie to Thai Molam music, from DJs, live bands and workshops. There are self-growth workshops too. Immerse yourself in the 3D installations, create art with professional or amateur artists. Or you could just roam around the festival and come upon magical surprises.
Untold, Cluj-Napoca, Romania – August 2020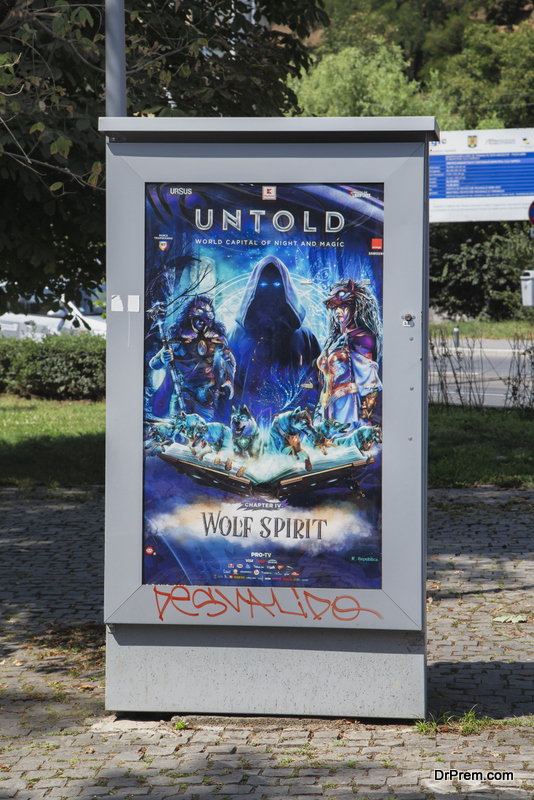 Untold is a new music festival on the scene, but is extremely popular with the 20-something crowd. The Prodigy, Diplo and Ellie Goulding have played at Untold. It's on its way to becoming a great music event, and if you have a festival bracelet, then it can get you into other attractions in Romania free of cost.
Essence, New Orleans, USA – July 2020
Essence began in 1994 to mark the 25th anniversary of the magazine Essence, and has not looked back since. It has grown into one of the top music festivals in the world, celebrating African American music and culture. Prince, Lionel Richie, Solange, Mary J. Bilge are some of the luminaries who have headlined here.
Other events here are Beauty Carnival, After Dark series, Fashion House and more to give a break from the music. About 400,000 -500,000 people attend this festival, making it one of the biggest festivals in the world.
Some other amazing music festivals you should have on your list are the Mad Cool Festival, Exit, Donauinselfest, Tomorrowland, Austin City Limits and the Sydney festival. Each of these offer unique experiences that will stay with you long after you're back home and into your grinding schedule.