A city where getting bored is almost impossible, Bangalore is an activities' galore. It's impossible to have nothing to do in this city… The fifth largest city in India and one of the fastest growing in the whole world, Bangalore is extremely progressive and developed and still retains its perfectly authentic vibe.
It's not a place to go to experience effortless architecture and beautiful places…Instead, it's a place people go to truly experience life and all the eccentric things the city has to offer. An unparalleled dining, partying and drinking scene, along with a great contemporary vibe – Bangalore is a must to be explored. Whether you want to relax at a spa, visit bull temples, jump off cliffs, or simply laze with a cup of a coffee, Bangalore has it all.
Here are some of the most unusual things you can do there!
Snow City
Snow City is by far Bangalore's most famous activity. It's one of the biggest and most renowned snow parks in all of India (and Asia actually) and is a favorite for all types of travelers. Not only travelers flock to Snow City but the locals love it too – from the kids, to the adults, everyone wants to enjoy that India weather with a snow city!
It's an indoor park spanning about 12,500 square feet and let me tell you from now – it is filled with snow. Imagine all types of activities you can have in snow too and you'll have it for sure. Snowballing? Check. Mountain climbing? Yup. Sliding? You got it. You can even play basketball, hide in an igloo or dance the night away.
This attraction is also open throughout the week from 10 to 9 pm, and is a great place for a date, a family's night out or even a quick solo visit! You'd also be impressed to know that the entire place is eco-friendly as the snow is made out of water and air. The temperature inside remains at 5 degrees Celsius so you will be provided with gloves, jackets and boots.
Parasailing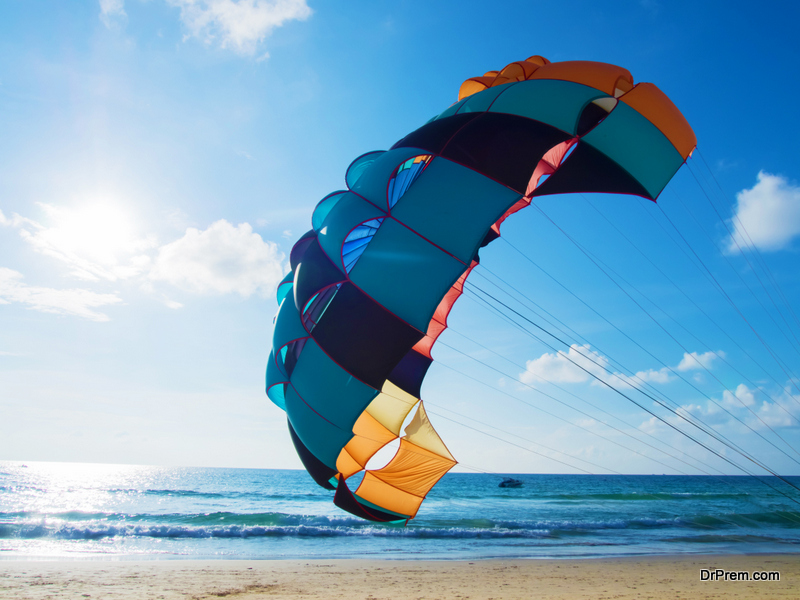 Parasailing is one of those things that is on everyone's bucket list – and who doesn't want to soar into the sky like a kite? (Well, anyone with a fear of heights but okay…). Prepare to be swept off your feet as you parasail over panoramic vistas and float around the sky with staggering backdrops. This is the perfect activity for all types of people – from the young, to the adventurous to people who just want to add a little spice to their lives.
This trending adventure sport is a great way for you to get out of your comfort zone all while seeing and exploring different parts of the city.
Dragon's Breath
Who doesn't dream of having the breath of a dragon? Pretty sure we've all gone through the "oh my god it's so cold let me breathe out smoke" phase. Hell, I think I am still in that phase! What you can do however is you can definitely experience that dragon's breath in Bangalore. It's actually one of those popular things to do in Bangalore.  A creamy, lush ice-cream where with every bite you'll feel the glorious flavors melting in your mouth all with smoke coming out from your mouth.
The cafes there use liquid nitrogen and then ice-cream balls are created and coated with liquid nitrogen. You wait until it evaporates and you eat the ice scream all while blowing smoke from your mouth. A great experience? You got it. Super Instagram worthy pictures? You also got it!
Kenko Fish Spa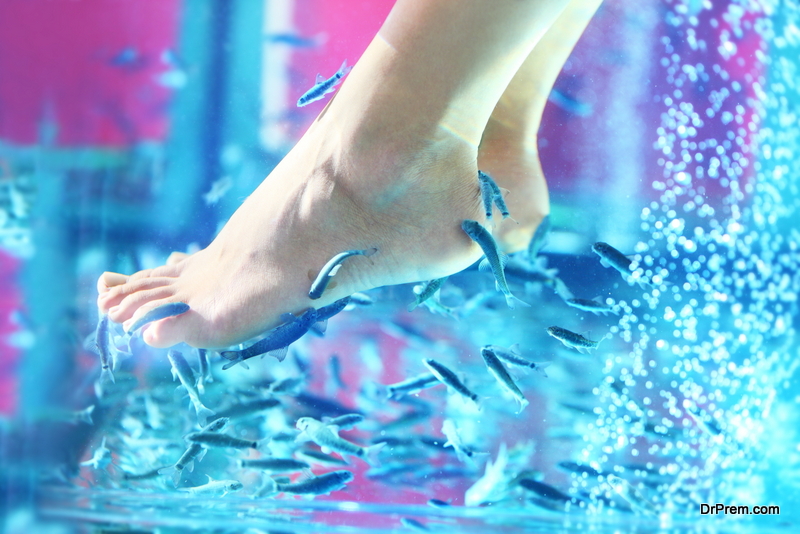 This spa offers all types of spa services like massages, and whatnot, but the really unique part is the fish spa. How does putting your feet in a tub full of fish-filled water sound like? Cool, right? It gets better. Those fish in the water eat away the dead skin with their "little kisses". Although that might sound a little bit gory, the fish are extremely harmless and you end up with extremely smooth feet!
Flight 4 Fantasy and Laser Castle
If you're even one percent into aircrafts or being a pilot, then this will be your haven. A chance for you to be inside of a classic flight simulator with over 737 cockpits, you'll find yourself having a once in a lifetime experience flying an aircraft (or almost!)
From jumping out of cliffs, to reveling in snow cities, to relaxing at fish spas – it's no secret that Bangalore has all the options you might need for a fun-filled trip! You get to choose which activity you can do based on your mood and relish in the energetic vibe offered by this city.
Article Submitted By Community Writer