Come summer, and it is time for a fun vacation. With so many holiday attractions on the map, you are bound to be spoilt for choice. Choosing a fun destination that allows every kind of person to have fun is hard. What is even harder is choosing a destination that has something in store for everyone – irrespective of age, gender, and preferences. But fret not. There is always Bali for you! Bali is one of the best family holiday destinations. It has too much to offer. It'd take you months to enjoy all the tourist attractions of this place. So the best thing for you would be to be selective about the places you visit. You can select them depending upon your budget or your interests. Here is a list of things that you can try there.
 Water Sports
Water Sports is the prime tourist attraction of Bali. Bali is surrounded by the Indian Ocean on one side and the Pacific Ocean on the other. It has a sea, a couple of rivers and many beautiful water parks. So no matter what water sport you are interested in, you'll find it there. Here are a few places that you must go to: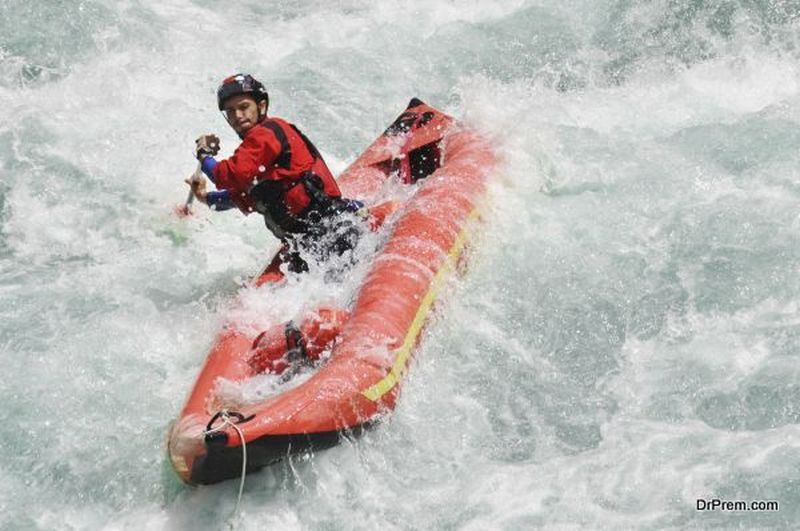 Waterbom Water Park: Waterbom is the best water park in Bali. It is the place where you will find the best waterslides, rides and everything else that a prime water park should offer. The charges for a single adult entry are about 40$.
Ayung River Rafting: Ayung is the largest river in Bali. It runs for about 75 Km and there are plenty of river rafting options available there. If you are a beginner in rafting, you can choose a simple and safe ride. Or, if you are an expert, a fun and adventurous one. River rafting at Bali might cost you about 60$.
Bali Wake Park: If you want to learn something as adventurous as Wakeboarding then this place is for you. The boarders here are pulled using a cable towing system which provides a highly controlled environment. This place is also well equipped with all the top-notch security measures that such adventure sports require. If you want to go there and learn wakeboarding then you can do it within 100$.
Rip Curl School of Surf: Rip Curl School of Surf is probably the best option in Bali if you want to learn surfing. A beginner six-hour lesson of surfing will cost you about 60$.
Other Adventure Sports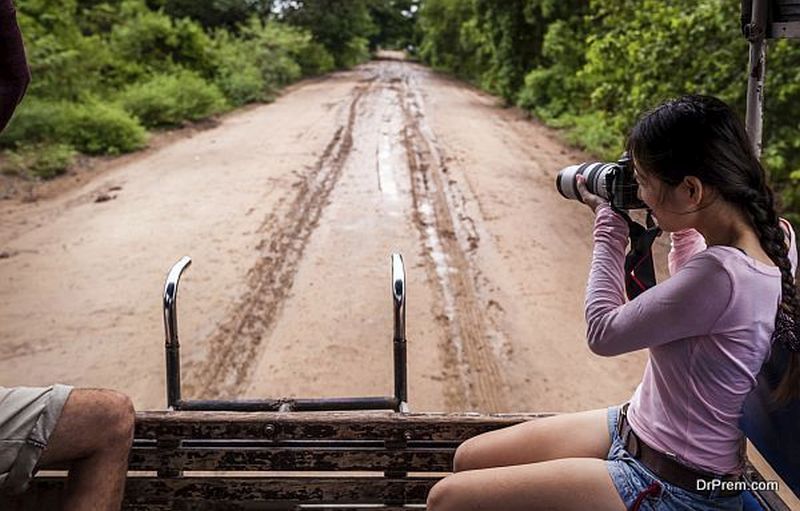 Bali isn't famous only for water sports. There are plenty of other adventure sports to choose from. Here's a list:
Grand Mirage Resort: If you are tired of playing with water and you want to go deep inside it and explore marine life then you must go to Grand Mirage Resort. An underwater diving session at this place will cost you around 80$.
Bali Treetop Adventure: This place offers you a tour of many enjoyable tightrope courses and suspended bridges over beautiful trees. You can pick what's suitable for you depending upon your age and skill. A seven-hour full day tour of this place might cost you around 75$.
Bali Safari Marine Park: At this place, you'll get an enjoyable bus ride through a wildlife park which is about 40 Hectares wide and which houses 60 different species of animals. In a daylong tour, you'll have close encounters with animals like Elephant, Orang-utan, Tiger, Rhino, and Giraffe. You can get a full day tour of this place in 61$.
Entertainment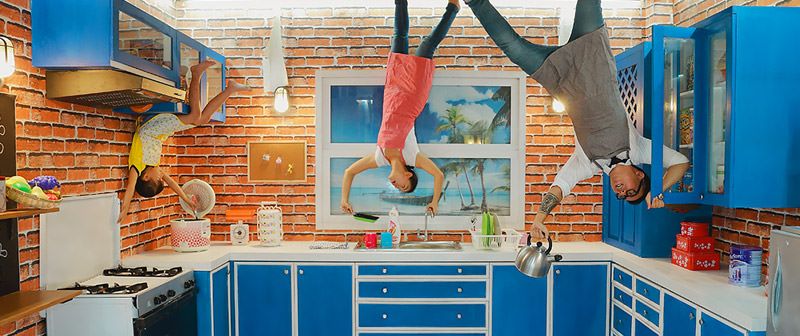 Image Source: indotrip.com
There are plenty of places in Bali where you and your kids can get your fill of entertainment. So make sure that you check out these places when you go to Bali.
Gallery Trick Art (3-D): In this gallery, there are about 80 huge unbelievable paintings which appear three dimensional. This is the place where you'll get the best holiday pictures of your lifetime. A photo at this place will make it look as if you are standing inside the paintings. A single entry at this place will cost you 12$.
Upside Down House: Another place where you can take great pictures. As the name suggests this house is built in such a way that it seems that you are walking on the roof of the house. So if you take pictures here then it'll seem as if they are clicked in outer space. A trip to this place will cost you 8$.
The Pirate's Bay: The Pirate Bay is a tree house restaurant that's built in the shape of a pirate ship. It'll give you a unique experience of how it feels to eat your food when you are pirate.
Bali is a destination that is equally attractive to adventurous and spiritual travelers. So, for those who seek peace and bliss, here are some of the best temples in Bali to visit.
Most amazing temples in Bali
Bali is also known as the "Island of Thousand Temples". The key region here is Balinese Hinduism and Hindu temple is known as Pura. These Puras are famous for their iconic landmarks and centuries-old architecture. Unlike other Hindu temples, Puras are designed as an open-air place for worship within enclosed walls, which is connected with a series of intricately decorated gates between its compounds. There are numerous types of puras and each serving certain functions of Balinese rituals throughout the Balinese calendar. There are over 20,000 Pura in Bali and here we have a list of top Bali temples below.
Besakih Temple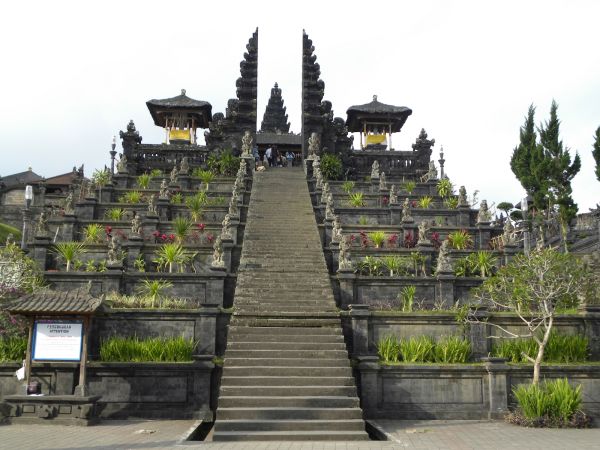 This temple is known as the mother of the temple and the oldest temple in Bali. It is respected for its importance and is centuries old. This Pura is actually a complex made up of twenty-two temples that sit on parallel ridges. There are more than seventy festivals celebrated in this temple and almost every shrine celebrates a yearly anniversary.
Tanah Lot Temple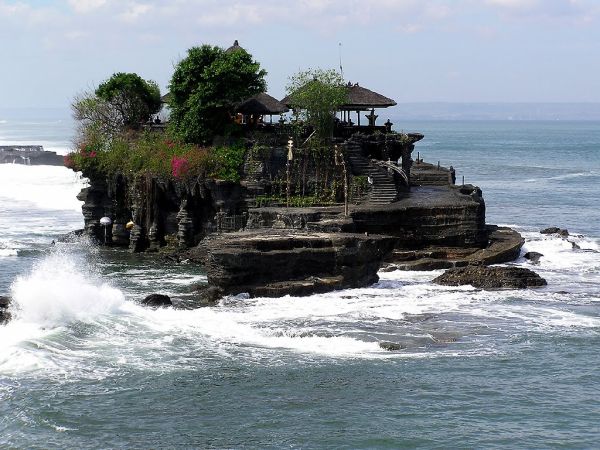 It is a rock formation off the Indonesian island of Bali and it is a home of a pilgrimage temple. Tanah Lot means "Land in the Middle of the Sea" and it is one of the most beautiful temples of Bali and is well known for its serenity and cultural significance. This Pura is part of seven temples forms a rising at the southwest of the Bali.  The area leading to this Pura is highly commercialized and people are required to pay a little amount to enter the area.
Pura Luhur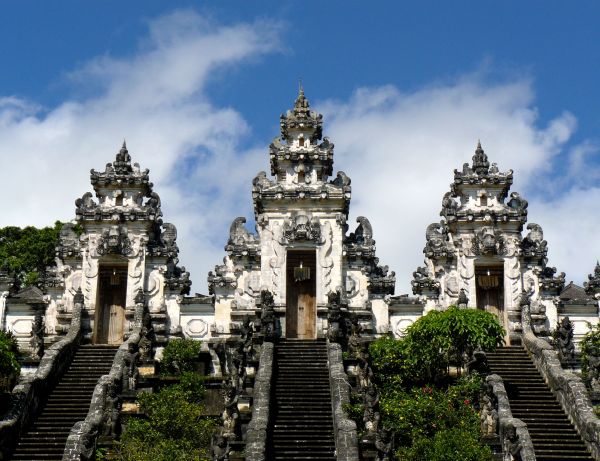 This Pura is one of the most ambiguous of the lot, but not least; and lacks its importance as a religious site. However, it is one of the six sad kahyangan, which is dedicated to God. It is a Balinese Sea Temple located at Uluwatu on Bali, which was built back in the 11th century. Visiting this Pura requires little efforts as visitors needs a serious 1.5 hours to walk to the top of 1,700 steps.
Goa Lawah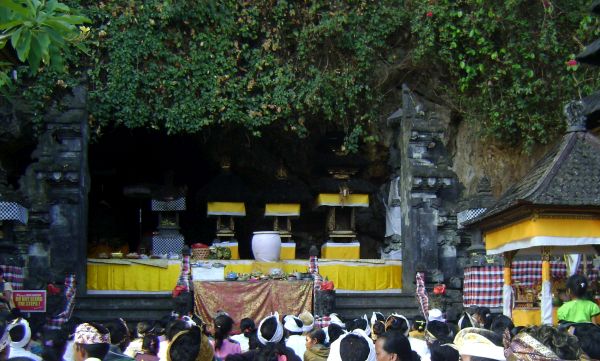 Located in the southeast of the Bali, Goa Lawah means, "bat cave" and it was founded in 1007 AD. It is one of the directional temples, which protects Bali from evils spirits. This Pura is also a renowned sire for post crimination purification, which is culturally vital for the local people. According to the belief of the local people, Javanese priest Nirartha had visited the cave before and the center of the cave expand over to connect with Pura Besakih.
Pura Tirta Empul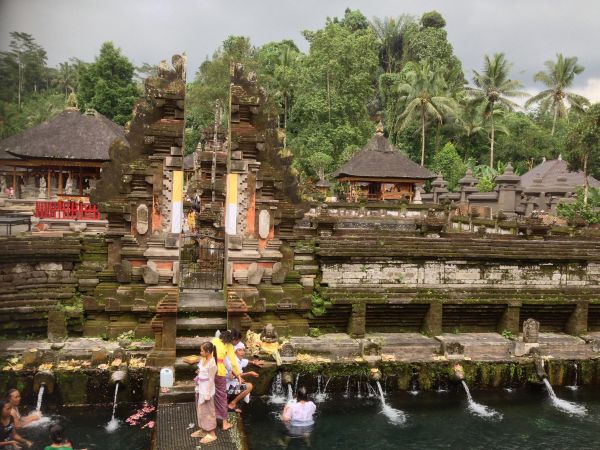 This Pura is considered one of the most vital temples in Bali and it was built in 926 AD. It is a Hindu temple in the middle of Bali Island and it is celebrated for its holy water. Hindu Bali people go for purification at this place. Here the spring water is sacred and is believed that it has several healing properties.
Pura Gunung Kawi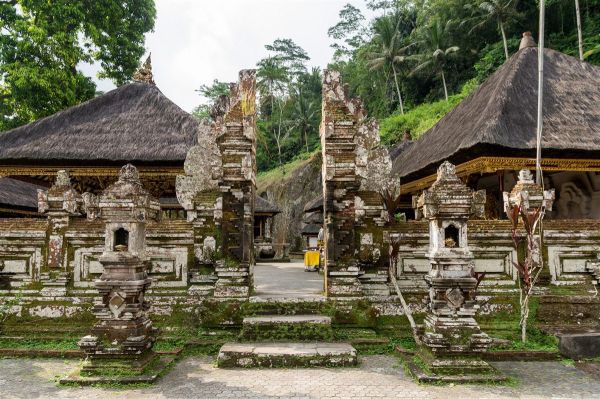 This Pura is located about a mile south of Tampaksiring in Bali's "Valley of the Kings" is located in a ravine between rice fields near the river Pakerisan. It is a Hindu temple complex with the old omission from the stone era in the Gianyar Regency. It was used as a residence and a place for meditation. Pura Gunung Kawi consists of some corners and it is located in the cross east of Pakerisan River.