It is true that the Arctic region offers some of the worlds challenging dares which cannot be found anywhere in the world, not even in dense forests and mountain slopes. Apparently, the super freezing region of the world may look barren with miles of ice covered land unpopulated with any kind of inhabitants be it the human settlements or animals on move. In spite of the ruthless and treacherous ambience, the attractions of the Arctic adventure are inescapable.
If luck stays on your side you may be a lone spectator of some of the goriest spectacles where a pack of arctic wolves might be bringing down a seal in a shower of the blood bath. You may witness how savage a polar bear could be when it sinks its fangs into the nape of the throat of a caribou deer, tearing it to pieces.
Here we go with some high Arctic adventures in equally captivating destinations around the Arctic:
View the spectacular Northern Lights in Lapland Scandinavia: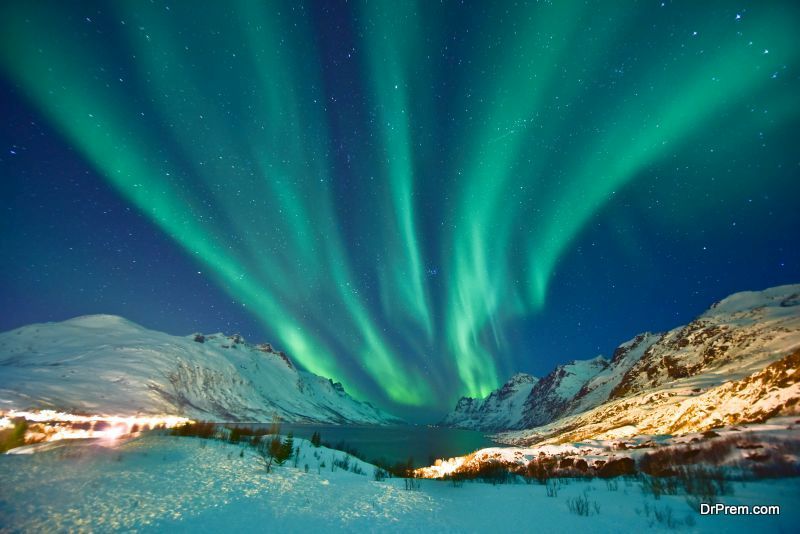 Northern Lights also known as Aurora Borealis, they are a huge attraction for the tourists going for Arctic exploration. Tourists in huge numbers throng this northern part of Scandinavia beating the biting cold only to view this light which appears bright and clear during this part of the year.
This is not all. If you are daring enough, participate in the heroic cross country skiing. Else ice fishing, ice swimming, and ice climbing are there to add more thrills.  In summer, you will enjoy the wilderness of the place indulging in hiking and trekking in perhaps one of the remotest areas of the world.
Visiting the Polar bear capital Manitoba, Canada: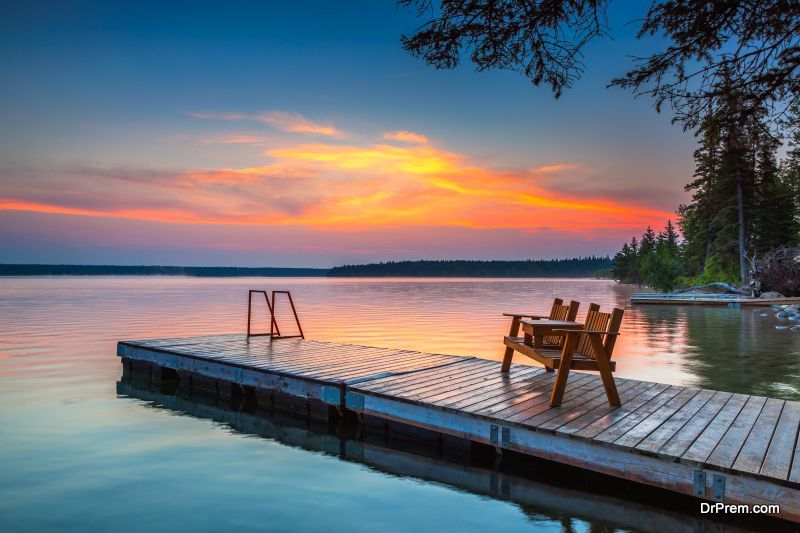 The Canadian national train service VIA Rail has a long stretch of track running in between the city of Winnipeg, Manitoba and the town of Churchill Manitoba and it penetrates into remote ice covering over 1000 miles to the north. Prior to dropping at the Churchill station, the tourists pass through a unique landscape with the Hudson Bay close by.
You can see the massive polar bears from the safety of a robust vehicle called Tundra Buggies. This region is often referred to as the Polar bear capital of the world. Caribous, seals and musk ox can be easily spotted in this region. You can also explore the Inuit settlements in Arctic Canada. The Yukon, Northwest Territories and Nunavut stretching beyond the Arctic Circle are also worth visiting.
Exploring the backcountry of Greenland: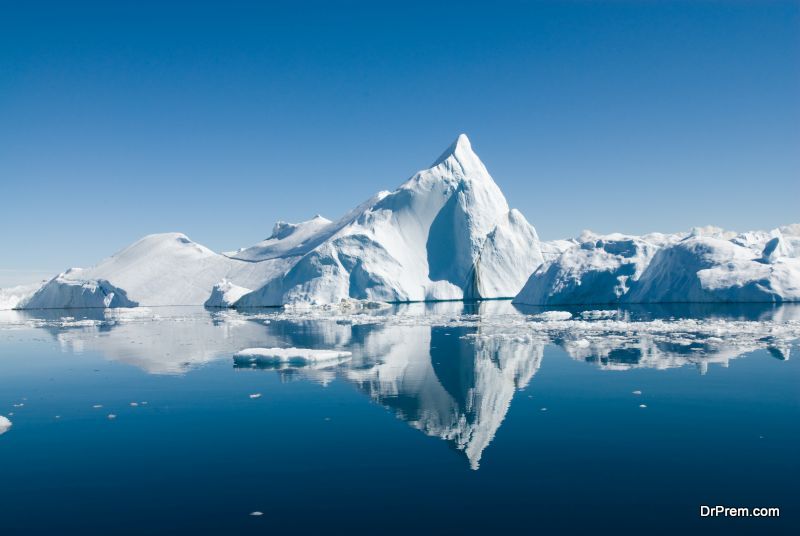 This frozen large mass of island is the remotest outpost lacking in proper transport infrastructure. Hence, traveling across Greenland amidst the bone-chilling cold environment becomes quite a challenge.
Over three-quarters of Greenland is under ice and the most appealing feature offered by this enigmatic land is its detachment from the mainstream world. However, you may enjoy the traditional transport like dog sledge ride, skiing, snow machine ride or even trekking along the ice.  Kayaking, glacier walking, and mountain climbing are other dares in store for you. You can enjoy Caribou on land and pods of seals and walruses on the beaches. You might even catch a glimpse of the mighty whales in the icy cold waters.
Enjoy Northern lights, bird watching and kayaking in Svalbard, Norway: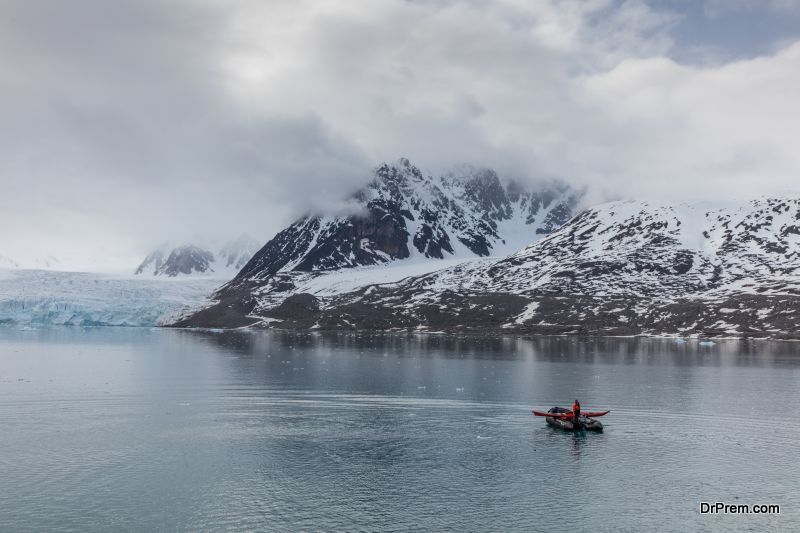 This cluster of Norwegian islands located in the Arctic sea features beautiful mountains and moving glaciers. Polar bears, Caribou, and reindeer roam the land while white whales, seals, and walruses abound the cold waters. This place is also a good site to watch the Northern Lights. Summer season is appropriate for bird watching and kayaking and in the winter the tourist can enjoy the heightened thrills of dog sledging, mountain hikes, and fun skiing.
Tour the Golden circle of Iceland for an Arctic adventure: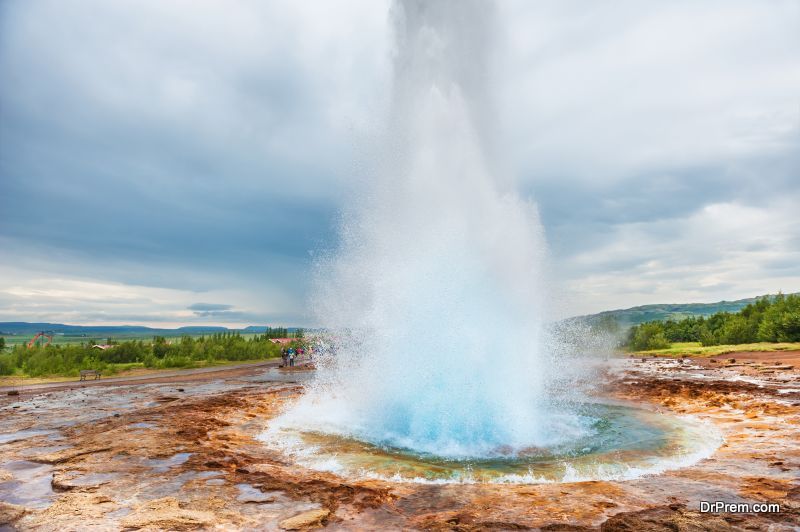 Experience the natural geysers amidst the bone-chilling cold conditions. The geothermally active valley of Haukadalur houses the famous Strokkur Geyser. The impressive Gulfoss waterfall spins lots of exciting tales drawing your attention. Watch the geothermal power plant, tectonic fissures, volcanic craters in the Thingvellir National Park.
It would be counterproductive to travel for miles to Iceland only to be rushing all the time. Why not arrange a week-long holiday and hire a campervan for the Golden Circle tour and wherever you want to go? You can cover the route leisurely and freely, having the time to appreciate and go hiking in Thingvellir, for example. Also, enjoy the stops to try local dishes or outdoor activities that would make the journey even more interesting.
Explore Alaska's arctic wilderness: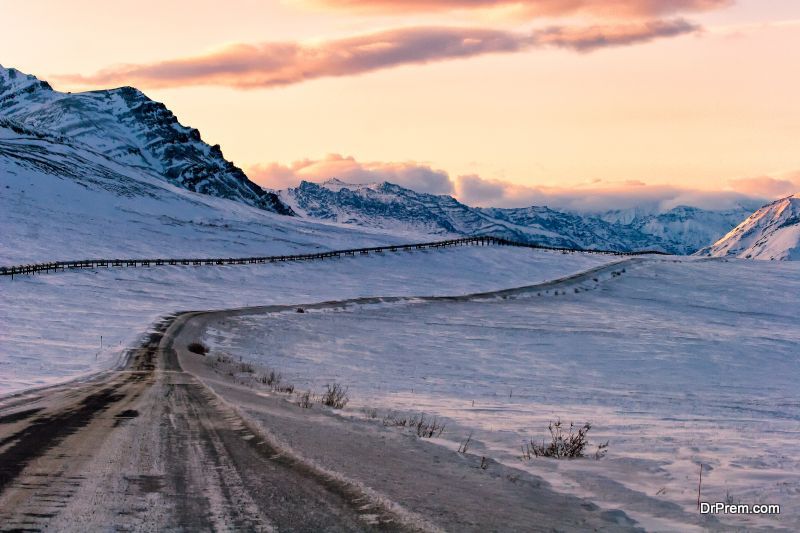 Feel the thrill in driving through the snow-covered Dalton Highway, the only penetrable road meant for the Alaskan oil pipeline. It is one of the loneliest roads of America, ideal for those seeking solace amidst solitude. Silence prevails as your vehicle runs through the 400-mile stretch. Great for a unique Arctic adventure, isn't it?
Other Alaskan attractions to hold your attention are the Gates of the Arctic National Park at Fairbanks, the port of Barrow, polar bears, the largest Inupiat community and most importantly the midnight sun that does not set for two and half months.
10 Tips for stress-free holiday travel this winter for your Arctic adventure
As the holiday season swings into full force, many of you are beginning to count down the days to your winter holiday and much-needed vacation.  Whether you're heading home to see family, taking the family for a sunny cruise to the Bahamas or going for a romantic getaway to Aspen, you won't want to miss out on these tips to keep the stress-levels down when you're travelling this winter holiday season.
This week, tripatlas.com/new, the World's Largest Online Travel Resource, is bringing you insider-tips on Stress-Free Holiday Travel to get you through this Christmas and New Year's travel season.  Find out about the best/worst dates to travel this winter holiday season, how you can avoid long lineups at the airport, how to save money and get some great travel deals, and how to avoid long (and dreadfully painful) flight delays.
Get more great travel tips from tripatlas.com/new:
How to Not Break the Bank for your Winter Vacation
Tips for a Budget Ski & Snowboard Holiday this Winter
10 Tips that Every Business Traveller Should Know
10 Tips for Healthy Travel & Travellers with Allergies
The Inside Scoop on Holiday Travel and How to Fight Airport Stress this Winter
Book early for Christmas + New Years holidays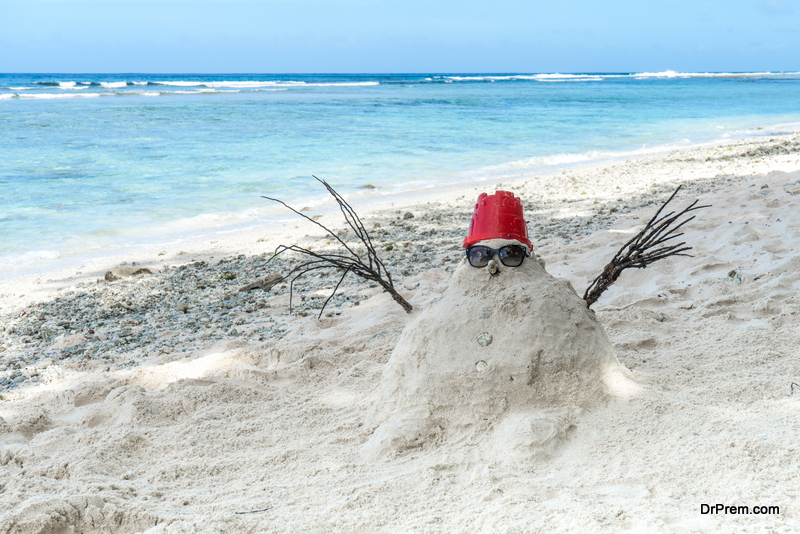 At any other time of the year, it's not a bad idea to wait for last-minute deals. However, for Christmas, New Year's and major holidays, booking early is the rule to follow.  Prices will get more expensive and fewer options will be available the later you wait to book.  In the end, it will cost you not only in higher costs, but also comfort and accommodations.
Worst times/dates to avoid this winter holiday season
Here's the inside scoop.  Based on this year's calendar, avoid travelling the weekend before Christmas is always one of the busiest days. Similarly, avoid travelling during it's peak travel time.
December 31, to January 1, will be the busiest travel weekend of the year, since everyone will be returning home from holidays.
Try to book your departure/return on the Monday or Tuesday after to save yourself from rushing and to avoid cranky kids and crankier parents.
Best times to travel this holiday season and how you can save money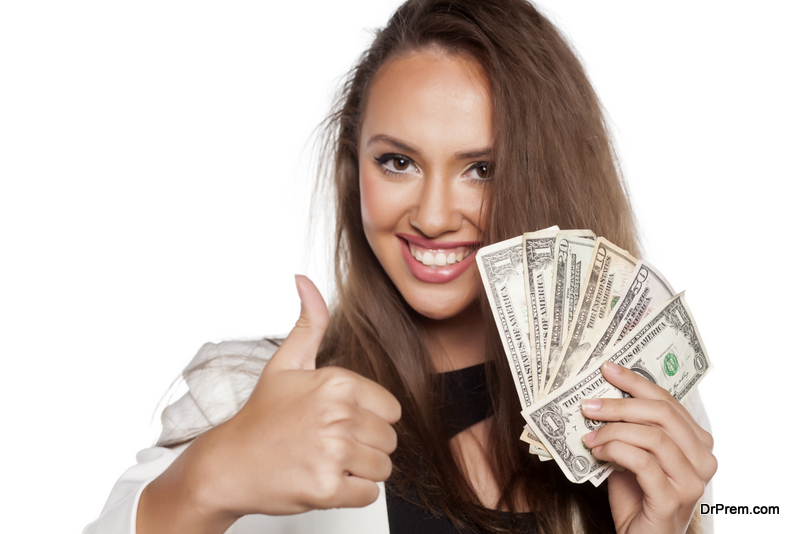 Travellers avoid airports on Christmas Eve, Christmas Day and New Year's Eve.  So, if you can handle spending a few hours in the airport on these days, they're the least busy days of the season and you'll likely get a great deal. Generally, it's a better idea to travel a few weeks before or after the holiday rush.  Thanksgiving until one week before Christmas and anytime after New Year's are the best times to travel: hotel prices and flights are cheaper and you won't have to fight the lineups.  Also, if you book flights earlier on during the day, the less likely you are to get stuck in long lines and have a delayed flight.
Check-in online, print your boarding passes and check for delays before leaving home
No matter whether you booked your flight online or not, you can still check-in online.  You'll be asked for some kind of combination of your name, flight number, booking number or credit card number.  Most airlines allow passengers to check-in online 24 hours before the scheduled flight departure time.  Once you check-in online, you can choose your seat and print your boarding pass from home.  While you're at the computer, be sure to check for any flight delays or weather warnings so that you can decide about changing flights, leaving later or heading straight to the airport as scheduled.  Don't forget your passport!
Once you arrive at the airport, you can go straight to the security gate with your home-printed boarding passes, unless you have bags or suitcases to check-in.  Some airlines offer online check-in kiosks that have shorter lines since they're used exclusively for checking bags.
Get to the airport early to avoid lines, delays and getting bumped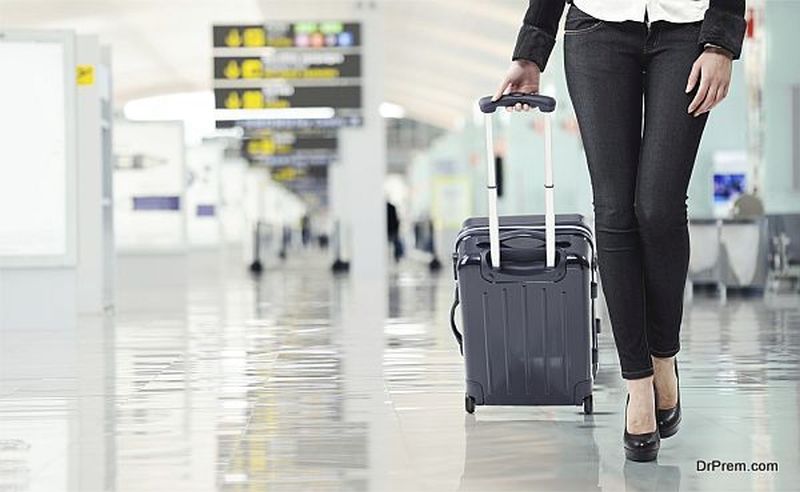 While I have always thought that my father's tradition of arriving at the airport 3-4 hours ahead of a scheduled flight (domestic or international!) was a little extreme, holiday season is an exception.
Getting to the airport early is one of the best ways you can avoid long lineups, risk being late for your flight, or getting bumped from an overbooked flight.  For international flights, it's recommended that you arrive 2 hours prior to departure – try arriving 2.5 to 3 hours ahead.  For domestic flights, it's recommended that you arrive 1.5 hours or 90 minutes prior to departure – try arriving 2 hours before, instead.
Remember that besides check-in lines, there's also a security check lineup that you have to go through.  Make sure you have all your identification and documents ready so that you can get through the lines faster.
Packing doesn't have to be stressful or cause problems at the airport!
Packing is part of travelling but it can be a painful and stressful experience if you don't do it right.
Generally, the rule I like to go by is: "Pack only what you can carry."  That is, pack light and only what is necessary rather than for "what if" situations.  Choose clothes that you can mix and match and bring multipurpose items (shoes, skirts) for both casual and dressy occasions. Better yet, if you bring quarters and detergent to do your laundry and you'll save a ton of space on additional clothing.
Always bring a change of clothes and toiletries in your carry-on – basically, whatever you may need to survive 1-2 days without your checked bag.  Make sure your liquids and gels are 100 ml (3.4 oz) or less per item and that they all fit in a re-sealable ziplock bag no larger than 1 litre (1 quart).  Items like baby formula, baby food, milk, water and juice are allowed for passengers with infants from 0-24 months travelling with them.  If you have prescription drugs, be sure that the bottle is clearly marked with your name.
Bringing gifts in your luggage on your holidays?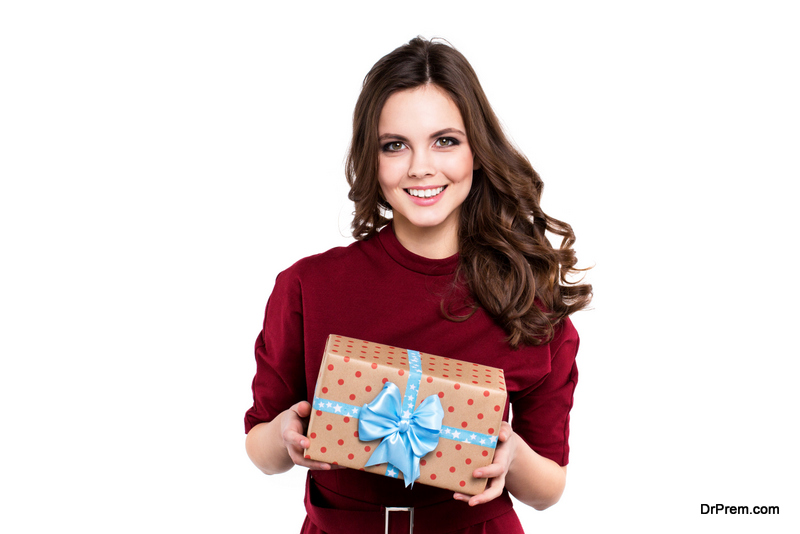 When you're travelling for the holidays, you're likely to bring gifts with you or bring some back.  It's better to keep expensive and fragile items with you in your carry-on or if needed, carry it by hand.  For gifts that you store in your check-in suitcase, be sure that they're carefully stowed away and won't break.  Don't giftwrap your gifts, as items in both your check-in and carry-on should be easily identified and accessible by security.
Be sure to check the List of Permitted and Non-Permitted Items on the Canadian Air Transport Security Authority website to ensure that your gift can be transported across the border, for both your check-in bag and carry-on bag.
Steer clear from connecting flights & snowy destinations
Try to book a direct flight.  The fewer flight connections, the better, since more connections = more possibility of complications, delays and wait-time.
If you're absolutely required to make a connection to get to your destination, then try to avoid snowy or winter destinations as weather is generally the biggest factor when it comes to delayed flights.
Choose your destination wisely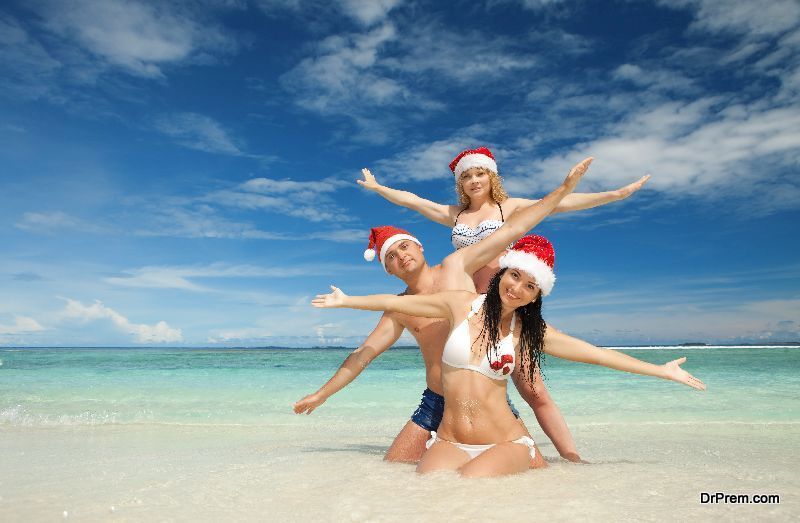 For every high-season destination, there's a low-season destination.  Paris is just as beautiful during Christmas-time as it is during the summer – and it's a little less crowded in December and January than it is from June to August.
If you're looking for quiet, then an all-inclusive resort may not be the best option for your winter vacation since they're often overrun and packed to the rim with tourists during Christmas and New Years.  Consider picking a less busy or a low-season destination and you'll not only save money, but you won't have to fight for pool chairs.
Be flexible and have fun
The key to not getting stressed-out when you're travelling, running into last-minute problems, flight delays and other issues – is to be as flexible as possible.  Your flight is delayed for another 2 hours?  Find a comfortable restaurant and have a nice meal or a drink, pick up a magazine or newspaper, or try to catch a few zzz's.  Just make sure you have an alarm!