Christmas all over the globe has a phenomenal sensation to which merry making crowd wake with gusto. Santa all decked up in woolly red and white with his iconic cap and a bagful of gifts cuts an immensely popular image both among children and adults. However, Christmas is not all white everywhere for in the Southern Hemisphere people celebrate it on sun-drenched beaches but the fun mood is viral everywhere. Here we have some of the most desired Christmas holiday destinations for you to choose from:
Vienna, Austria: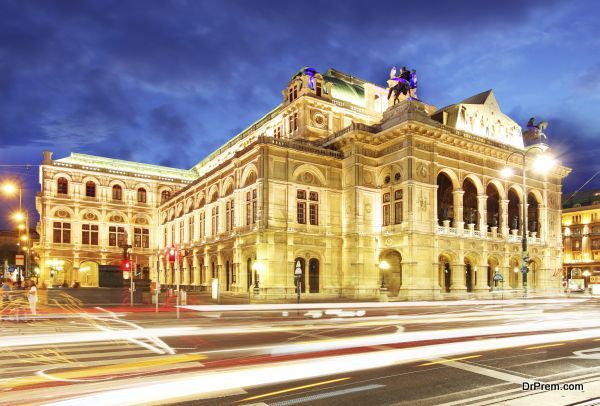 You get to enjoy Christmas to its colorful best in this enchanting city. The city decked up in psychedelic lights and chain of illumination connecting one skyscraper to the other wrapping up the trees in the web of dazzling radiance. The high-end malls wake up to the Christmas call with an exotic range of handcrafted gifts and decorative pieces. Vendors display a range of traditional Austrian confectionery like Lebkuchen, waffles, Maroni (sweetened chestnuts) bratwursts and spiced mulled wine immersing you in sheer enjoyment. You can go for ice skating at the mammoth rink on Rathausplatz Plaza.
Reykjavík, Iceland: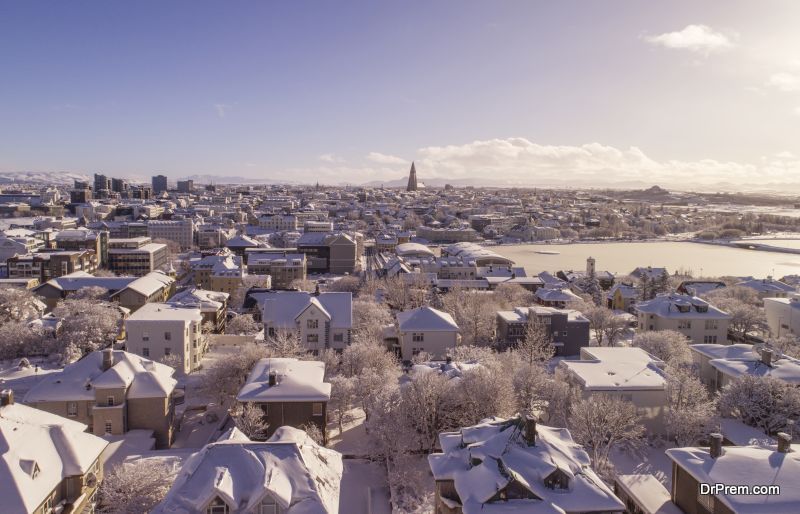 The day you drop in Reykjavík you feel the merry Christmas mood drifting everywhere. It is all cheers and fun. The festive mood starts by the end of November by illuminating the Christmas tree at Austurvollur Square. The celebration encompasses choirs singing cards and the advent of the ' first of the holiday lads ' and 13 Santas roaming the town during the period of Lent. Other tourist attractions are decorated stalls and kiosks vending Christmas goodies and confectioneries.
New York City: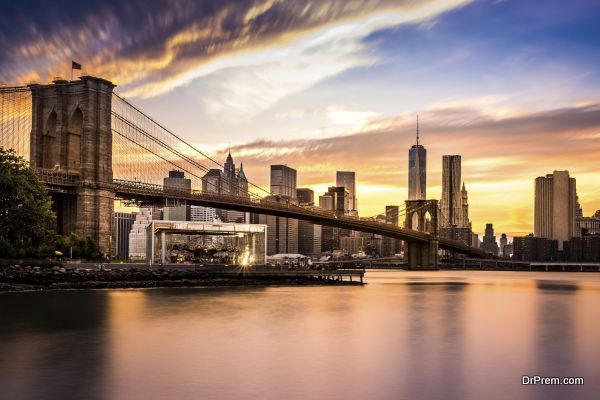 The beginning of the Christmas season is marked by decking up the goliath Christmas tree in the Rockefeller Centre Plaza with around 3000 glaring LED lights leaving you chuckle in wonder.  Tourists and locals rush to the Plaza in large multitudes with a strong desire for ice skating in the basement rink built beneath the statue of Prometheus right in the heart of the Plaza.  Take your kids to a treat to FAO Schwartz, a huge toy store that is every child's dream shop. Here you can even play the piano on its giant floor keyboard to the tune of a merry Christmas milieu.
Santa Claus Village, Finland: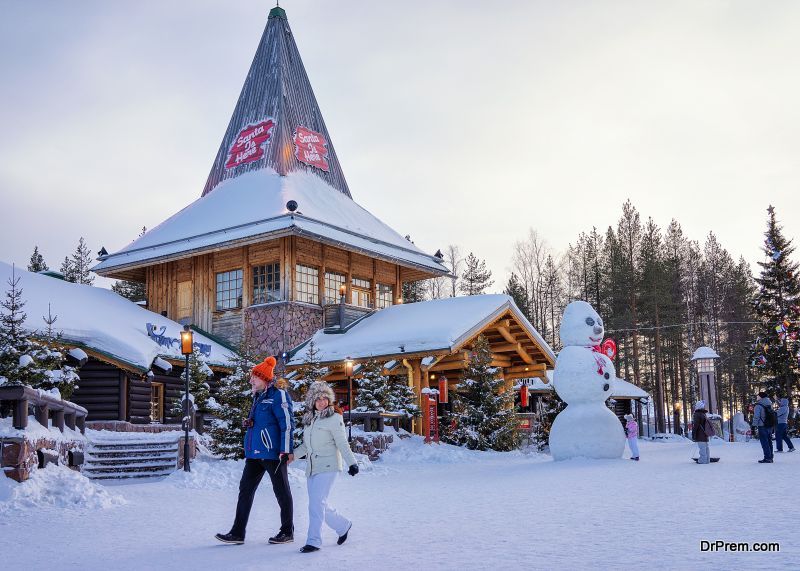 This winter, why not explore the Christmas mood all the way up north in Finland's Arctic Circle? This is actually close to where Santa and his reindeer hail from, and it is not surprising you will feel their glorious presence up close as you immerse yourself to the celebration that is observed with enthusiasm and unrestricted merriment. There is all snow and conifers around. Not far from the village stands the Santa Park, an amazing amusement park with the latest gimmicks and rides.
Bondi Beach, Australia: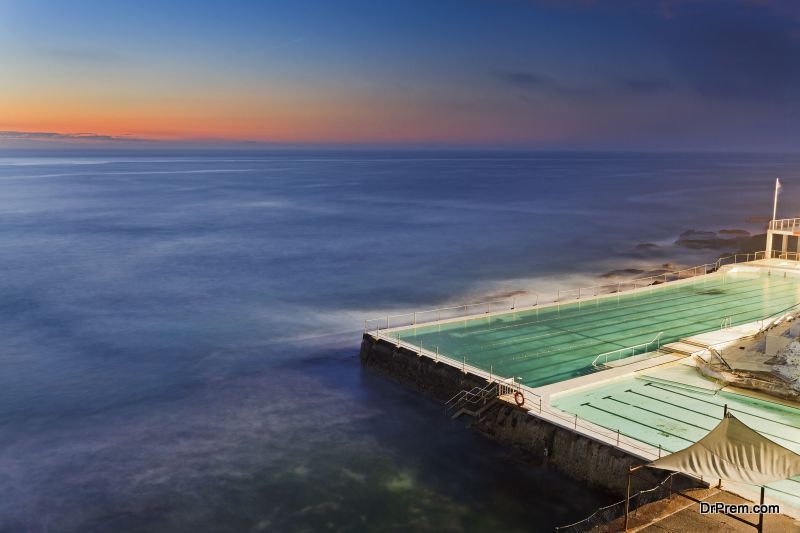 Land upon this awesome beach, Down Under this Christmas and straight cut to the chase with fellow tourists. This is a reverse equivalent of stereotyped icons of Northern hemisphere like snow and fairy lights. In Australia, you replace them with sun, surf and sand on 25th December and I ensure you it is not a bad deal.  Enjoy the high voltage celebration on the beach with live bands setting up wild and yet fun loaded ambience and DJs doing their bit decked up in glamorous attires and hairdos.
MidnightMass, the Vatican City: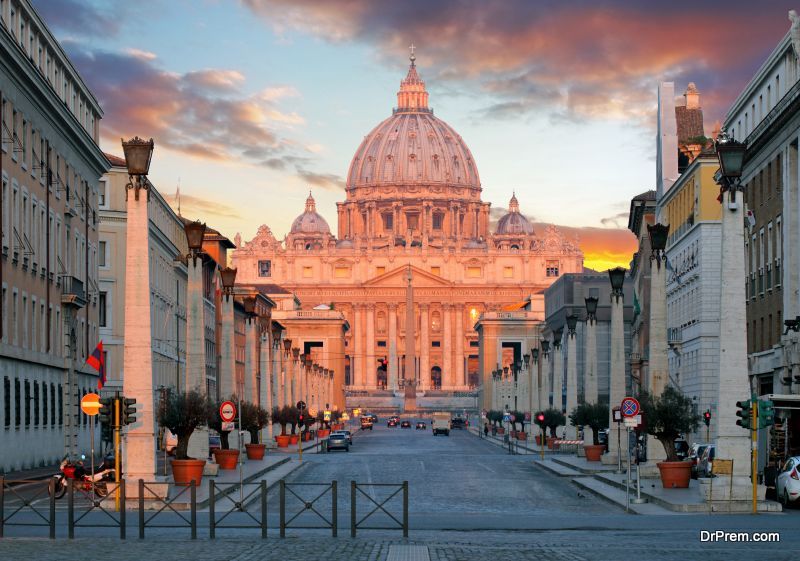 Talk about Christmas leaving the seat of Catholicism aside is simply unthinkable. True to its reputation, Vatican City celebrates Christmas with great fervor, which you should witness at least once in your lifetime. Throughout the month of December, this eternal city wears a special kind of festive look with fun and music filling the air. Roasted chestnuts are sold in street corner kiosks and so are the Christmas handcrafted artifacts, gifts and confectioneries. Witnessing the Midnight Mass in St Peters' Basilica on Christmas Eve or at noon on Christmas Day is a rare opportunity and should not be missed.
Nuremberg, Germany: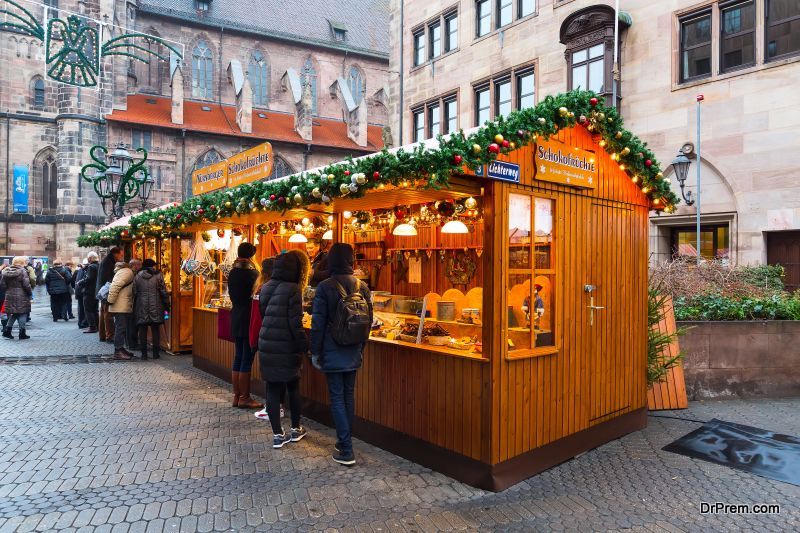 The Christmas celebration in Germany's N Nuremberg attracts more than 2 million tourists from near and far. The city features a panel of 200 elite vendors who compete with each other in a bid to display their exquisite merchandise and win the ' Most Beautiful Staff Design Award '. The gifts are handcrafted representing traditional values. As you roam the streets you get the waft of mouthwatering aromas of sweetened and roasted almonds, sausages and ginger bread. Mulled wine, of course, steals the show.