Already a fan of Google maps, but want to try some map application that offers other features? Or you are just getting bored of the same interface of Google maps? Whatever reasons you have, there are several alternates to Google maps from where you can navigate, check traffic or nearby options to eat and party.
1. Citymapper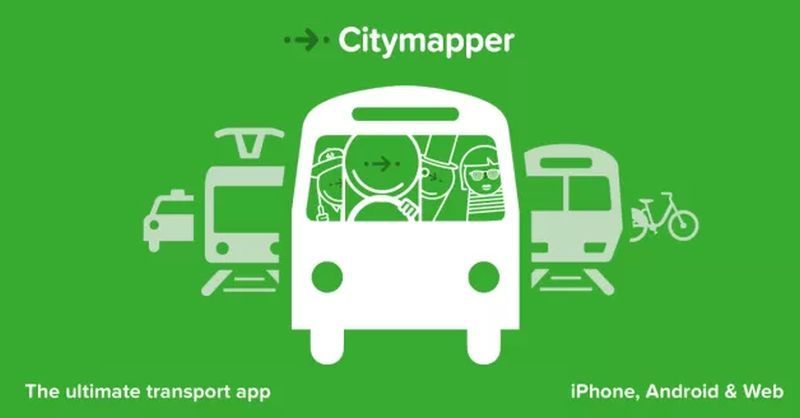 A public transport application focused on tens of top cities across the globe. Citymapper give you the ways to travel around the listed cities using the tram, subway or any other public transport. It allows to keep a list of favorite locations and shows you the best route, price and is regularly updated for the same. Overall, it is one of the best alternatives to Google Maps and does a better job than any other app.
2. Waze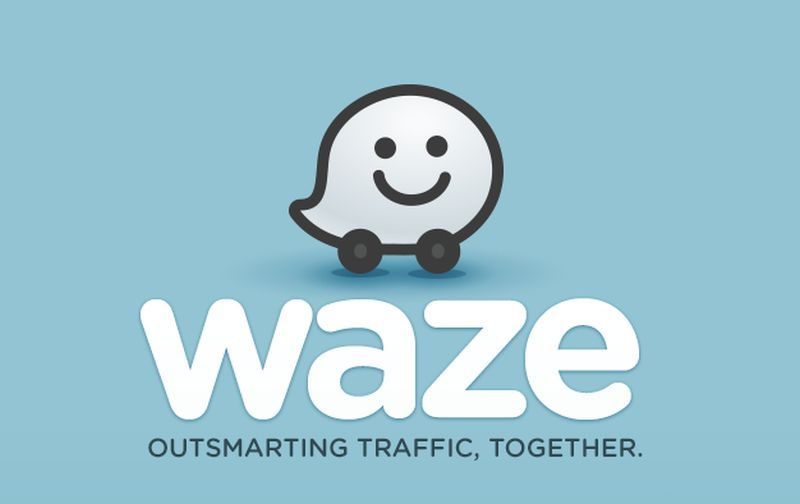 One of the best navigation apps out there. Just open the application, enter the destination and it will give you the best and alternate routes. It updates the route, if you miss a turn and also shows the live traffic with the help of traffic authorities and other motorists. A simple yet effective alternative to Google Maps.
3. MapQuest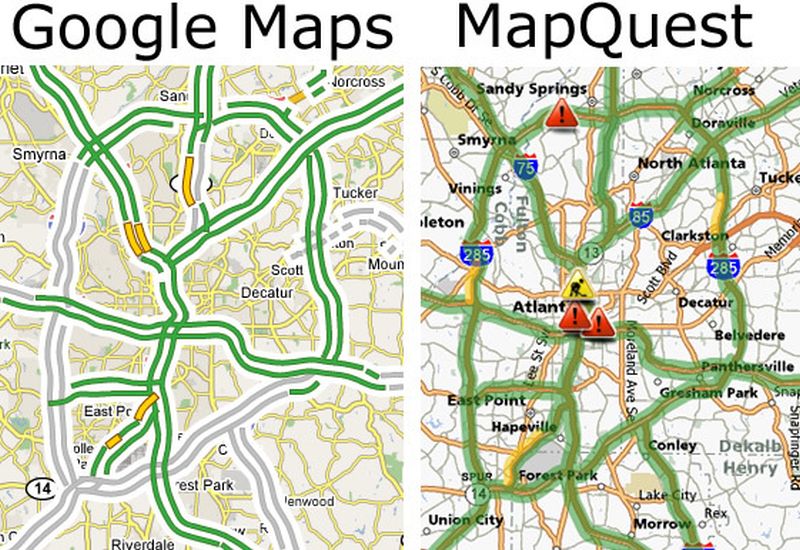 Image Source : technologycake.com
Founded by R. R. Donnelly and Sons in 1976 and later acquired by AOL, MapQuest has been a reliable source of navigation since then. Once you enter the destination, you get directions as well as a trip map to show you the businesses where you can take a break from roads. It gives you the option to check on the way food outlets, gas stations, grocery/coffee shops, and shopping malls. Live traffic updates and satellite view are other features. You can also send a particular map to your mobile if you browsing from a computer.
If you don't want the directions and just want to check available options. Enter the city name, click on the business you want to see and it will give you all the available suggestions. Suppose you enter Amsterdam in the search box and click on "Hotels", you will see all the hotels in the city. Select a hotel and you can make bookings as well. You can print the information if needed from the same window. All these qualities make it a solid alternative to Google Maps.
4. Maps.Me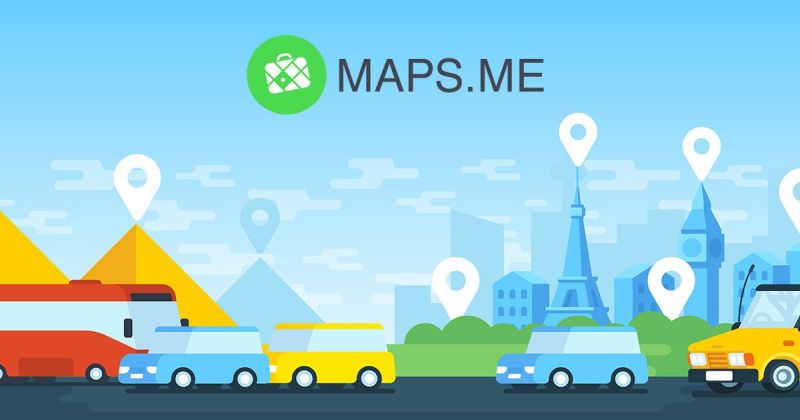 Like any other navigation tool, Maps.me gives you directions, traffic updates, cycling navigation and much more. It gives you similar mapping services like Google maps including the facility to download offline maps. The feature comes handy when you visit a new location and you do not have access to the internet.
If you are just exploring any location, Maps.me gives you all the options including hotels, shops, hospitals and many more. It is also updated with hiking trails, so if you are planning to go into wild areas, you got the companion. If you are planning any group trip, you can bookmark the trip/trail and send it to other group members.
5. Foursquare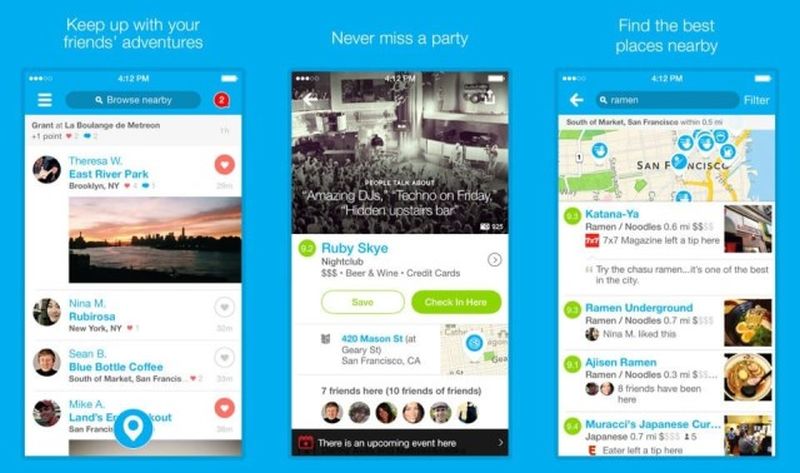 Image Source : cdn.cultofmac.com
One of the best location-based services, it helps you to find the nearest eating options and nightlife places.  Click any category or enter an area/restaurant or even cuisine to see all the options. Suppose, you enter Chinese, then you will be able to see all the Chinese restaurants near you, their address, timings, and directions. You can also see the reviews by other Foursquare users to know the place better. Lastly, you can share the search on Facebook or Twitter with your tips on the post.
Change the area if you want to explore different locations.
6. Bing MapsInitially, known as MapBlast.com,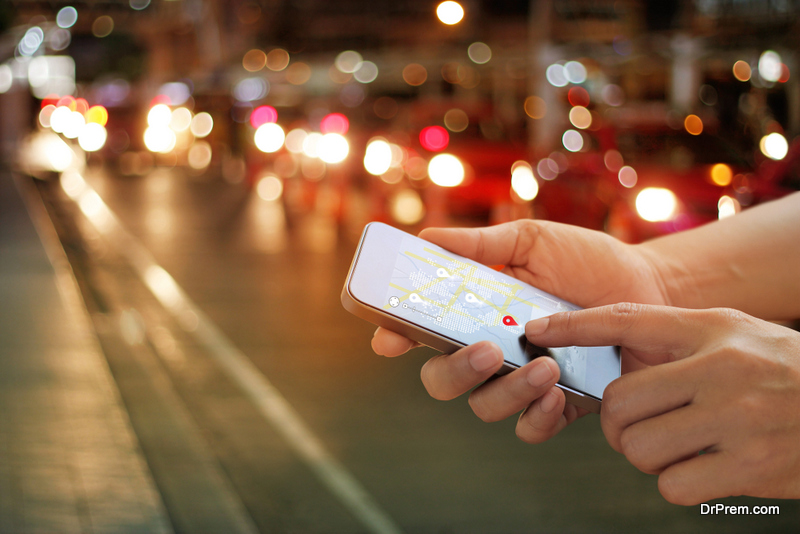 Bing Maps was acquired by Microsoft in 2002 and it happens to be one of the best alternative to Google Maps. Now, it is integrated with MSN maps and directions as well as Microsoft MapPoint.Once you enter a destination, you can see the different routes and distance in either miles or kilometers. You can save the destination history and select different options to avoid highways, tolls, and ferries. It shows live traffic plus all the options along the way, like hotels, shopping outlets, and other attractions. You can save the visited places in history and can also share it through Facebook, Twitter, and mail. Enable Satellite Bird's eye view of any maps and you will be able to see the legends as well.
If you just want to explore some city, enter the same in given search box and Bing Maps will give you a proper description/facts about the place, places to stay, restaurants and lot more.
7. HERE WeGo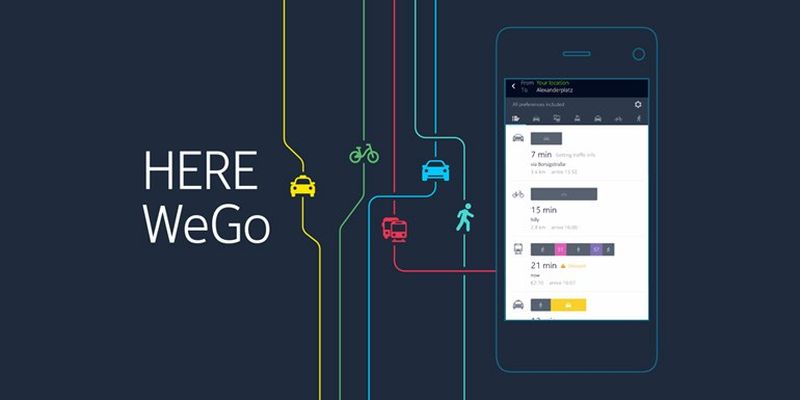 Image Source : i0.wp.com
Another easy to use application that uses GPS to locate your position and provides the best route. Once the destination is entered, you can change mode of transit between car, cycle, public transport etc. If you select anyone of the listed public transport option, it will give you an idea from where you can board the bus or metro.
Here WeGo has one of the best android app to offer offline maps similar to Google Maps.
Bottomline
All the above-mentioned apps provide the most recent information about any searched area. Try all of them once to experience a different interface from the great Google maps. Maybe you like one of these more.