Bahamas in the Caribbean comprises of more than 700 islands all knit together in a floating mass in the Atlantic Ocean. It is blessed with a lot of sun, shine and a plenty of sand and surf to dance on in a blissful crescendo of pure entertainment. 
The feet getting covered with soft powdery limestone white sand of the beach gives an awesome feel. The shallow shorelines and the faraway horizon where the sky and the ocean mingle in a hazy blur offer a spectacular vista. For this, Bahamas is always a tourist's favorite.
Before embarking on a trip to this land, it is prudent to get acquainted with the useful tips that would pay you rich dividends while traveling:
The best time for visit:
The Bahamas enjoy an excellent climate throughout the year averaging out at 340 sunny days. From December to April is a dry spell with the temperature hitting around 26 to 28 degrees. Tourist inflow is high during this period and hotel rates are highest.
Summer is the peak season and students from the US come over here on a vacation crowding the beaches. June – November brings in rains and the weather is stormy. However, bad weather is a passing phase and doesn't last long nor does it spoil the vacation.
From August to October is the lean season. The best time to travel if you want it done within a slim budget would be between late April to June when the hotel rates are low and the weather is fine.
Planning your trip: Do not miss the major Bahaman festivals
Cat islands Rake and Scrape Music festival held during Bahamas Labor Day weekend in the early weeks of June.
All Andros Crab festival in the second weekend of June.
Junkanoo, the Bahamian carnival with costumed parade and colorful pageantry on Boxing Day and New Years day with Spin off festival in early May. Junkanoo summer festival takes place in July.
Local culture and custom: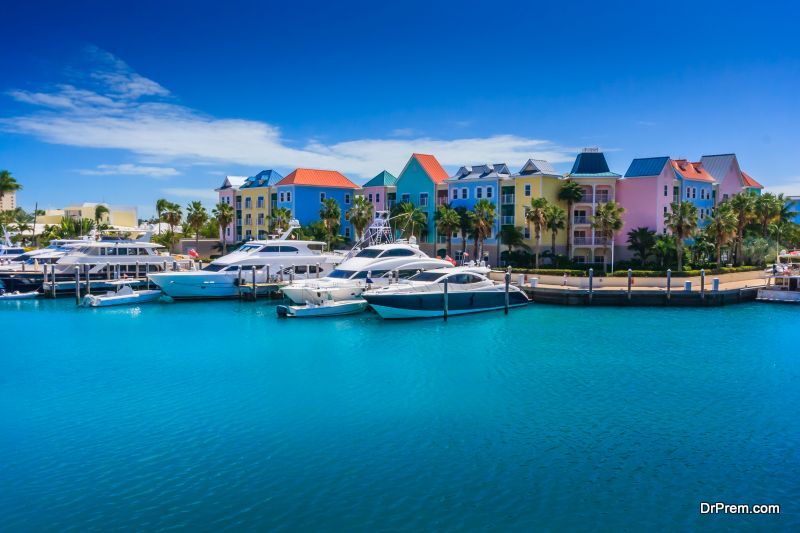 Bahamian music is known as Rake and scrape. It is the folk music with a lot of tempo and beats to go with. There are other local musical instruments like goatskin drums and washtub bass. These are very popular and they generate wild euphoria. It is strongly recommended to enjoy a live band on Rake and scrape.
Nassau Aqua tours:
Try out aqua tours in Nassau with the Yellow Bird. The cruise boats are spacious and tidy and the crews are efficient and hospitable. There is a swell of good food, dance, laughter, merriment and fireworks on board. Yellow Bird organizes a booze cruise too. The drinks are delectable especially the Yellow Bird cocktail is strongly recommended.
Recommended fun activities:
A trip to Atlantis Paradise Island.
Exuma Cays land and Sea Park.
Harbour island.
Grand Bahamas.
Andros Island, also known as the bone fishing capital of the world.
Treasure Cay.
Elbow Cay.
Green turtle Cay.
Bimini
Trip to the Long island.
Among other exciting activities recommended for tourists, the following are hot favorites:
Meet trained Dolphins up-close standing in waist deep water. Touch them and caress them it is fabulous.
Water sports: There are lots of them ranging from parasailing, banana boat rides, and jet skiing and snorkeling.
Try out the counch salad: It is a highly popular local dish prepared from marine mollusks.
Visit to Pirates of Nassau interactive museum.
Visit to the Ardastra Gardens, Zoo and conservation centre- parade of the flamingos is a star attraction over here.
Exploring the underwater caves and tunnels.
Exploring the Andros Great Barrier reef and taking a look up close at the marine life undersea
Travel Duration:
From Florida, it is just 80 kilometers and from London it is just over a 9 hours flight duration.
Currency:
Bahamian dollar is set at par with the US dollar and it is readily accepted everywhere.
Tipping:
It is usual practice in the Bahamas to offer tips to the porters, cab drivers, tour guides, bar tenders and other tourism service providers. In restaurant bills, a 15 % gratuity is always loaded to take care of waiter tips. Make sure if your bill includes the tips or else you might be paying the tip again.
Emergency contact numbers:
Police – 919
Fire –  911.