So, you have now booked your first date with a ski resort.  After spending time choosing the right ski resort for your family, you'll want to avoid making any mistakes that may affect your break. It might be difficult to find out what to pack, what can be rented and what needs to be bought as well as what to do in your down time, with or without the kids. Here are a few things you should think about and mistakes to avoid on your first ski holiday.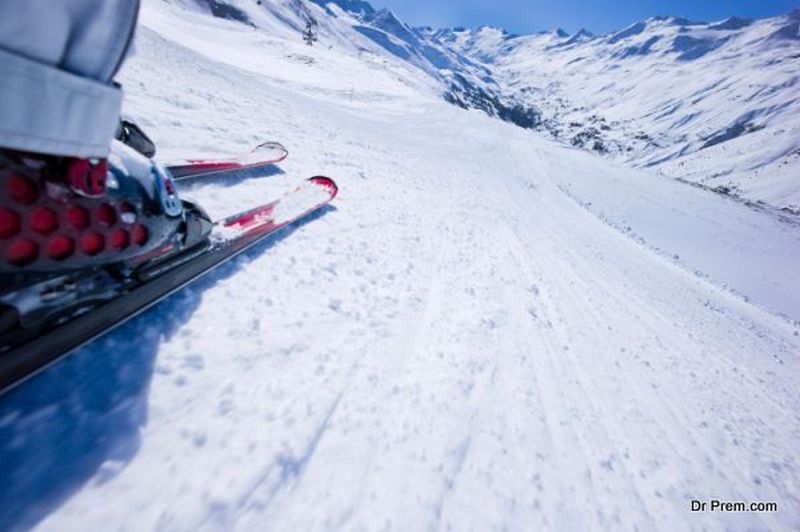 Packing the wrong stuff – too much or too little
Of course, you don't want to bring too much along with you especially with the whole family along. But you want to make sure you have everything you need. Make a list, and plan exactly what each person requires for your break. Set everything out to make sure you don't forget any of your essentials when you are packing and use packing cubes to keep everything organised.
Warm clothing should be top of the list as well as things to wear when off the slopes. Children feel the cold more so good base layers are a must. Check what toiletries are provided in your accommodation and compare that with what you are bringing with you.
Deciding what to purchase and what to rent?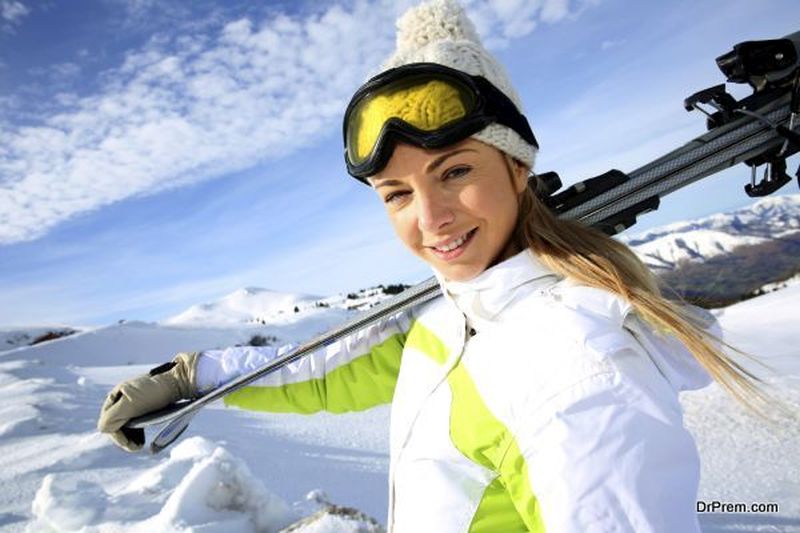 It can be hard to decide what is cost effective to buy and which items are best rented on your family ski holiday. You may dream of many future Ski breaks and think it is budget friendly to buy everything up front. This might be great for the adults in your family, however, with young kids, this is not the case.
It's advisable not to buy expensive Ski gear for the children, particularly as beginners. Hiring boots, ski suits and other equipment is a better alternative to buying these costly items. You get good quality items that are tried and tested to suit children skiing on slopes. You don't know how quickly your child will grow or when is the next time you will go skiing as a family, so hiring these things is the sensible option.
Choosing the wrong accommodation for your family
Accommodation can  make or break a family ski holiday. There's lots more to think about when you are bringing the kids along. The proximity to the slopes and resort centre, the space, the facilities and even childcare. Planning a child friendly place to stay should take some thought. You don't want to be lugging children and ski equipment too far to the pistes and you don't want a dangerous icy walk to the resort.
Where you once stayed as a couple, such as boutique hotels, may not be the ideal location for a ski break with kids. Staying in a chalet is a good idea as you will have the space you need as a family and a cosy place to unwind after a day skiing. Most families like the home from home feel of a chalet and you can also choose catering options so you don't have to think too much about meal times. You should definitely consider a Chalet stay when planning a family ski holiday.
Forgetting to plan Ski lessons (or planning to teach the kids yourself)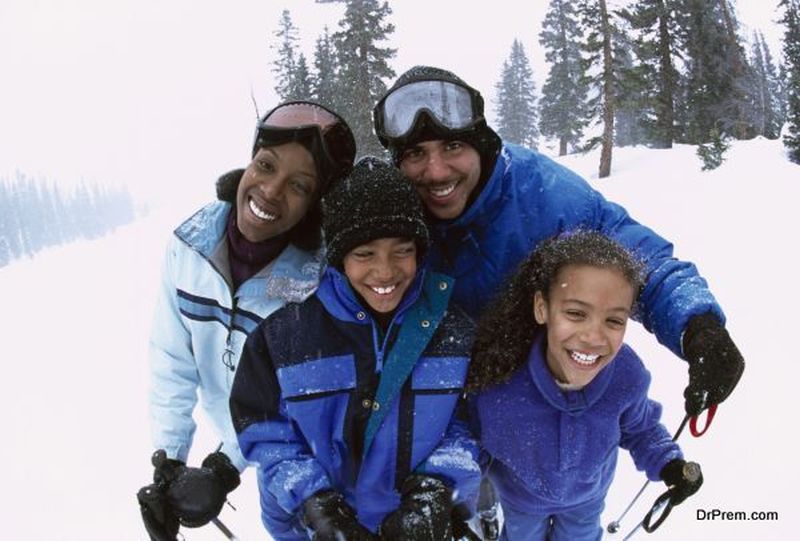 Beginners need lessons. It is as simple as that. That goes for both children and adult beginners, you may think you can show your partner the ropes, think again. A ski holiday will be no fun if you or the rest of the family don't know what you are doing when it comes to getting out on the slopes.
Parents who think themselves excellent skiers make the mistake of thinking they will be able to teach their own kids to ski. You might be a great skier and even a teacher but you probably don't have the skills to teach your own children. The best thing you can do is leave it to the professionals. Plan and let them do the hard work and you can enjoy your own time on the slopes too.
Underestimating the family's fitness
If you are going to be skiing or doing other outdoor activities on every day then you need to have a good level of fitness. Don't think you will just get used to it, having tired cranky children is not going to be fun on your ski break.
Getting the whole family prepared for your ski holiday by taking regular exercise is essential for everyone to enjoy time on the slopes. You don't have to go mad, but going for plenty of walks and doing activities at home together will help in improving overall fitness. Get the kids used to being outside every day by doing fun things like going for bike rides, going to the park, maybe even take some dry slope ski lesson so they know exactly what they will be doing and you can see how they cope as well.
Not arranging transfers before you arrive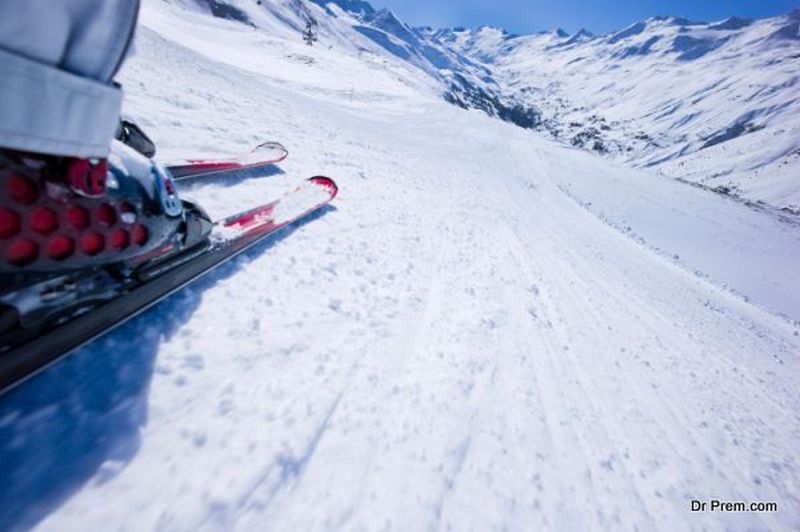 Don't underestimate the importance of having pre-booked travel arrangements from the moment you arrive in the airport. There's nothing worse than waiting around trying to sort out transfers on arrival, even more so when you have lots of luggage and the whole family in tow. You don't want to ruin the beginning of your family ski holiday!
Smart travellers will book everything together with a tour operator. That way you can have everything included as a package so you don't have to worry about booking your own transfers. You also know exactly what you are getting in terms of fights and accommodation too. Let's face it, the less you have to worry about the better, and having your transfers waiting for you when you land is one less thing.
Overlooking the importance of Après ski
There's more to a ski holiday than skiing and you must remember to think of all the different things you can enjoy as a family and as a couple. Check out what Après ski is available in the resort and plan some fun activities for your family. It can be a good idea to spend some time together, particularly if you are taking to the slopes separately.
Family friendly resorts often have plenty of things for families to do. Examples include tobogganing, ice skating, swimming and cinemas. If the kids are bored or have some excess energy to burn off there are lots of ideas of things to try in resort. Just make sure you book a ski resort that caters for families and you are all set. You may also want to spend some time as a couple, so check out in chalet childcare options available.
Have you ever made any of these mistakes?
There are a few things that might seem obvious once you think about it but these mistakes are easy to make. Sometimes you can get so caught up in one aspect of planning that you will neglect another. Knowing what the common mistakes are and how to avoid them will help you to plan, prepare and most importantly enjoy your first ski holiday.
Article Submitted By Community Writer