Your 25th wedding anniversary is certainly a rather special anniversary. You have weathered 25 years of marriage and stayed true to one another. Make your 25th anniversary extra special by taking a vacation with your beloved other half. There are many 25th wedding anniversary vacation ideas you can choose from – in fact you'll be spoilt for choice.
Should you vacation near the sea or ocean and enjoy soaking in the sun? Or should you troll on the beach while looking at the magnificent sunsets? Or maybe you decide to enjoy an urban environment, wining and dining in Michelin starred restaurants. Here are some of our picks for you:
Also, if you are going to marry the love of your life soon, we have some amazing underwater wedding destinations, curated just for you. Scroll down to the end of the article to read more.
Tips for planning a perfect romantic getaway or wedding anniversary vacation
Whether you're planning a nice romantic getaway with your significant other, trying to set up a destination proposal, planning a honeymoon, looking for a Valentine's Day idea, or thinking of a way to rekindle the love – tripatlas.com/new is bringing you tips on planning the perfect romantic getaway.
1) Beachside getaway, countryside retreat, or city escape?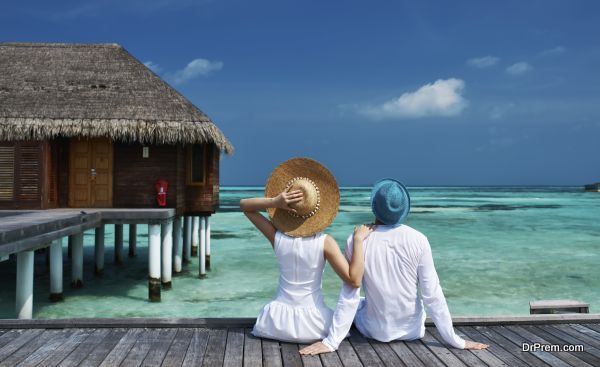 Depending on what you and your significant other like – decide whether you're the beach type or the city type – or both.  If you want a beachside getaway, then look to the Caribbean's Bahamas, Barbados, or the more affordable Cuba for out-of-the way serene beaches.  Countryside retreats are not only more affordable than flashy destination vacations, but they're quiet, serene, and offer a cozy one-on-one getaway in the comfort and proximity of many major cities.  City escapes are great for couples that enjoy shopping, nightlife, dining, and entertainment.  While Las Vegas is a fun, affordable city escape with tons of romantic ideas, there's also New York City, Miami, Los Angeles, or Montreal.
2) Make the getaway a surprise 
According to the ultius.com for a sure way to make your romantic getaway really special and exciting. Start with surprising your significant other with the romantic getaway, leave clues about the destination and what to pack, reminders of how many days are left until departure, book surprise activities throughout the getaway, set up romantic dinners, and etc.
3) Don't forget the extras!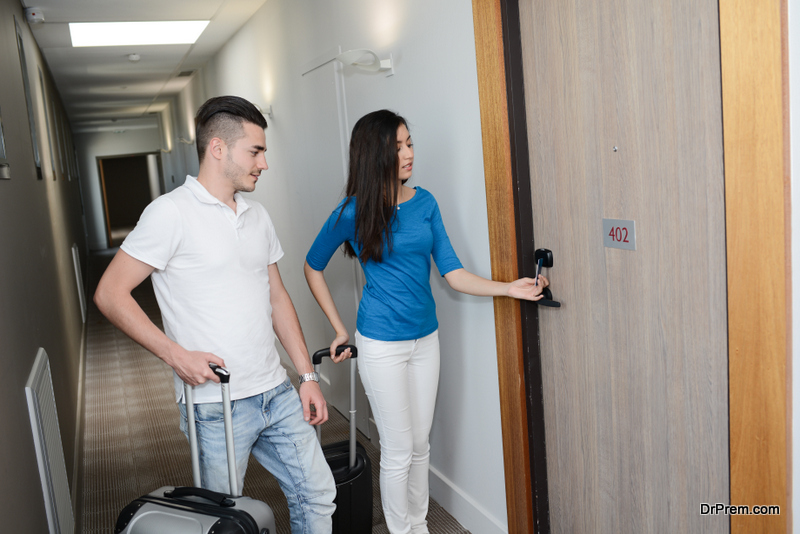 Small things can make a big difference.  Consider getting a limousine to pick you up at the airport.  Pack romantic CD's or scented candles.  Ask your hotel for upgrades or ensure that the room gets the "special" romantic getaway treatment – rose petals on the bed, wine or champagne, chocolate covered strawberries – order room service, and etc.  Don't forget a couples' massage or spa treatment – a must for a true romantic getaway!
4) Make dreams come true
By showing your significant other you care by doing something they love to do or have always dreamed of doing.  Ideas like swimming with dolphins, eating at a famous restaurant, spending time at the spa, climbing a mountain, relaxing on a secluded white sandy beach, ziplining in the jungle, vacationing in Hawaii, or seeing a favourite band in concert – are a great place to start.
5) What's your budget?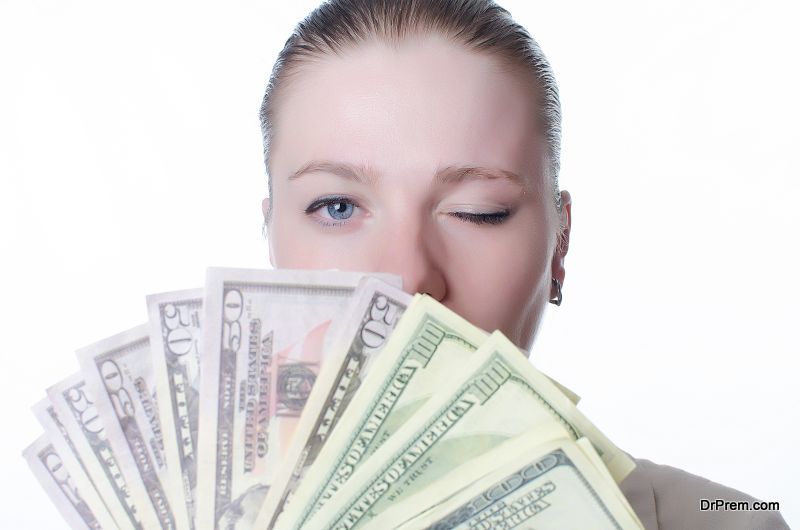 Just as when you're planning a regular vacation, you have to figure out your budget (as un-romantic as this may seem).  That way, you can figure out which destinations are more or less realistic yet ensure it will still be romantic.  For smaller budgets, consider a short road-trip outside town to a countryside bed and breakfast or a boutique hotel on the coastline and look for cheap airfare to nearby cities or destinations..  If the sky's the limit for your budget, let your imagination can run wild!
25th wedding anniversary vacation ideas
Mexico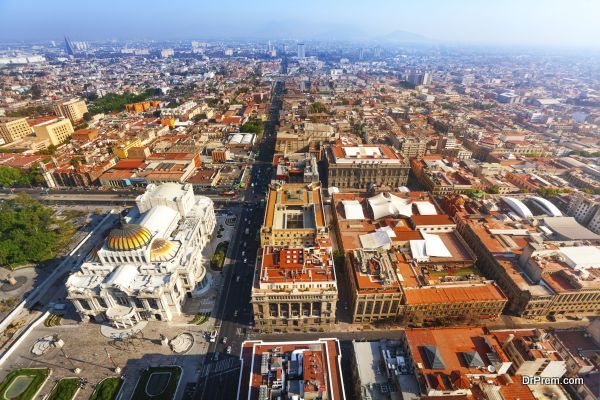 There are numerous resorts and spas in Mexico to choose from. Your 25th anniversary is very special, so you must record your memories of the time spent there. Not only by just clicking a few selfies. If you stay at "The Cape', at Cabo San Lucas, you can record with your smartphone's camera, and then get it edited professionally. This 'love video' is possible due to the partnership between UrLife Media and the hotel. It would be a precious memento of your anniversary, to keep and look at it whenever you feel nostalgic.
Destination re-wedding
25th wedding anniversary vacation ideas can be like this one – renewing your wedding vows, with just the two of you in a Trappers Cabin in Beaver Creek, Vail, Colorado. Amidst the wonderful spruce and aspen trees, you can ski to your heart's content too. Snowshoeing and Jacuzzi are added attractions.
Maui beach holiday
Maui is filled with many beautiful beaches, which can be accessed on a bicycle. This is one of the best 25th wedding anniversary vacation ideas, as it is relaxing and peaceful. If you're wondering about places to go for an anniversary weekend, you can visit Maui. Rent tandem beach cruiser – it will be fun to pedal together – a novel experience for sure!
Luxury holiday in Munich
If you have the urge to splurge, there are no better 25th wedding anniversary vacation ideas than staying at the Rocco Forte chain of hotels, The Charles. You must stay at the penthouse and enjoy the glorious views of the famed Botanical gardens. Live like royalty at The Charles's penthouse which has its own private terrace as well as a personal butler. The en-suite breakfast includes caviar, smoked salmon, and Ruinart champagne.
If you can spend 35,000 Euros, you can book the anniversary getaway packages for two people. This package includes a room, a 24-carat gold leaves' spa, and a 10-course dinner by candlelight. End the special anniversary treat with a ride in the horse-drawn carriage through the beautiful English Garden of Munich.
Skiing and soaking holiday
One of the best 25th wedding anniversary vacation ideas– enjoy the best of both worlds as you soak in the hot springs on the mountainside. You might get some anniversary getaway packages which will make it easier on the pocket. Impress your wife/husband with this surprise holiday in Yampah Valley. Don't forget to enjoy a ride on the hot air balloon for a change.
Sail in San Francisco
Searching for places to go for an anniversary weekend? If you live near San Francisco, take the anniversary as the perfect opportunity to learn a new skill – sailing. The 'Club Nautique' sailing school gives lessons in sailing to newbies too. Visit the Casa Madrona, which a 19th-century mansion converted into a hotel for the experience of a lifetime.
Wild Adventure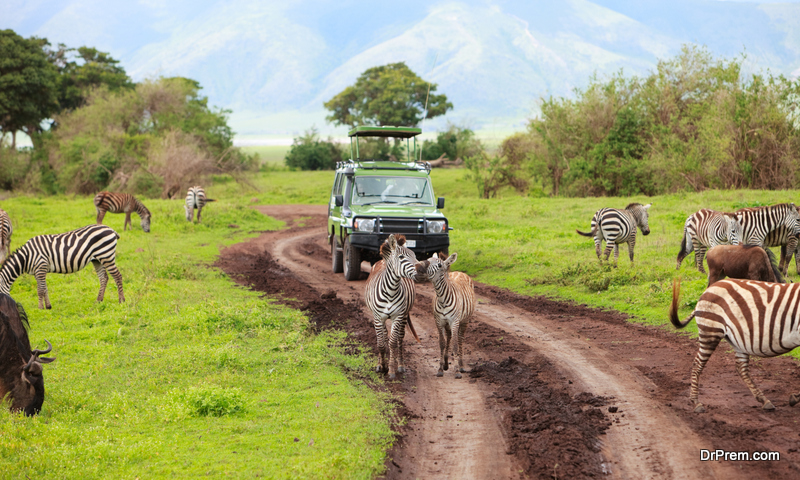 Well, if you've traveled all over the globe in your 25 years of marriage, it's time to do something different. Instead of finding romance on beautiful beaches, experience an amazing adventure at the Khwai Private Reserve. Off-road safaris are possible here, along with guided tours (walking), and night drives. Make your 25thanniversary an unforgettable one with this safari holiday. Try to work out a good price with if you're looking for anniversary trips on a budget.
Experience living in the wild in the innovative 'Skybeds' outdoors. You'd be able to listen to the sounds of elephant herds and other animals on their way to a watering hole.
Stay at San Alfonso del Mar, Chile
This coastal resort is famous for its manmade lagoon and was the Guinness Record holder for the same. People flock to unwind with a soak in this lovely, gigantic pool, measuring a whopping 3,324 ft. Sandwiched between the Pacific Ocean and the resort, you will be surrounded by dazzling blue water wherever you go. This is probably not the place if you're looking for anniversary trips on a budget, but you may spend just one night here, and stay at cheaper hotels to adjust to your budget.
Boat in Santa Ynez, Santa Barbara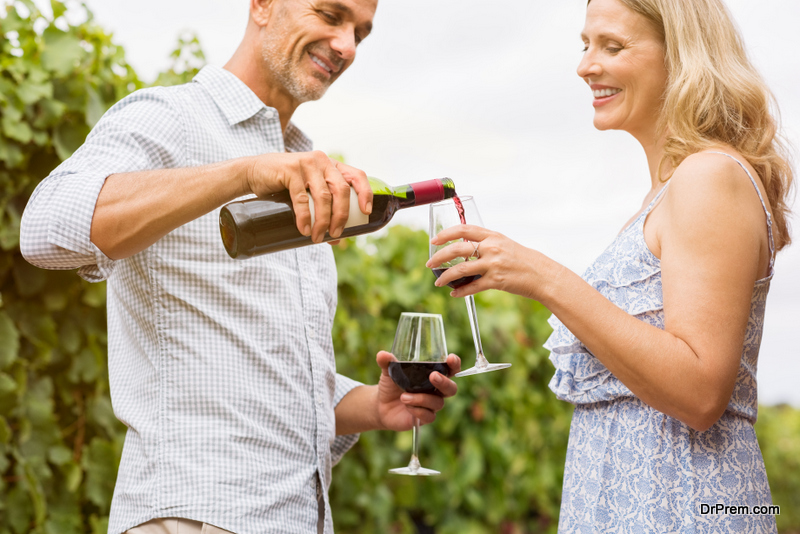 If you both love good wine, this is the perfect anniversary vacation for you. You can while away your time strolling among the vineyards, or glide silently across a mountain lake. The Alisal Guest Ranch Resort and Spa offers many opportunities to connect to your inner self, as there is no connection for phones and TV. A quiet and peaceful holiday, which will rejuvenate both of you.
Looking for unique destinations for your upcoming wedding?
Very soon, you will be tying the knot with your soulmate. You want to remember this day. You want it to be one of the most special days of your life. For this, you are browsing through Google for some unique wedding sites. How about some of the best underwater wedding sites in the world? Read on to know more.
Underwater weddings are super cool and adventurous. Many people want to make their wedding day unique and special one and for this, they choose unique venues. Underwater weddings are quite enough to make your wedding unique, amazing, and memorable.
This type of wedding is not for everyone, but it is perfect for people who want to do things differently and want to make it a little adventurous.
Destinations for an 25thunderwater wedding ideas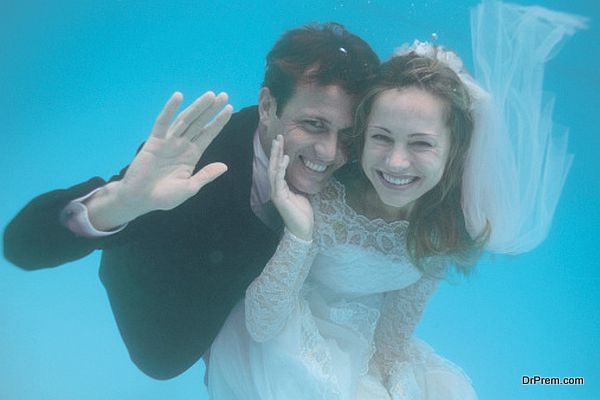 Many hotels, resorts, and lodges offer different underwater locations for wedding ceremonies. Here, we have a list of destinations ideal for underwater weddings.
Cozumel, Mexico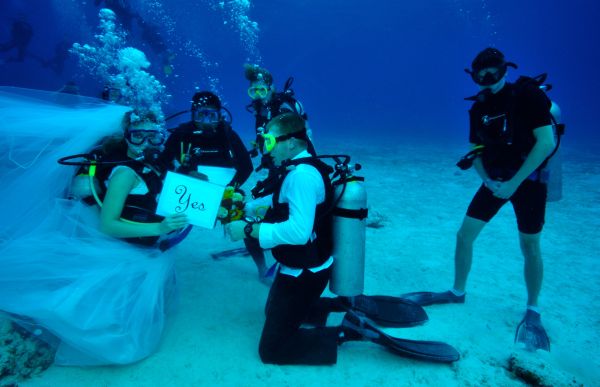 The beautiful island and resorts of Cozumel offer a unique wedding venue for a couple. It is the largest inhabited island in Mexico and a paradise for divers from all over the world. They also offer underwater wedding for couples. Visitors can tie the knot underwater and can celebrate the biggest day of their life in a unique way.
Jules' Undersea Hotel, USA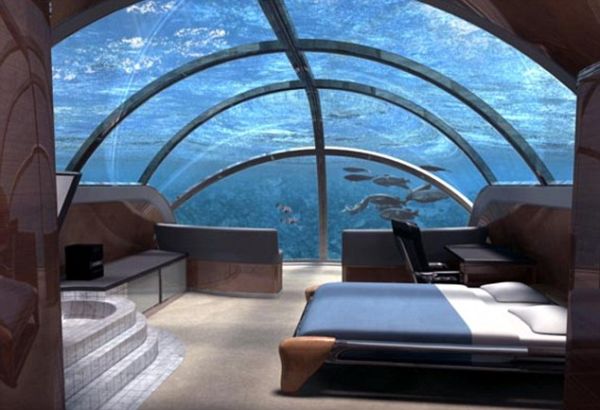 Jules' Undersea Hotel is a perfect place for couples looking for a truly different way to start their married life. The hotel offers all of the romance and adventure of an amazing underwater wedding. Jules' Undersea Hotel offers wedding in both dry and wet locations. Couples can give a reception in big and well-decorated underwater halls. The hotel offers a beautiful honeymoon package to the couple. This provides an opportunity for people to make their wedding day and wedding an amazing and memorable one.
Trang Underwater Wedding, Thailand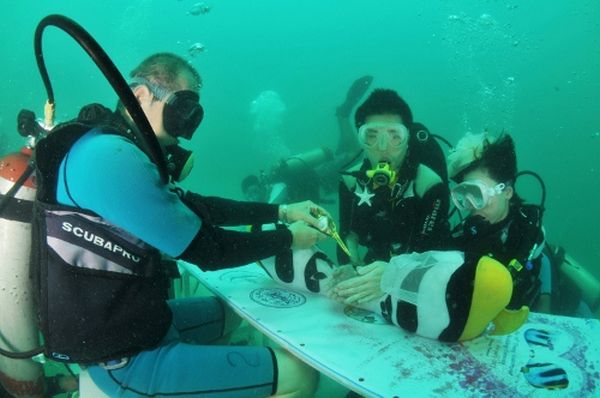 Trang is located on Andaman Coast in Thailand. This is a perfect place to enjoy Thai wedding with a twist. Tourists can visit the destination to make their wedding a unique and memorable one. Valentine's Day is the best time to visit the destination as a special wedding festival takes place every year from February 13th to 15th. The actual wedding ceremony being performed on February 14th on Valentine's Day.
The Love Aquarium, Turkey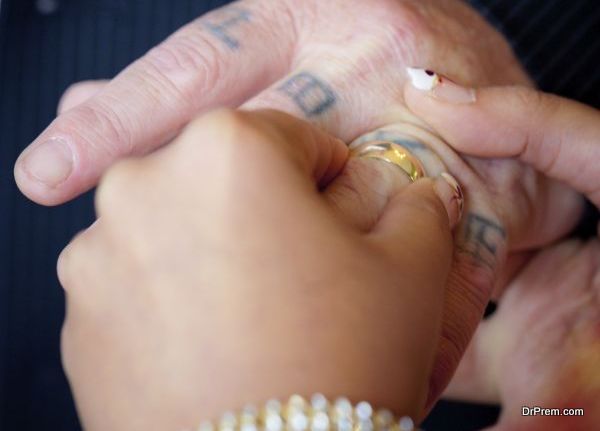 The Love Aquarium is located in Turkey, a beautiful destination for wedding and honeymoon. The hotel offers combined wedding and honeymoon packages to its guests. It includes everything from flowers to wedding cake (not real ones). You can book your honeymoon and can spend quality time together. It is a perfect location to enjoy a Turkish aquatic experience on your big day.
Dream destinations and romantic getaways across the world
We know that it is not about the destination, but the journey. We are reminded to enjoy the process of getting somewhere, rather than focusing on the final place. However, why not make the most of the journey by ending it in a romantic destination. It is not just about where you set off, but whom you are with, and what if you could have the best of both. We have searched the globe for five of the most romantic getaways that will either spark the romance or rekindle the flame.These are our top five romantic destinations around the world.
Paris, France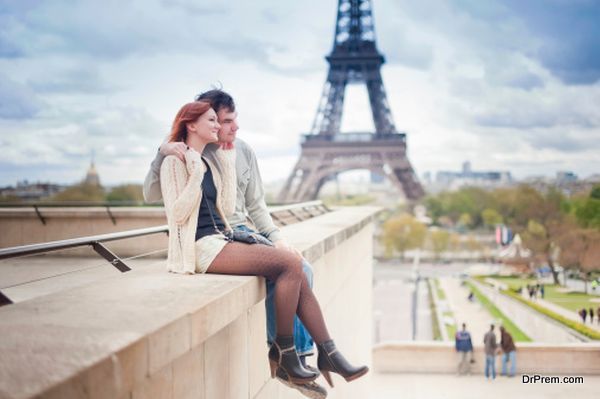 Yes, it might seem clichéd to list Paris as one of the most romantic destinations, but there is a reason why it achieved this status. Who can resist that velvety accent, fine wine, and abundance of history, art, and sites? The Eiffel Tower and Arc de Triomphe are only two such sites that set the scene for a romantic backdrop. It is difficult not to find romantic things to do in Paris; whether it is fine dining, site seeing, massages or being immersed in the city's art, music, and performances. You are sure to find something to see or do.
Victoria Falls, Zimbabwe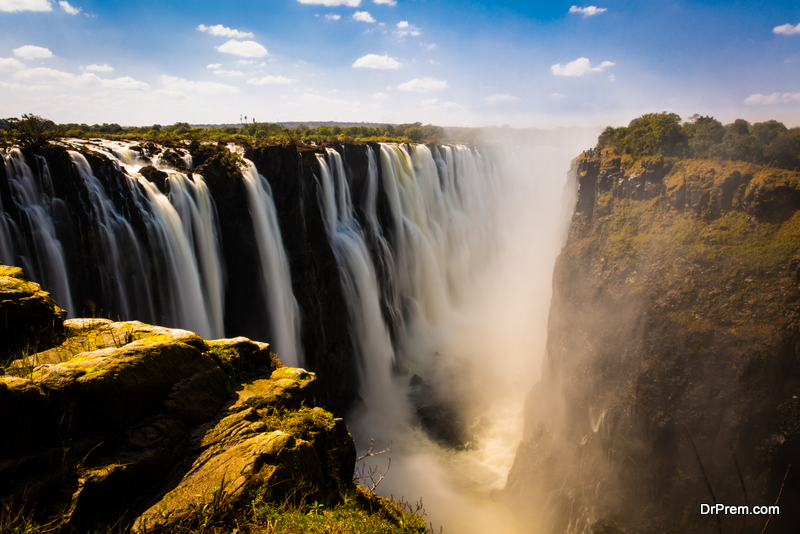 Africa is not just about Safaris, there are romantic destinations too. One such destination is the World Heritage Site, the Victoria Falls in Zimbabwe. It is a popular wedding venue and understandably so. Its Shona name translates to "the smoke that thunders" – how poetic! The falls get their English name from David Livingston, a Scottish explorer, who named it after Queen Victoria in 1855. To give you an idea of how big this waterfall is, it is about twice the height of America's Niagara Falls. Rather than making a suicide pact with your partner like they do in the movies, why not brave Devil's Pool? It is a naturally formed pool at the waterfall's edge that makes it seem like you could easily slip off the ledge. There is a slight risk, but it makes for good pictures!
The Bahamas, Caribbean
The ultimate island paradise has to be The Bahamas. What could be more romantic than walking along the rosy pink sandy beaches next to pristine, aquamarine-blue water? Love songs are made of this stuff. You can almost hear the Beach Boys sing "Aruba, Jamaica, ooh I wanna take ya to Bermuda, Bahama, come on pretty mama". The word "Bahamas" means "shallow sea" and, judging by its name, it seems like a peaceful place to relax and just be.
Venice, Italy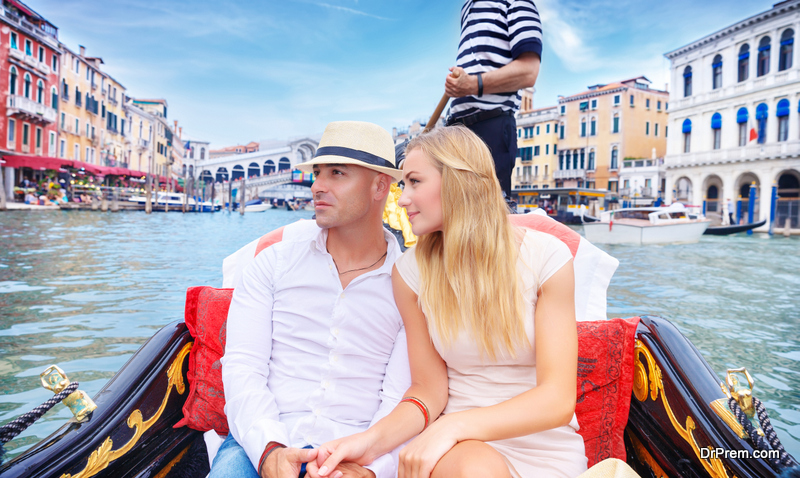 Another seemingly clichéd spot for romance, but justifiably so, is Venice in Italy. Movies, novels, and even cartoons place characters in a gondola on the Venice canals while they get serenaded in the moonlight. This romantic destination can be either cheesy or cheese-filled, depending on how you like your vacations or your pizza.
Aspen, USA
If you are looking for an excuse to snuggle up with a loved one, Aspen in the winter is ideal. Hot springs, fresh mountain air and skiing make for a great romantic getaway. Get warm and toasty with some hot chocolate, a crackling fire in the fireplace and some soothing music. In the summer, Aspen offers western adventures such as horse riding, hiking and camping. This place is romantic all year round.
Top romantic getaways for your winter vacations
While everybody have their unique definition of romance but for most of the people travel is the best part in their romantic life. Some of the best romantic getaways will surely give you some quality time to bond with each other and get to know each other more. If you always travel to places full of adventure and sports then this time give your hubby a surprise and spend time with your love rather than hiking or skiing. Here are the best romantic getaways that you should visit in winter.
Quebec City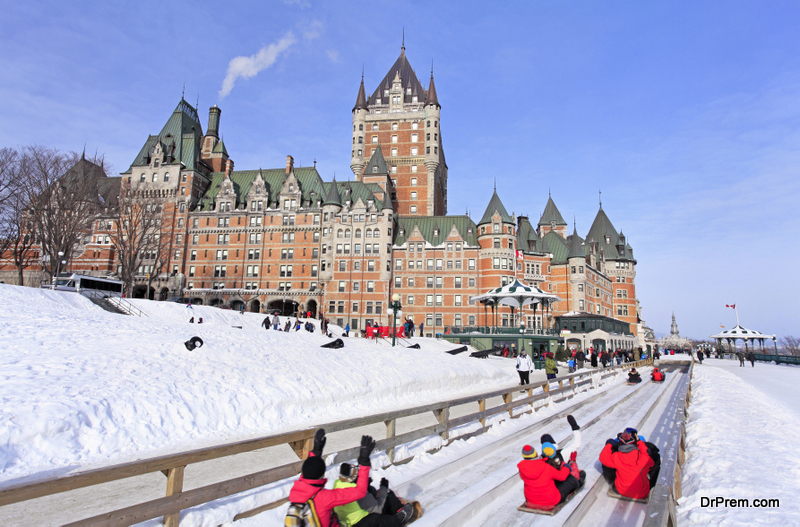 You don't need any proof or any digging in the past of Quebec City just to prove that it is North America's most romantic city. If you are finding a nice hotel then you should probably stay in the most intriguing hotel here, Auberge Saint Antoine. Located on the bank of St. Lawrence River, this hotel comprises of total 82 rooms. In a recent renovation, more than 5000 antique pieces from 17th century were unearthed under this hotel. This hotel has a unique blend of contemporary as well as antique furniture. It also has a nice restaurant Panache whose food will surely tickle your taste buds. So enjoy some ecstatic floor along with such a nice view that will make your vacations a romantic one.
Fjords in Patagonia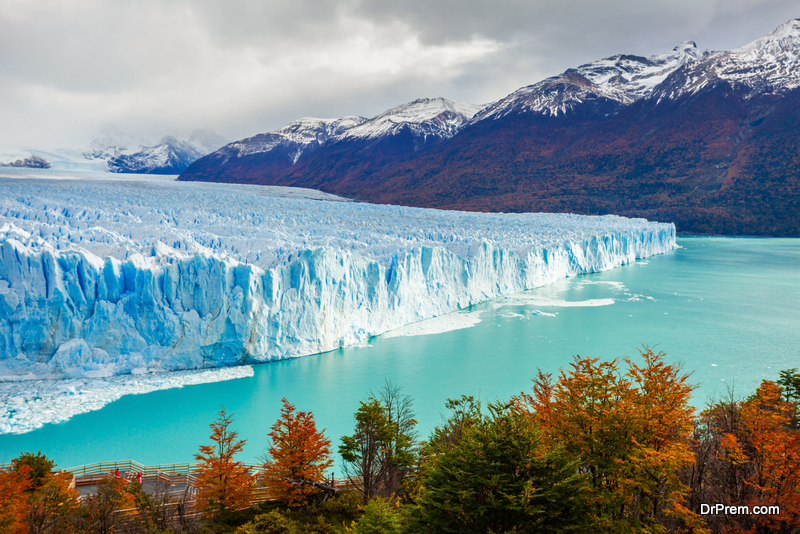 If you are tired of paddling boat by all yourself and this place might soothe you. In the midst of water and rainforests there is a beautiful resort located, Puyuhuapi Lodge and Spa. Patagonia express will pick you up directly outside of your cottage and will transfer you to southern fjords. Water is the only medium of transport to reach this resort. You can then travel by this express to the Millennial Glacier. People or more precisely couples who want privacy and want to avoid crowd can hire a kayak. Another place you should visit here is the Queulat National Park. Patagonia houses a number of beautiful places that will surely mesmerize you.
Yellowstone National Park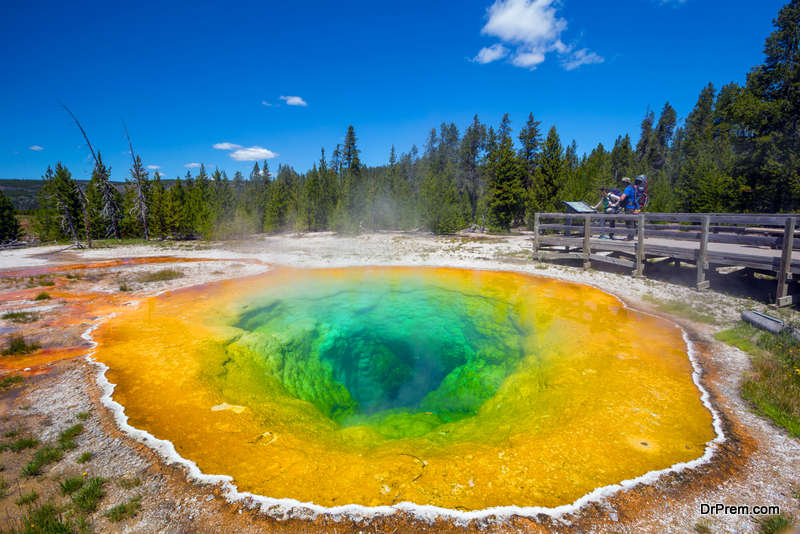 Every year more than three million couples visit Yellowstone and ninety seven percent of them visit in summer. Therefore, they remain untouched of the scenic off-season beauty. In winters, Lamar Valley is famous for wolf tracking, trekking on some Hot springs. If you love skiing, then you can opt for some guided tourist packages according to your stamina and interests. After all this adventure, all you want is a warm place to relax with the warmth of your love. Best place for such warmth is the iconic and historic Old Faithful Snow Lodge. The place has excellent interiors like carved wooden furniture, amazing color combinations. This lodge will truly fascinate you and make your experience much more memorable.
Kakslauttanen, Finland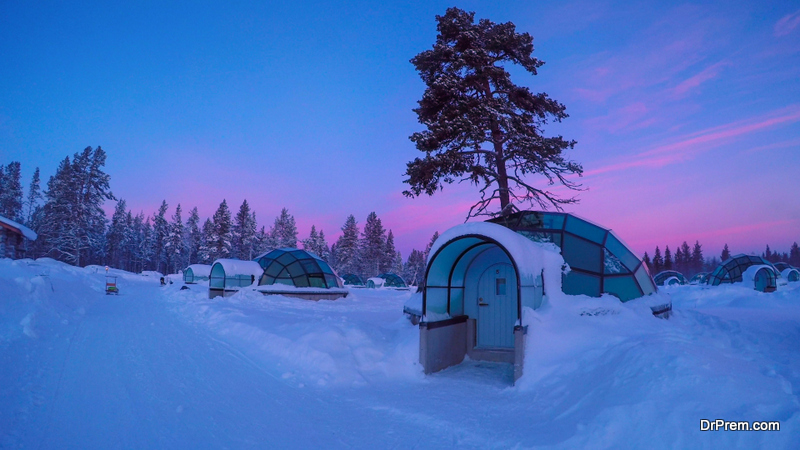 You may have enjoyed many rides on single horse or single horse carrying your sleigh. Now is your chance to enjoy a ride on Santa Claus's famous Reindeers. Reindeers will carry your sleigh over snow-covered Lapland. After coming to Finland, you must stay at the amazing Hotel Kakslauttanen's igloos. These igloos are made of thermal glass, so that you can enjoy the most mesmerizing aura of Aurora Borealis with red, green and blue colors. This will be surely once in a lifetime experience for you and your love. So pack your socks, woolens and enjoy winters in an Igloo sitting in front of fireplace. This pleasant time, amazing aura and winters will only need the warmth of your love to keep you warm. This will surely make your travel experience a romantic one.
Summary:
Celebrate your 25th anniversary by choosing a place which appeals to both of you. It could be by the seaside or a mountain holiday, but wherever you go, your partner of 25 years accompanying you will make it more special.If you want to spend some quality time with your love then choose a romantic getaway from these intimate and affordable locations, giving a romantic blend of scenic beauty and winter season.