Golf, formerly considered a sport for the elite, has developed into a popular leisure activity that people from all walks of life adore. Golf has won the hearts of millions of people worldwide with its natural fusion of talent, leisure, and a connection with nature.
The desire to find excellent golfing locations that offer top-notch courses and the promise of an unforgettable vacation grows along with this passion for the sport. Jamaica stands out in this trend as a golfing haven that entices aficionados with its Caribbean charm and immaculate fairways.
This article explores Jamaica's attraction as a golf destination and presents five convincing arguments for why it is the ideal hideaway for golf enthusiasts of all skill levels.
1. Stunning Golf Courses
The variety of top-notch golf courses in Jamaica is nothing short of spectacular. These courses have been carefully created to provide a challenging playing experience while complementing the island's natural beauty. Whether you're an expert golfer or a beginner, you'll like the variety of golf courses in Montego Bay.
The lush, tropical setting surrounding the fairways is among Jamaica's most alluring golfing features. Swaying palms, vivid bougainvillea, and scented hibiscus often surround the emerald-green fairways. Every circuit becomes a fully realized exploration of the island's natural splendors.
The golf courses in Jamaica offer a spectacular variety of scenery. The sea breeze and the sound of the waves provide the peace of playing on an oceanfront course. As an alternative, mountain-view courses have expansive views of gently rolling hills and towering peaks, providing a picture-perfect setting for your round of golf.
2. Year-Round Ideal Weather
A golfer's paradise, Jamaica has a tropical climate. You'll discover that the weather is consistently comfortable for golf, with typical temperatures ranging from the mid-70s to the low 90s Fahrenheit (mid-20s to low 30s Celsius) year-round. Whether it's the height of summer or the chillier winter months, golfers may tee off in comfort thanks to the mild atmosphere.
In Jamaica, you can expect plenty of sunshine while playing golf. The island has plenty of sun all year, making it perfect for a round of golf. Golfers can enjoy the clear skies, ideal for watching their shots and taking in the breathtaking surroundings.
In contrast to areas that frequently experience extreme weather, Jamaica allows golfers to avoid delays caused by blizzards, torrential downpours, or stifling heat. The consistent and mild weather will make your golf activities pleasurable all year. The weather in Jamaica usually allows for either morning or afternoon tee times, depending on your preference.
3. Golf and Beyond: Exploring Jamaican Culture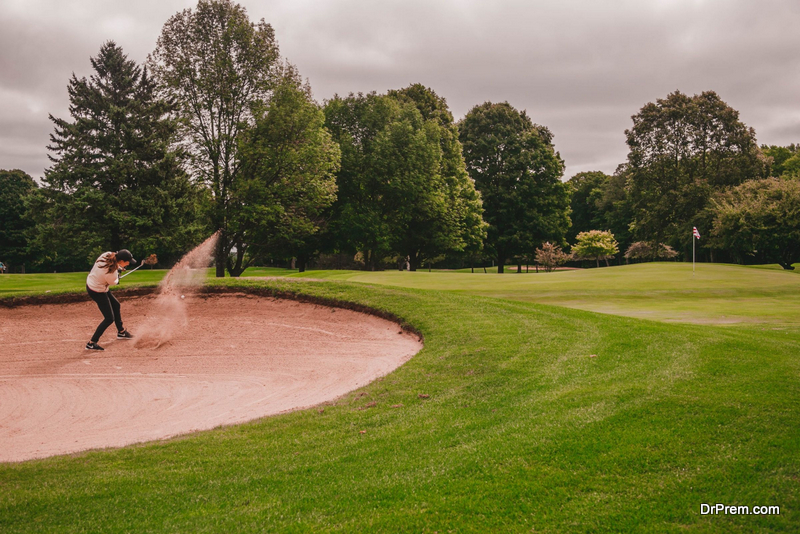 Beyond its golf holes, Jamaica is home to a thriving and diversified culture. Visitors experience the island's rich history, from the pulsing rhythms of reggae music to the hypnotic dancehall moves. Discover the vibrant art scene, visit nearby galleries, and interact with the friendly and hospitable Jamaicans. The culture of Jamaica offers an exciting dimension to your golfing holiday, whether you're taking in a passionate dance performance or appreciating exquisite artwork.
Teeing off on golf courses is undoubtedly the highlight, but don't miss the opportunity to visit adjacent cultural treasures and attractions in Jamaica. A plethora of history awaits, from the Bob Marley Museum in Kingston, which honors the iconic reggae hero, to ancient locations like Port Royal and Spanish Town. These cultural encounters will deepen your appreciation of Jamaica's diversity and leave you with priceless memories.
A trip to Jamaica would be incomplete without experiencing the island's delicious cuisine. Try classic meals like jerk chicken, ackee, saltfish, and daily-caught fresh seafood. These delicacies are served in many fine restaurants at golf resorts, allowing you to indulge in gourmet explorations after your rounds. Let reggae music's rhythmic melodies serenade you as the sun sets in the Caribbean night sky. Catch live performances at nearby locations or your resort, where the upbeat music and uplifting energy will have you dancing all night.
4. Golf Resorts and Amenities
The golf resorts in Jamaica are recognized for offering an excellent fusion of leisure and relaxation. These resorts provide the ideal setting for a golf holiday because they are tucked away in stunning natural splendor.
The lodging at golf resorts in Jamaica is usually opulent. Expect extensive accommodations, tasteful furnishings, and breathtaking views. These resorts provide top-notch facilities in addition to golf, such as exquisite dining options and relaxing spa services. Thanks to the private beaches, infinity pools, and dedicated staff, you will have all you need for a memorable vacation.
The golf resorts in Jamaica provide well-designed golf packages to smooth your golf vacation. Tee times at the resort's championship courses or neighboring greens, club rentals, and golf lessons are sometimes included in these packages. In addition, many resorts offer individualized services to ensure your golfing experience matches your tastes, whether you're an experienced player or just getting started.
5. Accessibility and Hospitability
For golfers, Jamaica's accessibility is a big plus. Major international airports are easily accessible from the island by direct flights from several locations. When you arrive, there are reliable transportation choices to take you to the golf resort of your choice.
Jamaicans are renowned for their hospitable nature, which applies to the golfing community. Whether playing a round with locals or fellow travelers, you'll find a camaraderie on the fairways that makes every game pleasurable. Be prepared for cordial interactions, helpful advice, and a sincere love of the game.
Jamaica offers specialized golf experiences, whether you're a seasoned golfer or a beginner. Resorts typically offer golf lessons from qualified instructors who can help you improve your swing or get started. It's an excellent chance for newbies to pick up the essentials. For seasoned golfers, it's an opportunity to improve your game.
Conclusion
In summary, Jamaica offers a golfing experience unlike any other, complete with gorgeous courses, a vibrant cultural background, opulent resorts, simple accessibility, and kind friendliness. The perfect golf holiday is made possible by these elements.
Consider Jamaica your next travel destination if you're a golf enthusiast looking for a memorable and varied golfing experience. The island's distinctive fusion of culture and golf guarantees exceptional experiences on and off the course.
Golf in Jamaica is more than just a game; it's a journey into the Caribbean. Jamaica invites golfers to tee off in paradise and discover the enchantment beyond the greens with its lush scenery, challenging fairways, and vibrant culture.
Article Submitted By Community Writer