Golfers love to visit destinations where there is a chance to play a good game of golf. Asian tourism destinations have realized this and some excellent golf courses have come up. Some of these golf clubs have facilities even better than some European ones. The courses are not at all crowded so you can play to your heart's content as long as you want and improve your game. Here's a list of the destinations which offer the best golfing holidays in Asia.
Top 11 destinations for golfing holidays in Asia
Chiang Mai, Thailand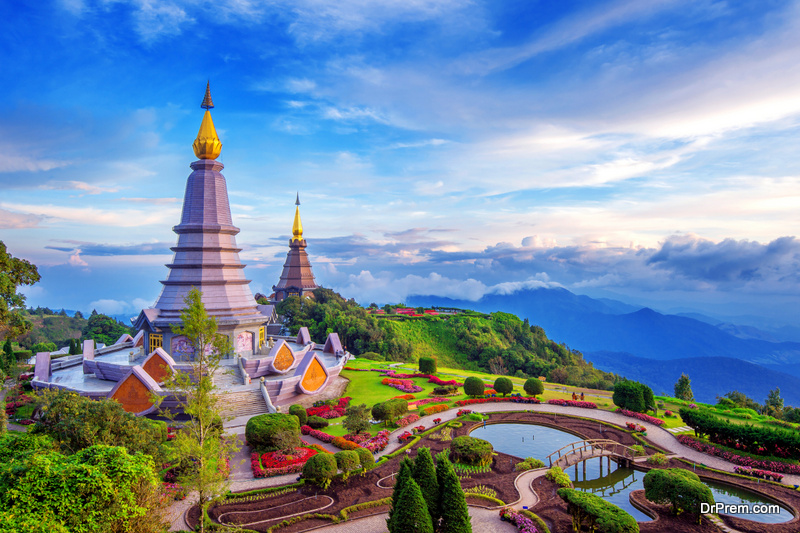 This is a golfer's dream destination in Thailand, especially for those who want a cooler climate. The city is quite beautiful, and the dance, music and food is amazing, and authentic Thai. the main attraction for golfers of course are the Alpine Golf Club Chiang Mai and Chiang Mai Highlands, with both the clubs offering accommodation. Royal Chiang Mai GC and Mae Jo Golf Resort are other courses in Chiang Mai. Resorts and hotels offer transportation to the golf courses.
Hua Hin, Thailand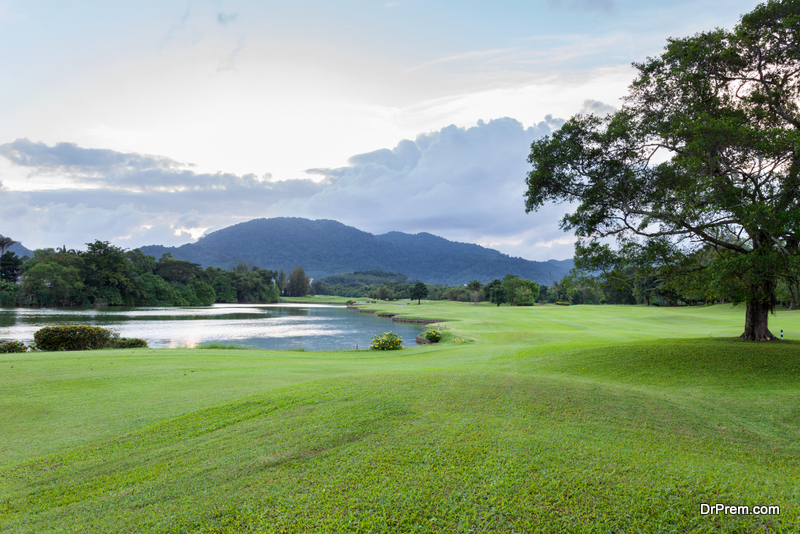 The top golf resorts in Asia happen to be in Thailand. Hua Hin is on the list of the best golfing destinations in South East Asia. It's a favorite holiday spot for the Thai royals, and Hua Hin has an almost regal air about it, setting it apart from other Thai cities. The beaches are pretty too, and close to the city. Playing golf in the daytime and shopping at night is one of the top things to do there. Banyan GC, Black Mountain Golf Course combine excellent layouts with contemporary style.
Springfield Village Golf and Spa too should be on your list, as its Jack Nicklaus design has won it many accolades. To experience a taste of the local scenery, go to Majestic Creek, which is a beautiful course hidden in the midst of peaceful rice field. And if you want to stay close to town, don't miss the Army Sea Sport Centre with a naval theme.
Singapore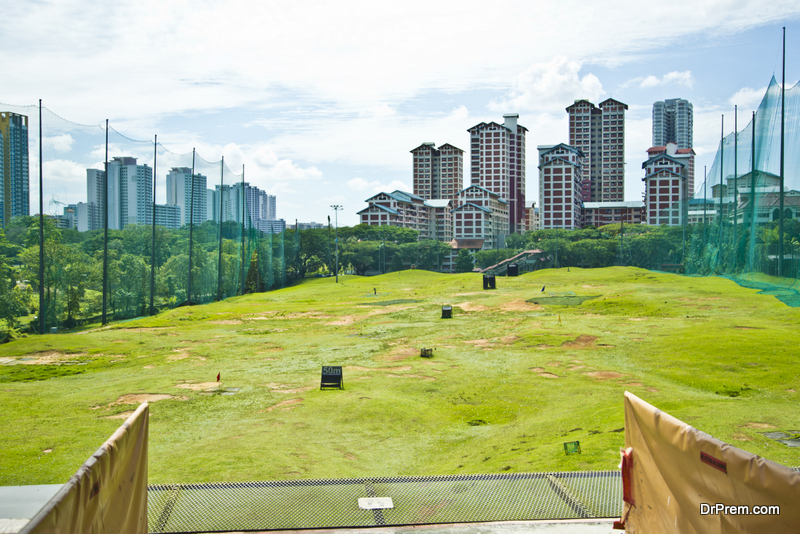 Singapore has to be on your list for your Asian golfing vacation. The bustling city is multi-cultural and beautiful, and the stunning golf courses in the city make it more so. It may be a diminutive city, but it has made a name for itself for many reasons, one of them being the many golf courses. There are 14 of them, 13 of them are private, but foreigners can play in them if they contact them beforehand. Tanah Merah GC and Sentosa GC are the most sought after clubs. Sentosa hosts the prestigious Barclays Singapore Open and the Tanah Merah is where the HSBC Women Championships are held. Singapore should therefore be on the bucket list for your Asia golf tour.
Dubai, UAE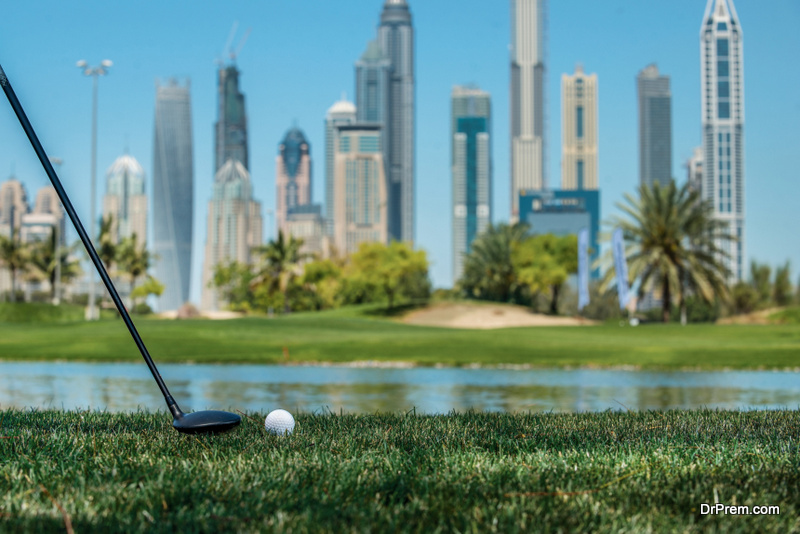 Golf in Dubai in luxury and style at the desert golf courses in Dubai. The Emirates Golf Club was the first 18 hole grass courses in the entire Middle East, and hosts the Dubai Desert Classic Tournament every year. It has several courses famous in the golfing world such as the 'Wadi by Faldo' designed for 'thinking' golfers. It could be a great challenge to play a round of golf in this course.
High end courses are the norm in Dubai such as The Els Club, Dubai Creek Golf and Yacht Club,  Dubai Hills Golf Course and the Jumeirah Golf Estates are definitely worth taking the trouble over. Enjoy a grand golfing vacation in these luxurious golf resorts in Asia.
Bintan, Indonesia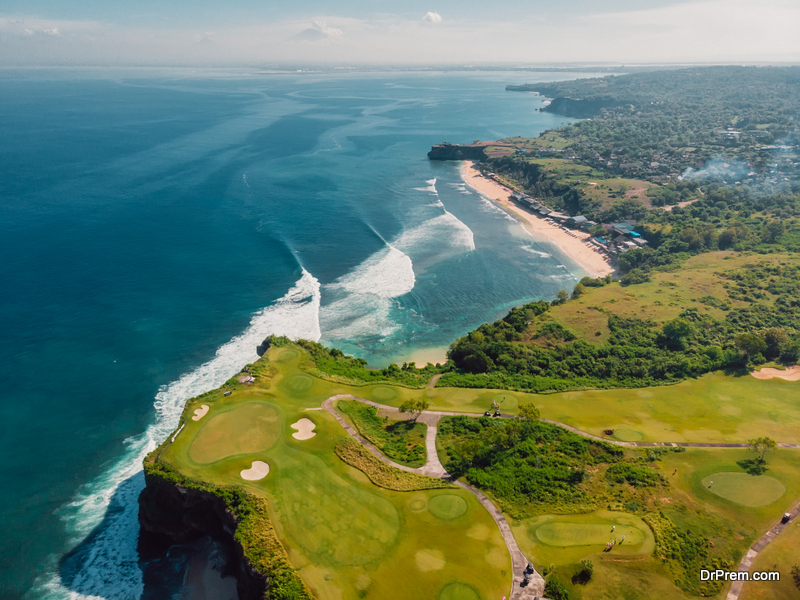 Bintan is close to Singapore  and a favorite of weekenders and day trippers. The place is famous for the Ria Bintan Golf Club which has the 27 hole championship course designed by the veteran Gary Player. Enjoy the magnificent landscape on the 18 hole Ocean Course as well as 9 hole Forest Course. The Ocean Course has been endorsed by many as being one of the best par-5 hole in Asia. Stay at the 31 room Golf Lodge and be close to the Course or you could stay in Singapore and travel to it in just 45 minutes.
The Laguna Bintan Golf Course is framed by the South China Sea. After a long day at the course, you can relax in luxury at the Banyan Tree Bintan hotel and spa.
Bintan has another golf course – the Bintan Lagoon Resort which as two amazing courses, spread across undulating hills and with the sea as a backdrop. You can rent golf clubs and gear, and golfing fees including buggy is quite affordable here. The resort has all year round coaching as well as classes helping to improve your game while on holiday.
Bintan is definitely one of the best places for golf vacations in South East Asia, as you have a choice of many different courses.
Phuket, Thailand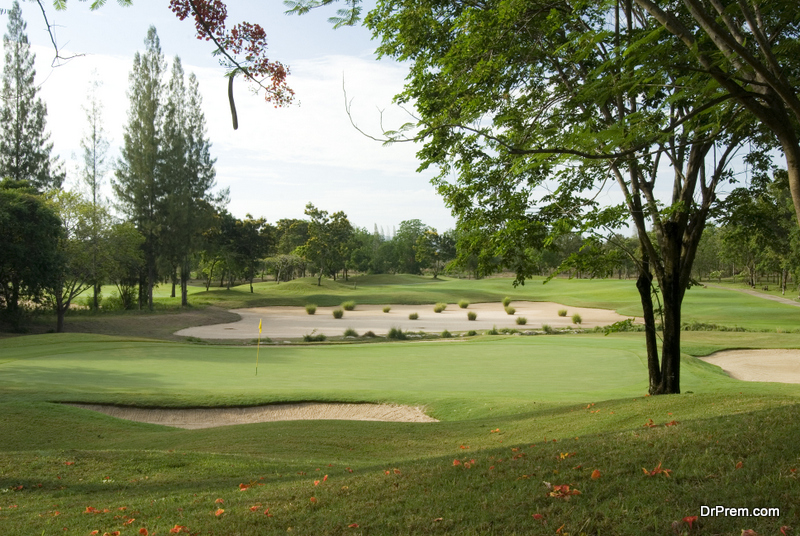 Phuket is known as a place to relax in the sun and sand, as well as to get a massage in the ubiquitous massage parlors. For golfers, Phuket has courses commanding respect from golfers worldwide such as the Blue Canyon GC, one of the leading golf courses in South East Asia. This is the course where Tiger Woods made the famed come back to win the 1998 Johnnie Walker Classic tournament.
The best course in Phuket capturing the imagination of all is the Phuket Red Mountain GC. It's located on a mountaintop, and offers magnificent views. The course is built between towering mountains of red, rich dirt. Other courses deserving a visit are the Laguna Phuket GC and the Mission Hills Phuket.
Phuket is therefore a great idea for golf vacations in South East Asia, where you can laze in the sun and get in a good round of golf as well.
Danang, Vietnam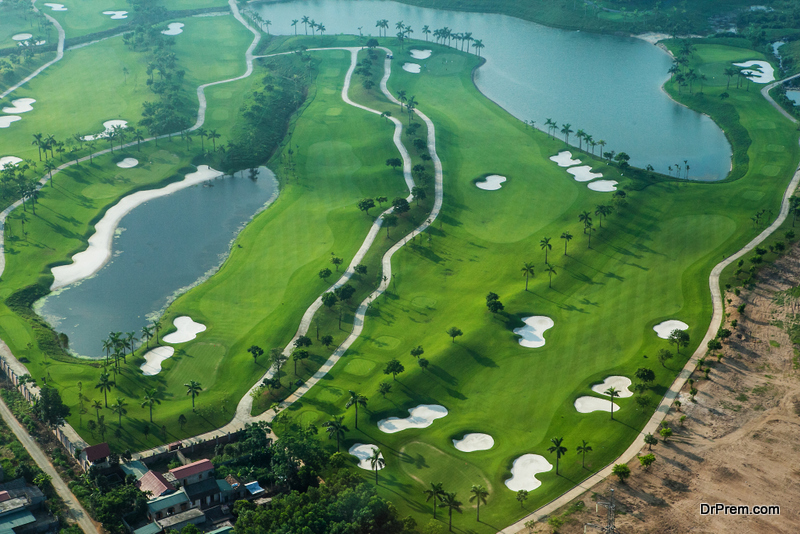 Danang in Vietnam has a wide, most pristine white beach you'll ever see. For golfers, Danang is not a new name as the Danang golf course is amazingly well-run course blending in with lovely sand dunes. One unique experience is to play on the Montgomerie Links adjacent to Danang GC, as the course  has homes built alongside the fairways. There are resorts you can stay in, in both Danang and close by Hoi Nin, to have a pleasant, luxurious golfing vacation.
Bali, Indonesia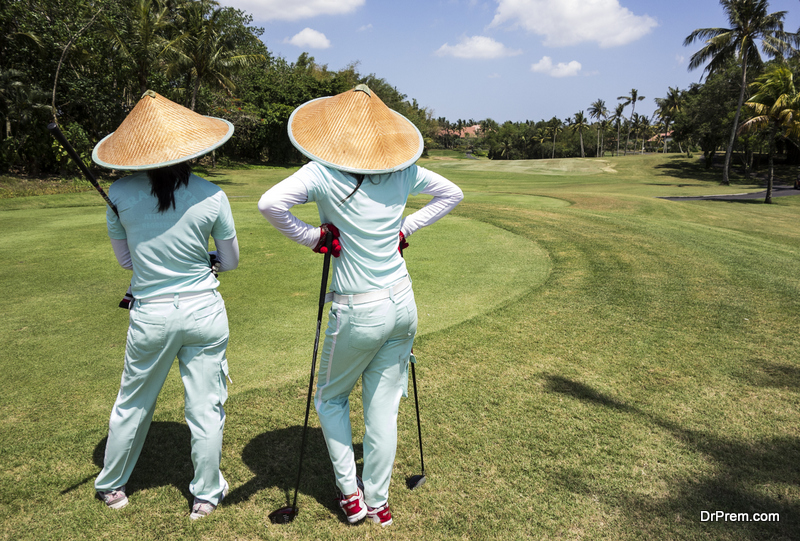 Bali is a tourist destination because of its undeniable charm, beautiful pagodas and the charming Kecak dance. The Tanah Lot temple, set in the sea is entrancing.
As for golf courses, there are four of them in Bali, each of them having its own particular allure to entice golfers. The Nirwana Bali GC near Tanah Lot is considered to be best, followed by the New Kuta GC close to Jimbaran Bay. The New Kuta is located on a promontory, offering stunning views of the bay.
Nusa Dua has the Bali G&CC and it is in the vicinity of many international hotel chains. It has the Leadbetter Golf Academy as well, to give you a few lessons. Bali should be on your Asia golf tour list- the natural beauty of the place will enchant you as you play on the gorgeous courses.
Kuala Lumpur, Malaysia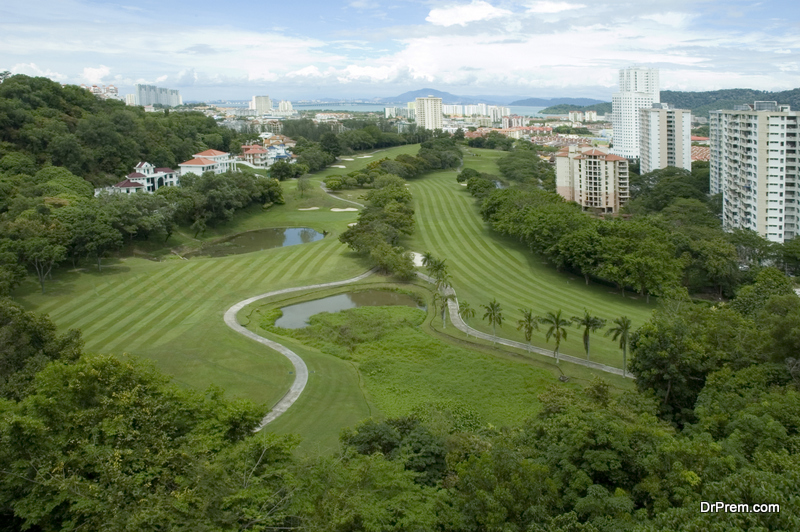 For a round of affordable golf, visit Kuala Lumpur, Malaysia's capital. When you're there, you have to climb the KLCC twin towers and have your head in the clouds. It is an unforgettable experience. The city has many courses differing in quality. The Kuala Lumpur G & CC is the superior GC in the city, offering fine cuisine and beverages on its premises.
Kota Permai G &CC, Mines Resort and GC, Saujana G &CC are beautifully laid out, being scenic and challenging. For a unique experience, you should try out the Royal Selangor GC, perhaps among the oldest golf courses in Kuala Lumpur, and the atmosphere is still reminiscent of colonial times. Most clubs are private, but you can play in them provided you arrange it prior to your visit.
Brunei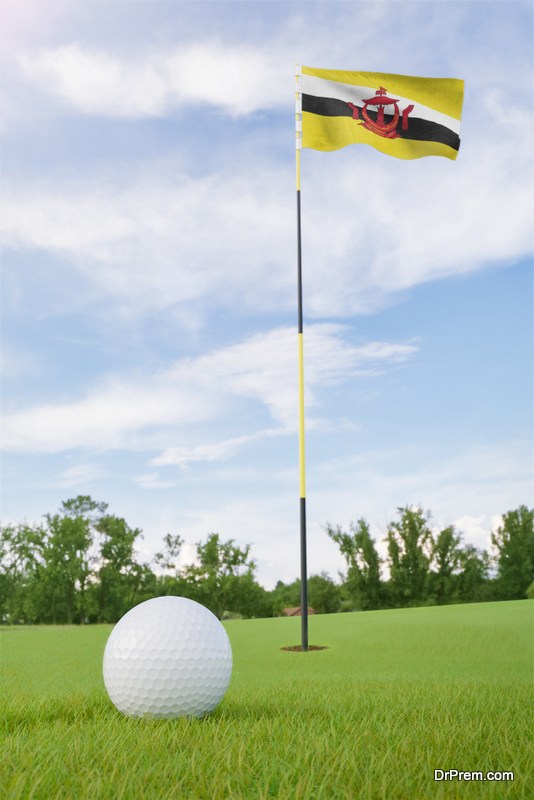 Brunei is not a place to party, but it is perfect for a bit of glamorous golfing. The golf course attached the Empire Hotel and Country Club, the Empire Golf club is fascinating. It is a par-71 championship course, designed by Jack Nicklaus and has magnificent sea views along with ravines and cliff for some challenge. All the holes are floodlit, so you can play in the evening also. The 15th hole is the signature hole where you can play along the beach.
Siem Reap, Cambodia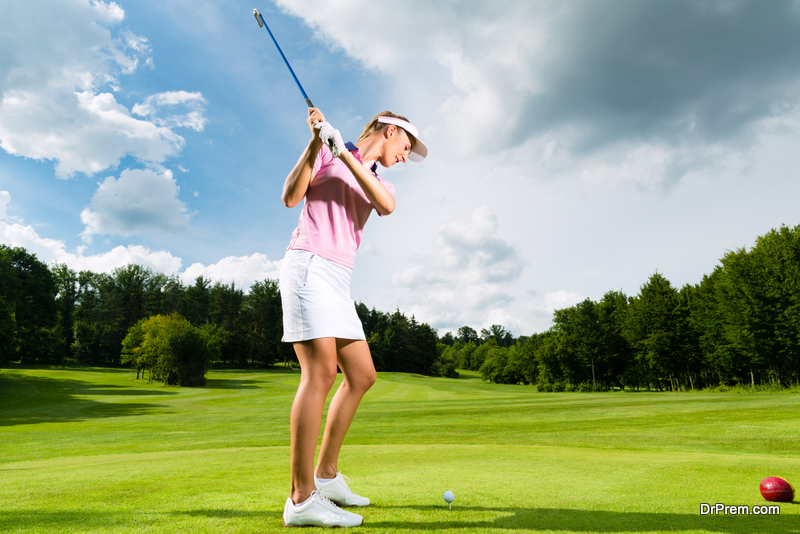 Famous for the Buddhist temples complex Angor Wat, Siem Reap will not disappoint. For golf lovers the Angkor Golf Resort, which was designed by Nick Faldo, is great to play in. The Phokeethra GC and Siem Reap Lake Resort GC are other golf courses to entice avid golfers. There are several beautiful hotels to stay in, including the FCC Angkor which is a boutique hotel as well as a nightclub, for those who like clubbing on their vacations.
China, Bangkok, Hong Kong and India's Gurugram, Noida, Shillong, and Ooty have golf course at par with anywhere in the world. Asia has many destinations which cater to golf enthusiasts, where you can relax, see the sights and play to your heart's content.