2019 brings along with it another 365 opportunities to experience thrill and adventure. Most of the remote parts of the world are no longer remote to us. Multiple mainstream countries are opening their gates for adventure travelers. It always sends blood boiling with excitement for a wanderlust soul to explore virgin soil shrouded in wilderness and enigma and learn about a completely alien culture that is so different and exotic. When you are in a frantic quest for some high adventure, look at this list of destinations, which we have handpicked for you. These adventurous destinations promise an enchantment which is the dream of every travel buff seeking a challenging dare.
And if you revel in Indiana Jones style adventure travel, then check out the list of Indiana Jones inspired travel destinations in the second section of this post.
Canada:

Much of the Canadian landscape remains unspoiled and without much of human habitation. The snow-capped mountains, pristine forest, a long and fascinating coastline and isolated islands make for a remarkable travel destination. The flora and fauna are celestially beautiful. How about stumbling upon a herd of wild bison or watching a grizzly bear on its hunting foray? If that is not enough for an adrenaline rush, try white water rafting in Canadian rapids and along Athabasca canyon.

Choquequirao, Peru:


This is one of the most secluded Inca ruins vying for a bid to gain heights of tourist attraction. This once flourishing Inca civilization site has even left the traditional Machu Picchu far behind in the race of popularity.  Dense forest covers 70% of the site, thereby hiding the ancient fragments of Inca civilization. It presents a treacherous piece of hiking and exploration leading you to this fabled land known for enormous deposits of gold and jewelry that had once lured the Spanish invaders.

Nepal:



This small country, wedged between the mountains, ridges and dense forest is a gem of a tourist destination set for high adventure. Nepal is the base camp for scaling the world's loftiest mountain peaks, Mt Everest being the most famous of all. A trek along lush foothills and a gentle uphill struggle till it becomes a monstrous effort as you climb higher up would be a lifetime achievement. Mt Annapurna is there to challenge your endurance if not Mt Everest. There are select mountaineering expedition packages like Lobuche east and Mera peak to give real thrills. This is truly nearer to the sky.

Mongolia:



Mongolia brings forth a flashback of eternal steppes beaten by the hooves of galloping horses carrying Mongol marauders in quest for blood and plunder. One can trace back much of these romantic vibes  to the legendary Chenghiz Khan and his war exploits. The fascinating landscape, snow capped peaks, vast stretch of steppes with colonies of Yurts (mobile tents) pegged in and a crowd of friendly locals would offer you a unique experience.

Latvia:


Despite its small size Latvia has 350 miles stretch of coastline. Jurmala beach that opens into the Baltic Sea is highly popular. The verdant beauty of the Kemeri National Park is quite famous for ornithological exploration. There are swamps across which tranquil walkways meander their way into timeless natural beauty. Riga, the capital city, which boasts of around 118 ancient structures, is also one of the oldest cultural seats in Europe.

Romania:



The wild Carpathian mountains offers you opportunities for an adventurous hike. Wildlife infests a particular deep forest, especially wolves and bears. River Danube snaking its way through deep gorges, marshy lands and lakes will leave you enchanted. The legendary Transylvania right brings back the spine-chilling and satanic tales of Count Dracula and his enigmatic castle.

Jordan:



The star attraction of Jordan is Petra, an ancient city which dwellers carved out of a stone canyon, and which remained in seclusion in the southern Desert, dating back to 6th century BC. Steep gorges and lowlands mostly made up of rugged desert terrain conjure up a dramatic spell for adventure seekers. Mujib, the lowest point on earth 400 meters below sea level is sure a place to visit.

Slovenia:


This is within former Yugoslavia. There is ample scope for high adventure along a wonderful stretch of landscape that gradually changes character from being Alpine to Mediterranean touching Italy at one end and Croatia on the other. Hiking, cycling and water sports especially river rafting has its own skills and thrills in store for a traveler in quest for dare. Exploring 8000 incredible caves close to the city adds more excitement, but we recommend hiring a to make you feel the subtle nuances that Slovenia has in store for you.
Bulgaria:
Bulgaria is famous for skiing during winter and seaside laidback ambience during summer by the Black Sea. This mountainous country offers great hiking opportunities as well that lures the tourists from all corners of the world. Mt. Pirin beacons the hiking enthusiasts for a challenging adventure uphill. Bulgaria also organizes a 120 endurance bike race which throws a lot of boisterous stimulus.
Czech Republic:
This country is famous for downhill and cross country skiing promising a high voltage excitement. There are nature reserves and wineries for you to explore nature and do some wine sampling at the same time. South Bohemia is famous for castles featuring splendid architecture. It is a UNESCO world heritage site as well.
Travel the World with Indiana Jones' Adventure Destinations!
Indiana Jones World Destinations: Adventure, Intrigue and Ancient Artifacts!
From the Raiders of the Lost Ark to the Temple of Doom. From the Last Crusade and the new Kingdom of the Crystal Skull, discover where Indiana Jones traveled to.  Read on to know where you can find these well-known filming destinations and locations.
Don't forget your fedora and whip!
The Raiders of the Lost Ark (1981)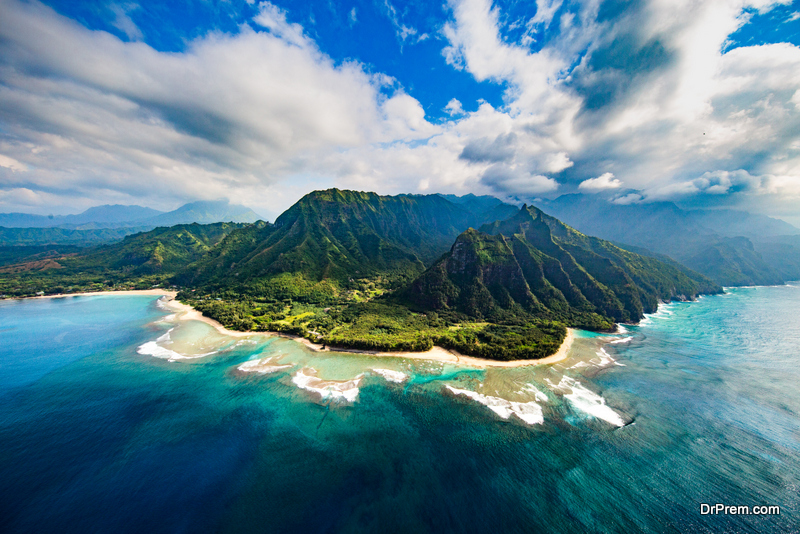 The Temple of Doom (1984)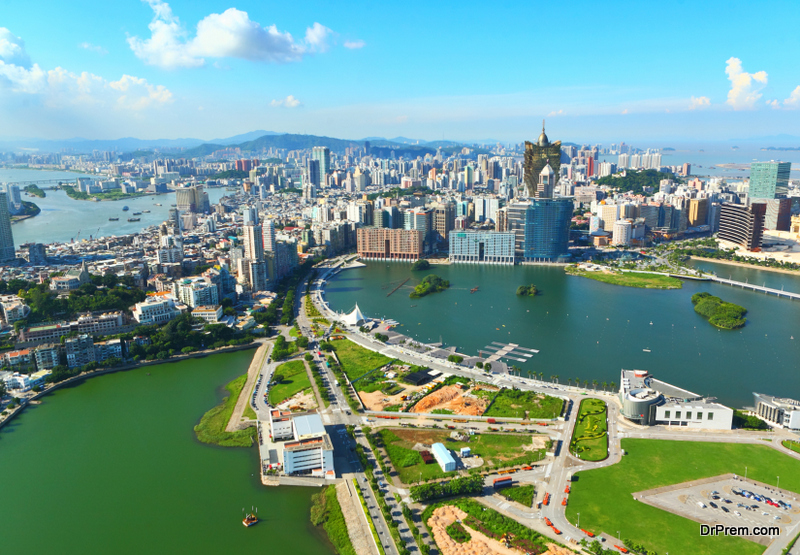 The movie begins at Club Obi Wan in Shanghai which was filmed at the Royal Horticultural Hall in London, England. This hall is decorated with an art-deco design and high ceilings. Residents and tourists also often use the hall for conferences, events, award ceremonies, banquets, fashion shows and more.
The car chase scene in Shanghai was filmed at the Inner Harbour in Macau while scenes of the Shanghai Airport was filmed at Hamilton Air Force Base in Novato Marin County in California, USA. Inner Harbour in Macau faces China and is colourful, unchanged and untouched from grand hotels and casinos. Don't miss out on run-down buildings, street-side food stands, and fish laid out on the sidewalk to dry. This is the other side of Macau  you must experience.
The plane crash through the Himalayas was filmed at Mammoth Mountain and Tuolumne River in Yosemite National Park in California, USA. These are two popular wilderness and adventure spots in California. You can enjoy skiing to snowboarding at Mammoth Mountain Ski Area. Also, experience adventurous hiking, biking and climbing in Yosemite National Park.
The Indian Destinations in the Indiana Jones Franchise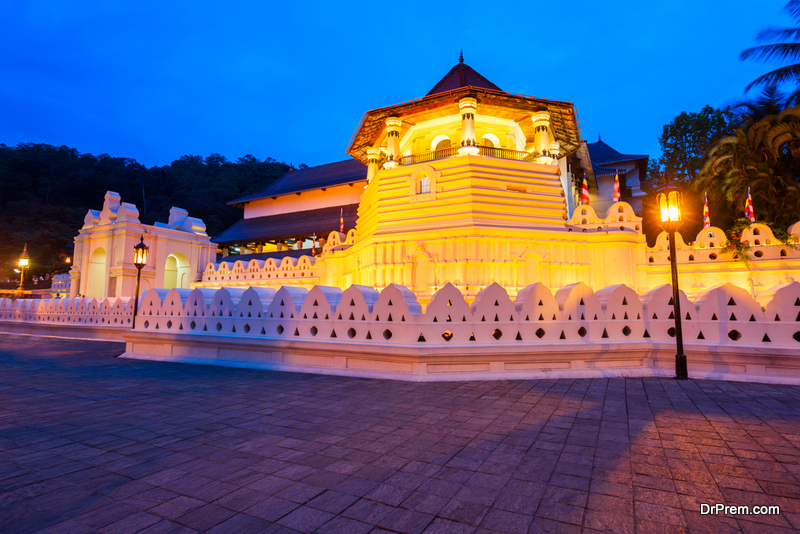 Indiana Jones, Willie, and Short Round find themselves in a small village and on elephants through these small regions in India, which was filmed in and near Kandy, Sri Lanka. Kandy is famous as the capital of the last king of Sri Lanka. This is right before it came into British possession in the 1800s. It is also famous as the "hill capital" and the most beautiful town in Sri Lanka, out-visited only by Colombo. It is also here that the Dalada Maligawa temple is located where it is said a sacred relic is located and enshrined: the tooth of Buddha.
The filmmakers filmed the infamous Pankot Palace, of eyeball soups and chilled monkey brains, and the Temple of Kali at Elstree Studios in London, England.
The Last Crusade (1989)
The scene at the beginning that features the young Indiana Jones and his boy scouts group is filmed in Sevenmile Canyon in Moab, Utah
The filmmakers filmed the Temple of Berlin Airport at the Royal Horticultural Hall in London. This is the same place that the Temple of Doom's Club Obi-Wan was filmed five years before.
The church that Dr. Jones and Dr. Elsa Schneider explore for a knight's tomb (and set fire to, amidst millions of rats) is the Church of San Barnaba de Venezia in Venice, Italy. The church is located in the Campo San Barnaba neighborhood. The church became prominent through Katharine Hepburn's movie, Summertime. It achieved greater prominence in this Indiana Jones movie, where filmmakers used it as a library.
The Magnificient Castles of Indiana Jones Franchise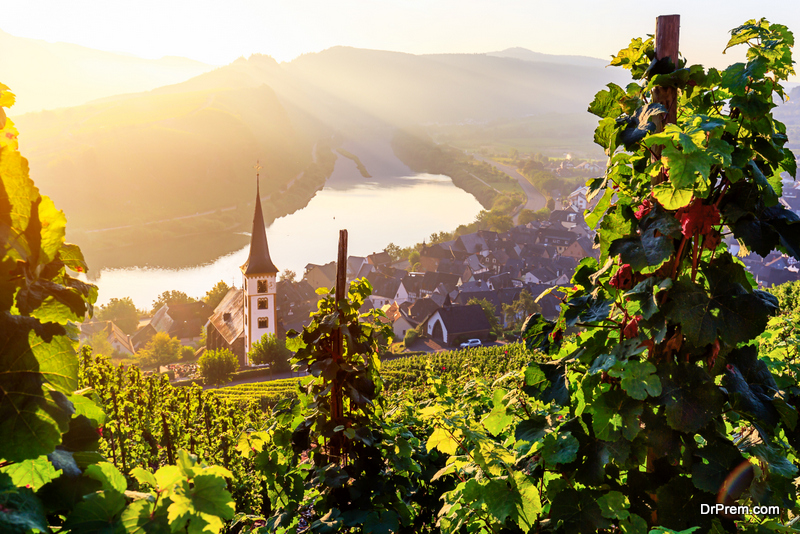 Indiana goes to find his kidnapped father (Sean Connery) in Castle Brunwald. It is here, that the Nazis looking for the Grail diary, held him captive.  This exterior and interiors of this "Nazi" headquarters castle were filmed in the Rheinland-Pfalz (also known as Rheinland-Palatinate) region in the town of Mayen, Germany. Rheinland-Pfalz is known as one of Germany's most popular wine regions of the world (read more about Wine Regions of the World).
The final scenes that feature the location of the Holy Grail were filmed at the famous and iconic Al Khazneh (the Treasury) in Petra, Jordan. The Western world was ignorant about its existence until travelers discovered it in 1812. Experts estimate that this destination dates back to the 6th century BC. They have found ample evidence for the same in the Dead Sea Scrolls and other ancient writings. It was here that Moses struck a rock with his staff in the desert to make water. And it is here that his sister, Miriam, is buried. Since 2007, UNESCO named it one of the New Seven Wonders of the World.
The Kingdom of the Crystal Skull (2008)