Rainforest vacation packages call for a global tourist appeal. Depths of rainforest and the fauna had always been a powerful tourist draw. In Nat Geo channels and movies, rainforest adventures trigger adrenaline rush faster than any other forms of dare. Rainforests occupy about 6% of terra-firma and account for around 50% of life forms.
Doesn't this sound fascinating ringing a bell of beckon to explore the enigma it holds? Rainforests circle the equatorial belt and further on either side from Amazon to the depths of Zaire, from dark forests of Borneo to the mystic greenery of Papua and spectacular Costa Rica.  It shelters one of the most primitive human races and some of the most bizarre animals.
Tourism has made it possible for tourists to relish rainforest trips. Lush accommodations and thrilling treks are custom built along dark inky green herbages. Modernized rainforest vacation packages give tourists a high intensity of thrill.
Since rainforests and waterfalls go hand-in-hand, check out the latter section of the article to discover 5 most amazing waterfalls in the world.
8 interesting rainforest vacation packages for you to explore:
1. Darien National Park, Panama: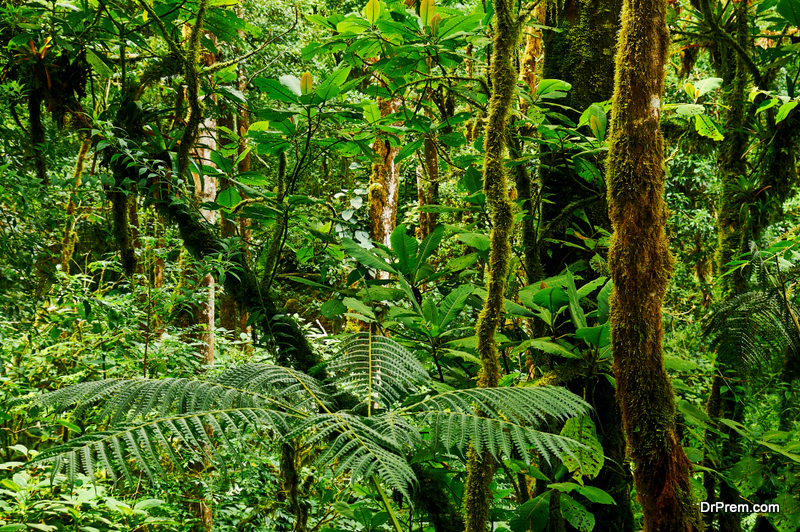 It is protected having the largest forest cover in Central America. The forest runs in a never-ending dark green sheet punctuated by occasional highlands. A wide range of mammals and birds exist. Their calls keep the forest alive and you on your toes.
Not only the emerald green environment but also the rocky coastal beaches are splendid. Wildness runs along the border between Columbia and Panama occupying about 90% area. Rainforest vacation packages are devoted to customer needs; and, travel agents organize day-long guided tours. There is an opportunity for interaction with two local tribes for cultural exchange.
2. Dominica: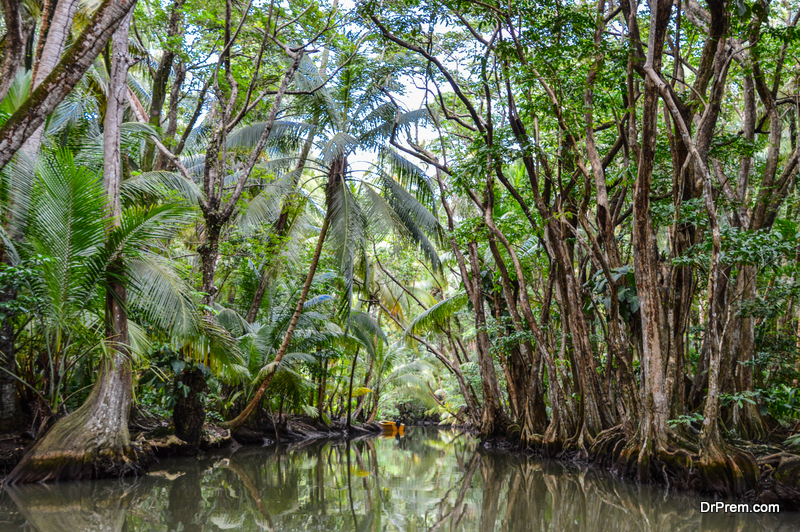 Located in the Caribbean's Lesser Antilles region; this is a small island that has substantial tourist potential. Famous tropical rainforests cannot be thought of without Dominica in mind.  This is a paradise for eco-tourists with a quiet ambiance. A tranquil stretch of greenery exists and accommodations are eco-friendly.
Opportunities for a number of exciting activities are available. You can explore nesting beds of sea turtles and bath in hot springs. A trek along forested highland is a wonderful idea. Breath-taking waterfalls exist and so does exotic fauna. You can stay in 3 Rivers eco-lodge offering small tidy cottages.  For an adventurous option, tree houses welcome you giving a feel of being close to nature.
3. Puerto Mal Donado, Peru: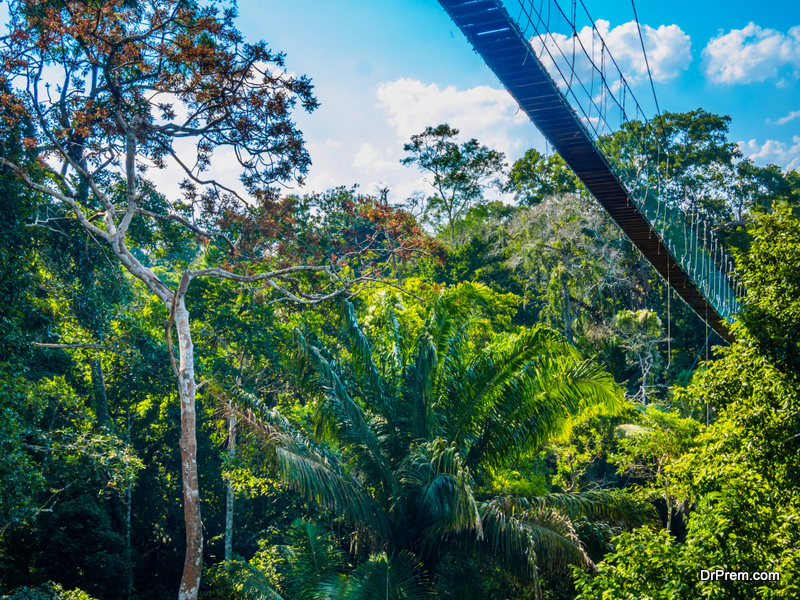 This is located on the southern part of Peruvian rainforests and you cross over to Amazon. Forests in Manu region and Tambopata Reserve offer fabulous rainforest trips. Clay licks are ubiquitous attracting birds from different corners of the forest. You have excellent photo opportunities to shoot brightly colored Macaw parrots flocking to clay licks.
These licks have medicinal properties and hence the macaw influx. Monkeys, peccaries, capybaras, and tapirs abound the forests. Their predator, the Jaguar cannot be far away. If luck stays on your side, you can have a glimpse of this wild cat with the strongest bite pressure. Jungle lodges are available. They are cozy and eco-friendly.
4. Alta Floresta, Brazil: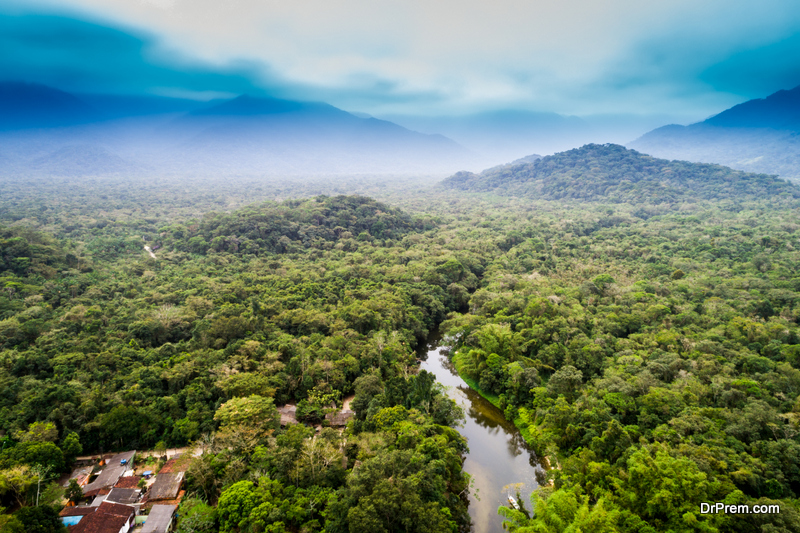 Rainforest vacation packages have turned Brazil, the core of the Amazon basin one of the popular tourist hotspots. Alta Floresta is a little low-keyed, nevertheless located in a terrific scenic spot. The Pastoral wetlands which feature a unique combination of two contrasting ecosystems are right here. Birds and monkeys native to Alta Floresta are unique and cannot be found anywhere else.
Tropical rainforests tourist attractions are at galore. A cruise along river Cristalino is a lifetime experience. The Cristalino lodge is comfortable answering the needs of a tourist. Two huge canopy watch towers installed close to the lodge offers excellent wildlife viewing. The lodge is eco-friendly and promises cheap rainforest vacations.
5. Dain tree Rainforest, Queensland: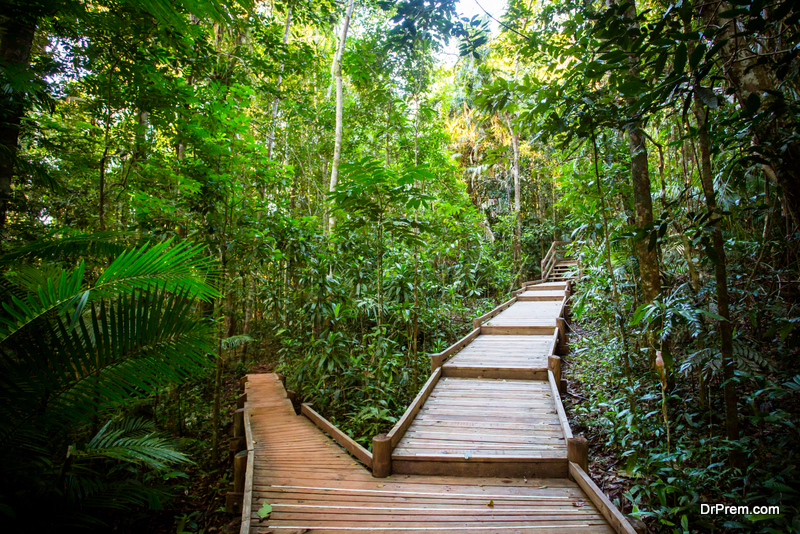 Rainforest vacation packages down under can be very stimulating. Located in Queensland, this reserve forest is one of the most primitive of its kind. Dain tree Rainforest is listed as one of the famous tropical rainforests in the world. The fauna present would enchant you. Spotted-tailed quoll, Ulysses butterfly, Bennett's and Lumholtz tree Kangaroos are probably the cutest life forms on earth.
Emerald vines, primitive ferns, and thick green canopies take you to a fairyland. This surreal location is the inspiration behind the movie Avatar. On the banks of Mossman River, you have a luxury eco-lodge. You can stay Silky Oaks Lodge and start an expedition to Dain tree national park. Interiors are well furnished complete with bars, lounges and study rooms.
6. Iguaca National Park:
In view of the growing popularity of rainforest vacations, Iguaca national park extending from Brazil into Argentina stands as the prominent one. Cheap rainforest vacation packages have made it possible for tourists to explore this wild stretch having jaw-dropping waterfalls. This is a result of geo-morphological changes for volcanic eruptions dating back to 500 million years. It includes some remarkable flora and fauna of which the giant otters and anteaters are famous.
7. Danum, Malaysia: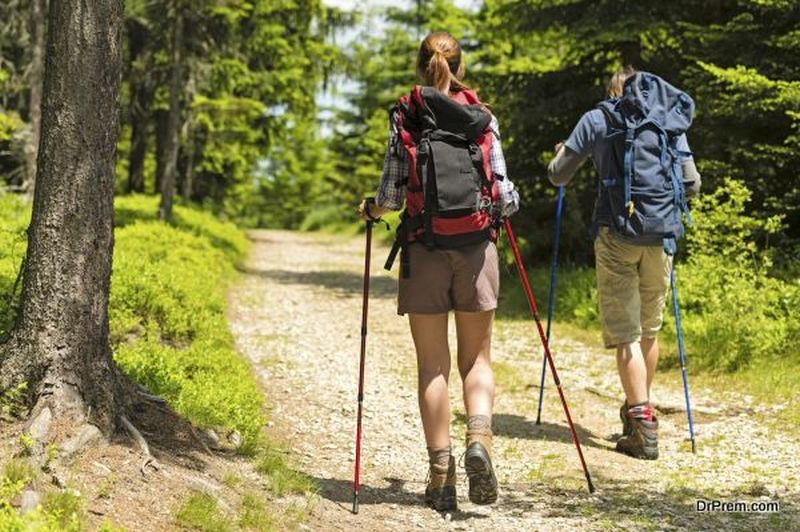 This covers a stretch of 438 square kilometers of forested lowlands with a diverse range of plants and animals. Rainforest vacation packages have popularized this Eden close to Sabah. Wildlife includes Sumatran Rhinoceros, Orangutan, gibbons, mouse deer, and clouded leopard. Jungle trekking, swimming in rivers, bird watching and night jungle safari are some of the exciting activities offered.
8. Gabon, Central Africa: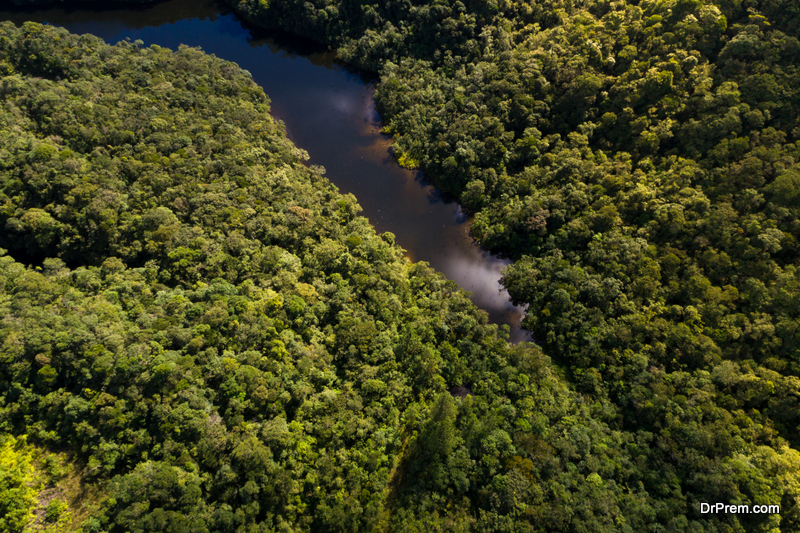 Tropical rainforests tourist attractions are synonymous with Central Africa for its romantic connotations. Africa is the wild capital of the world. Forest cover occupies 80 % of the country. Conservation efforts are brilliant, flora and fauna exotic. For its pristine forest cover, this region is fondly called ' The Last Eden ' in Geological and botanical circles.
Five most magnificent waterfalls of the world
Waterfalls have always been able to attract the wandering hearts of travelers. It is one of the best manifestations of nature's power and supremacy. The force with which the water falls from a great height stuns the viewers and makes us wonder about the power of water. The force of water moves turbines and produces electricity. This electricity has been helping the human race to make advancement in different fields of life. Every traveler should visit some of the best waterfalls around the world. In the following, we have listed five of the most beautiful and stunning waterfalls around the world.
Niagara Falls: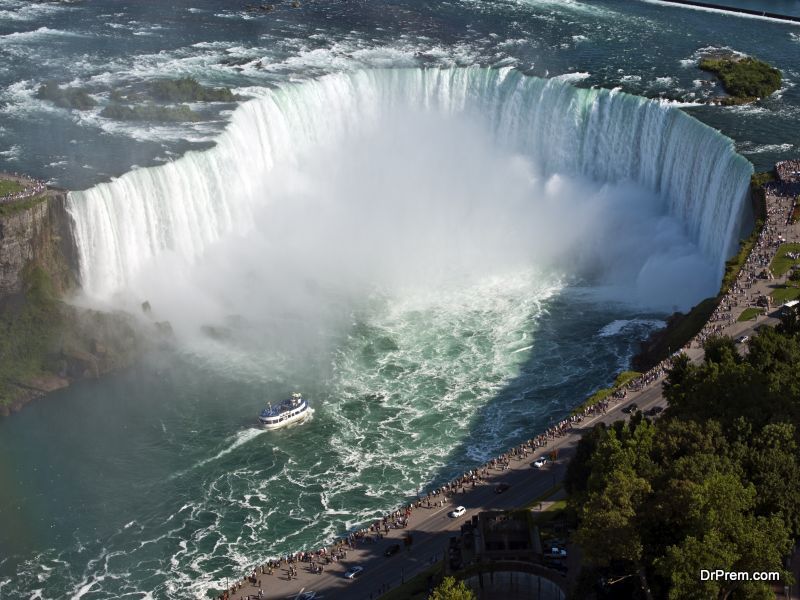 Niagara Falls does not require an introduction, as it is the most famous waterfall of the world and at the same time deemed North America's most powerful waterfall. You can spot three prominent cascades easily. The Niagara is located just in the border of Canada and USA. Two of the cascades are situated on the side of the US and one fall is located in the side of Canada. The American falls is 167 foot high and the Bridal Veil Falls is 181 foot high. The Horseshoe fall is 158 foot high and situated on the Canadian side. From Buffalo, you should take I-190 and drive for 25 minutes to reach the Niagara Falls. Many visitors come to this place during the summer season. Choose May, June or September for visiting the Niagara Falls for an undisturbed view of this magnificent beauty.
Hanakapi'ai Falls: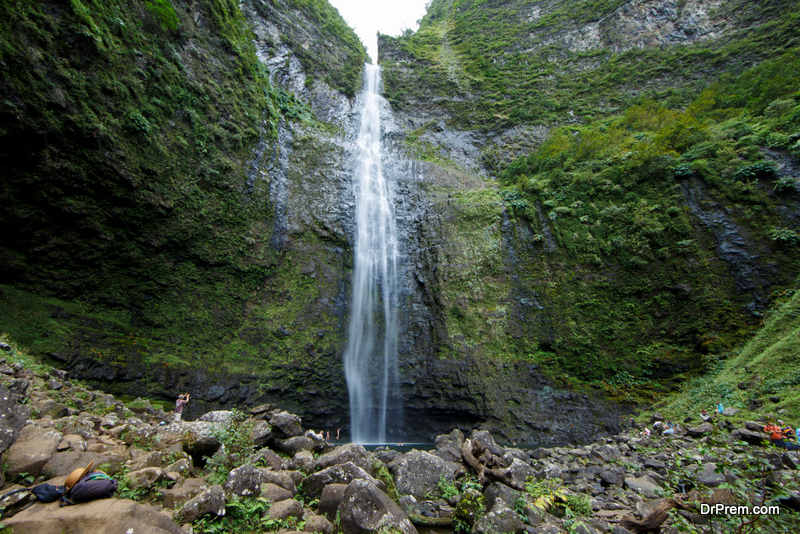 The Hanakapi'ai Falls is located in Kauai, Hawaii. The Kalalau Trail will take you to it. Not just the waterfall but also the way that leads to is mesmerizing. The Kalalau Trail passes through the lovely Na Pali Coast. The 11-mile coastal trail will give you a taste of adventure. There is no need to hire a guide because they may demand a steep fee. The trail is nicely marked and anyone can find his or her way through it. You will not only get to enjoy some coastal beauty but also pass through a bamboo forest and a lovely fresh water stream running amidst the lush green forest. Carry water and some food with you. The waterfall is about 300 foot tall. The volcanic mountain it cuts is covered with a plush green veil of the forest.
Angel Falls: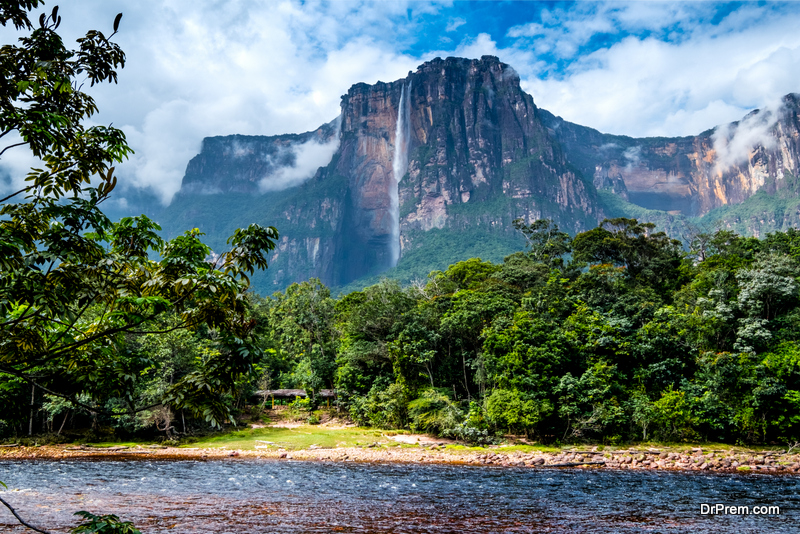 Angel Falls is the tallest waterfall in our world. It is a staggering 3,211feet high. From the pool, if you look upwards it will seem as if the waterfall has originated from the clouds above. The water travels such a long distance from top to base that some of it get evaporated before reaching the pool. The surprising fact about Angel Falls is that it has originated solely from the tropical rains in this region. You should take the assistance of a good tourism operator for reaching this place.
Iguazu Falls: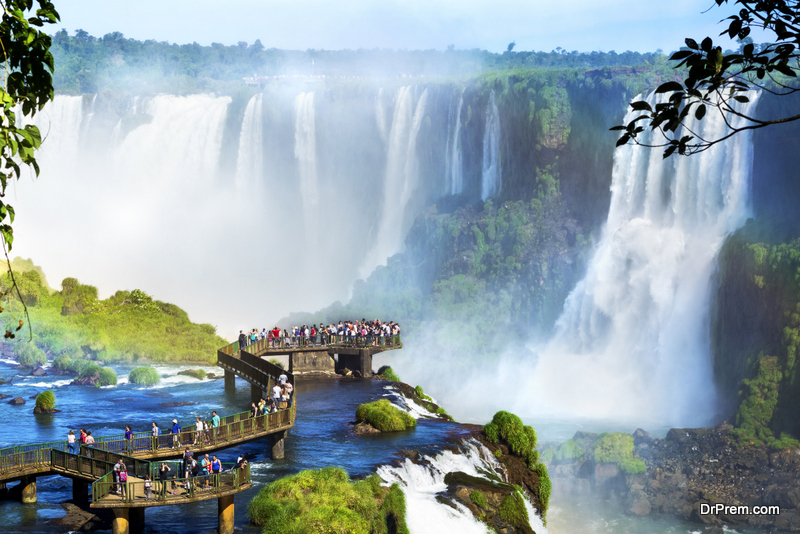 The Iguazu Falls in Argentina spans a two-mile vast area and consists of 275 individual waterfalls that mingle together. The force, power, amount of water and splendor of this waterfall will make you gasp in wonder and amazement. Its most famous part is probably the horseshoe-shaped Devil's Throat waterfall which is 2,300 feet tall.
Yosemite Falls: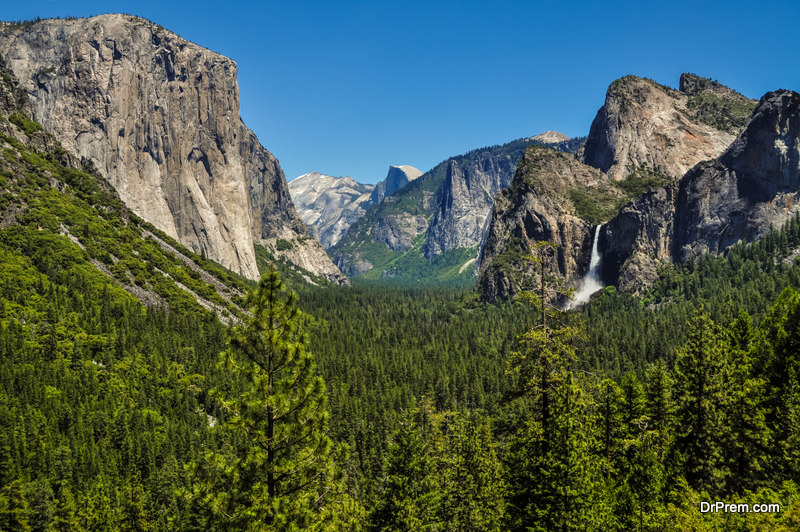 The Yosemite Fall is a three-tiered beauty that is around 2,425 feet tall. It is surrounded by numerous giant Sequa trees and cuts granite cliffs. You should stay in the Yosemite Lodge nearby from where you will get beautiful glimpses of the waterfall.