A dedicated full-fledged upscale accommodation respecting privacy are the words that could be summed up about BVilla, one of the most sought after resorts for vacationers in Bali.  It is the dedicated accommodation that makes BVilla strikingly different from the others.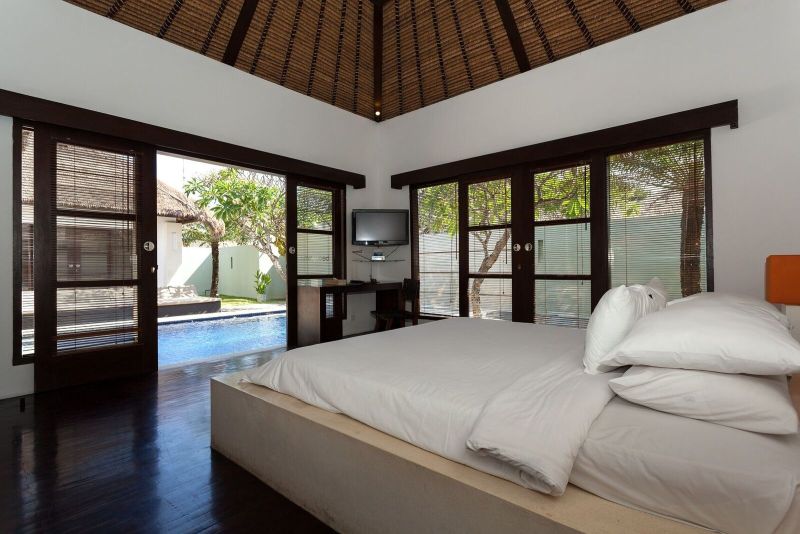 Nestled in the heart of posh and bustling Seminyak and within 6 minute walking distance from the nearest beach, this cluster of chic villas spread over an expansive area is truly a tourists' paradise. Peace and tranquility reign in BVilla cluster in spite of its proximity to the bustling Seminyak center.
Lots of thoughts and planning have gone into the creation of this amazing resort taking care of every finer aspect from a tourist's view point whether he/she is a sole traveler or traveling in groups.
The visitors are offered ample accommodation choices enabling them to find the most suitable one as per the headcount. Detailing this magnificent property is not easy. The more you say the lesser is revealed. Each and every feature of BVilla leaves you awestruck giving you the A-Ha or Wow feel.
The group and its vision: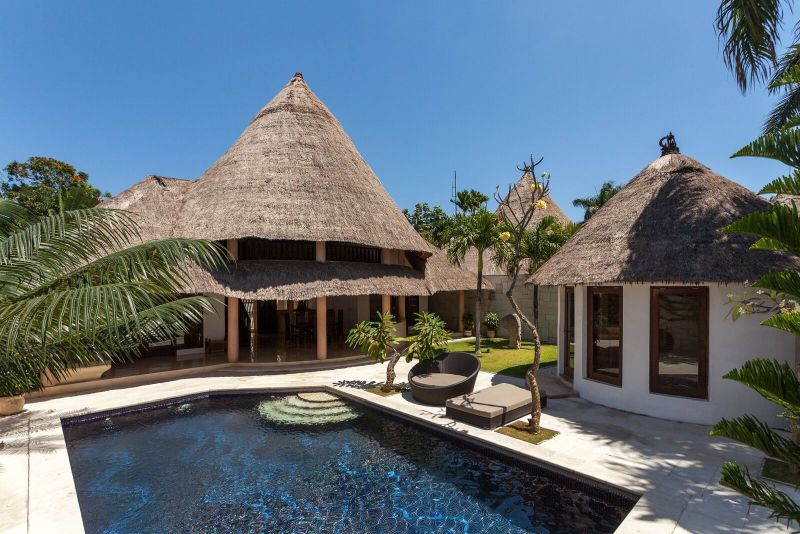 BVilla property is envisaged by the FPD Group, a renowned name in hotel and hospitality industry operating in 12 countries. This property is developed by FPD Asia branch operating in South East Asia.
This group has also come up with another amazing property 111Resorts (One-Eleven Resort) in Bali located nearby BVilla offering an amazing intimate adult-only gateway highly emphasizing on the privacy factor of the visitors.
Both BVilla and 111 Resorts are unique in its kind where the latter is most suitable for adults especially couples looking for a private nook to enjoy quality time amidst vacationing.
BVilla Resort: Minimal in appearance but gorgeous in feel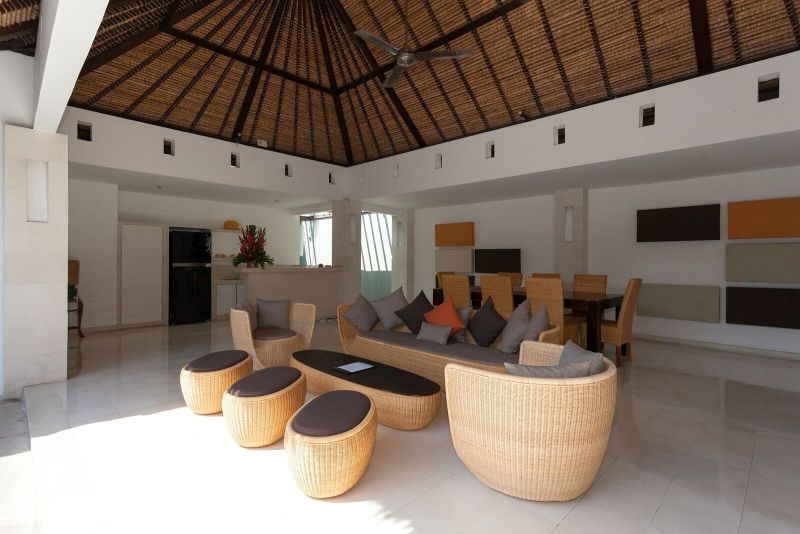 The thatched roofing of the villas spread over a huge space presents a rustic ambience but on entering you would be elated by the highly modernized furniture, the furnishings and the unique décor creating a great relaxing ambience.
There is enough opportunity for fun and frolic including swimming in the sea where you get to relish a memorable vacation in the company of family and friends and on a slightly romantic plane with your paramour.
BVilla Resort includes 3 different properties with exclusive features:
BVilla + Spa
BVilla + Seaside
BVilla+ Pool
BVilla Spa is a huge cluster of fourteen 1, 2, 3 and 5 bedroom spacious villas with a private spa lounge. BVilla seaside is another cluster of 7 villas near the beach with 1, 2 and 3 bedrooms. BVilla pool comprises of six 2-bedroom villas much affordable than the former two categories.
Each of the villas offers a dedicated accommodation including a dedicated entrance as well. It gives a feel of dwelling in your own home amidst the bliss of luxury and utmost self pampering. The villas are all air-conditioned.
The spacious bedrooms have a queen sized bed facing the pool and the exclusive interior décor enhances the aesthetic value. Each villa of all categories has a spacious private pool, outdoor living space, en-suite elegantly designed bathroom with sophisticated fittings and faucets and a private modernized kitchen.
The size of the bedrooms, outdoor living spaces and the private pools vary as per the category. The incredibly spacious stone baths attached with the 2, 3 and 5 bedroom villas is something worth mentioning. It just redefines the bathing luxury.
The 1, 2 and 3 bedroom villas look appropriate for honeymooning couples and spa buffs in quest for a laid back vacation break. The five bedroom villa offers a cozy stay for ten guests at a time.
BVilla Signature Spa: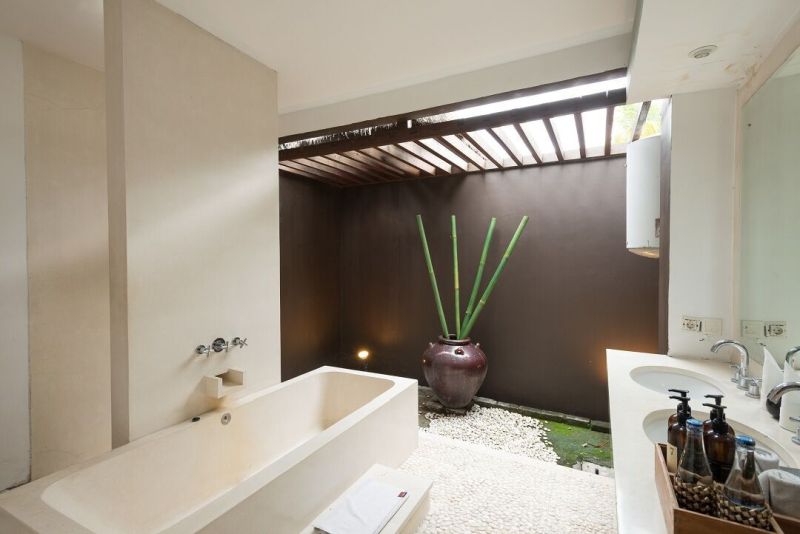 BVilla's signature spa offers a range of body massages and therapeutic applications giving you the ultimate realization of relaxation. The list of Spa therapies and services is simply endless. That so many mind and body rejuvenating therapies exist will leave you overwhelmed. It would be a quite tough choice to choose the most suitable ones. Few days of relaxation in BVilla Spa would no doubt create a better image of you.
Hospitality – Nothing short of spectacular: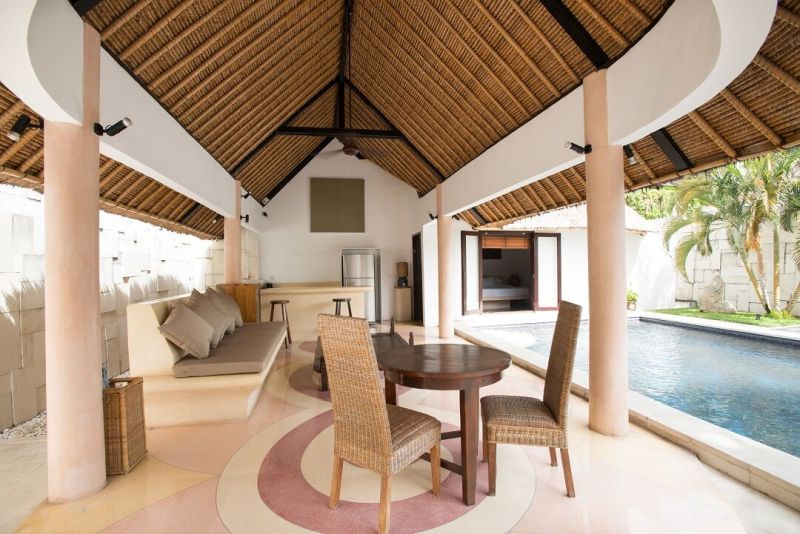 Everything starting from the room service to private butler engagement is enough to make the stay of a guest extremely pleasant and worthwhile. It seems just a private concierge team is always at your disposal. The breakfast served is of quite a high standard leaving no room for dissatisfaction. The well-equipped kitchen would tempt you for self cooking but in case you are not interested, the private butler would do the job for you. You just need to spell out your wish list.
With supermarkets and top class restaurants lining the busy street of Seminyak, dining is not at all a big issue. May be due to this reason, BVilla refrained from providing in-house restaurant. A few steps outdoors and you get access to whatever you like to eat or drink. The shuttle transport system offered by BVilla makes things much easier. They will even wait in front of the restaurants while you go on relishing the delicacies offered.
Other amenities: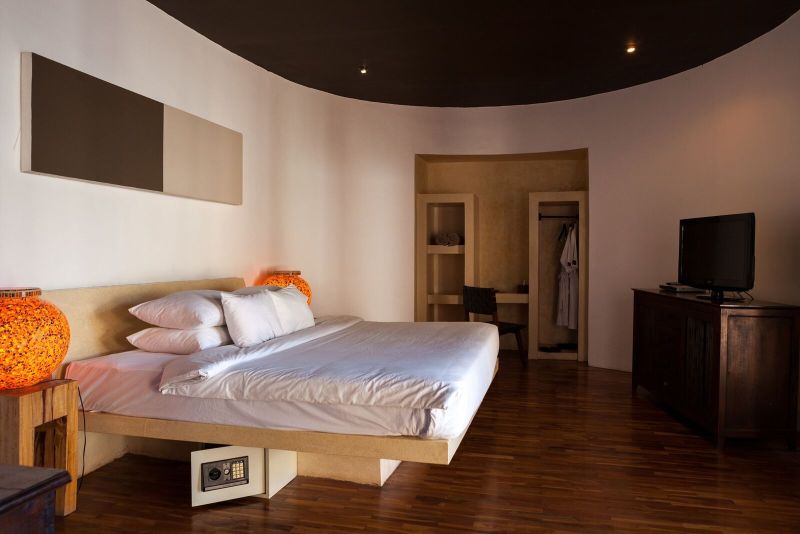 These are ubiquitous but quintessential in modern hotels and resorts. Therefore, each villa apartment is provided with a mini-bar, safe deposit boxes, IDD telephone, cable TV, DVD player, audio speaker and Wi Fi connection.
111 Resorts: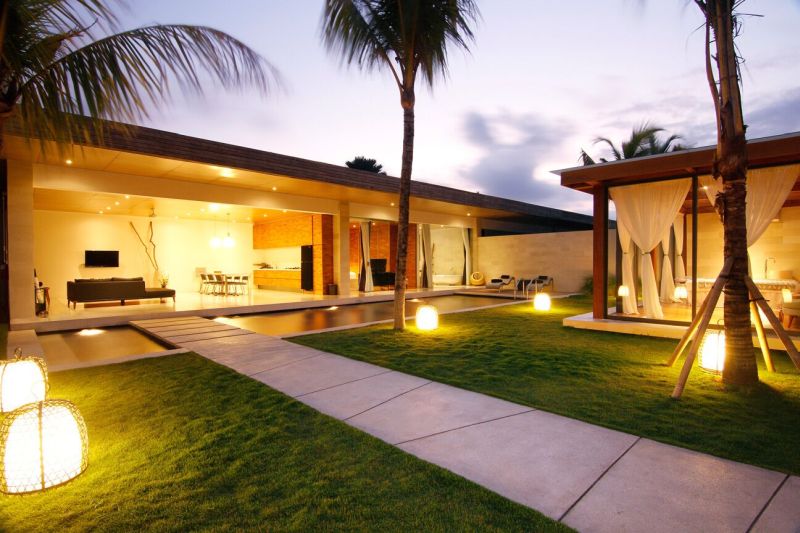 The upscale private nook meant exclusively for adults is based on the fusion concept offering the guest both in-Villa and resort experience. You would be simply overwhelmed by the sheer size of 9 one-bedroom villas.
Each room of the villas allows maximum double occupancy and covers 350 sq m. It includes one 14 m long private swimming pool with blue crystal clear water and a 35 Sq m private spa gazebo to take you to the peak of luxury and pampering.
The arrangement itself reflects the purpose; just perfect for couples looking to spend some quality time with each other rekindling the spark of romance. The services are awesome with the highest level of personalization efficiently taking care of every detail.
You have in-house dining option in the Shiro restaurant laying out delicious Japanese cuisine cooked by a trained Japanese chef. You also have a private chef who would cook your lunch, dinner and breakfast as per your wish.
For those travelling with family and friends, 111Resort does not disappoint them either. The resort's Penthouse, the 3 bedroom rooftop arrangement with a private pool would satisfy their requirements to the best. The designing of Penthouse is no less overwhelming with a modernized lounge, dinning space and a complete kitchen equipped with advanced gadgets and installations.
Other common amenities in 111Resorts also stand out in the crowd. The guests can enjoy in-room tea and coffee, high-end audio system, LCD TV, Blue ray DVD player and free wifi during their stay.