There's something for everyone in the city that never sleeps. You don't need a particular reason to visit one of the greatest cities in the world but nevertheless we'll name a few: Central Park, Times Square, the Empire State Building, the Statue of Liberty and much more. Over 60 million people visit New York City every year, and the tourist traffic is rather steady year-long, with only modest spikes for Christmas time, New Year's, and Thanksgiving.
When people think about New York City, Manhattan is the first place they picture. Manhattan is the main tourist magnet of the city. Its hotels have some of the highest occupancy rates in the US, and its streets are full of traffic and difficult for "outsiders" to navigate on their own.
How then, do you visit and explore Manhattan without wasting your time, getting lost or struggling to find your destinations? How do you see all the major sites you want to see but not have to fight traffic, deal with a crowded and complex subway system, or weave slowly across crowded sidewalks all day long?
Take a Double Decker Bus Tour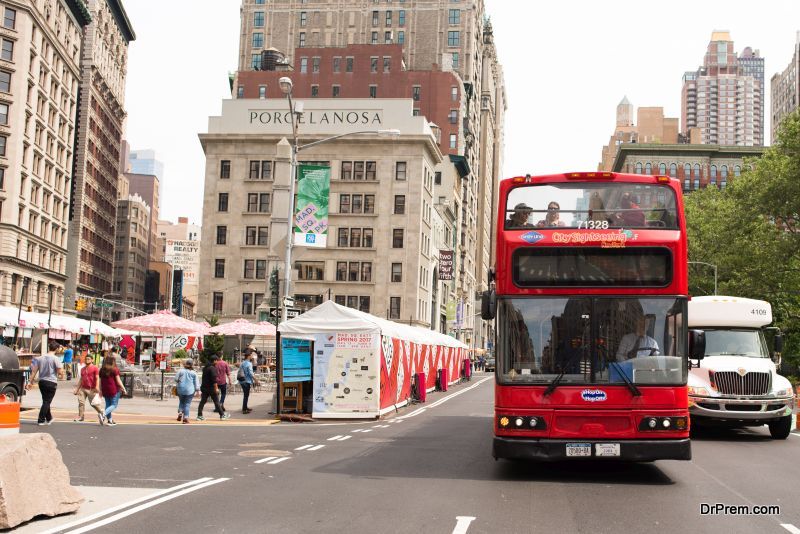 One of the best ways to see the city and its attractions, relatively quickly and cheaply, is via a double decker bus tour. You can easily book tickets in advance online. GoNYTours.com bus tours, for example, lets you set up your hop-on hop-off or one or multi-day pass bus tour with no hassle and at highly competitive rates. Audio headsets are often included, or even a live guided tour, and may be available in multiple languages.
You can simply get on your bus in Times Square (or other starting location) and travel effortlessly to 15 stops scattered around Manhattan. Weather permitting; you can ride on the upper story with an open roof. It would make a perfect base for all those amazing pictures you'd take. The wind will keep you cool and the sunshine will do you good. And your height gives you a great view of the city and of the sites you pass by.
At designated stops, you can get out and explore the most iconic Manhattan tourist attractions. If you have a one or multi- day pass, you can create your own itinerary and spend more time at the sites you want to see most.
Typical Bus Tour Sites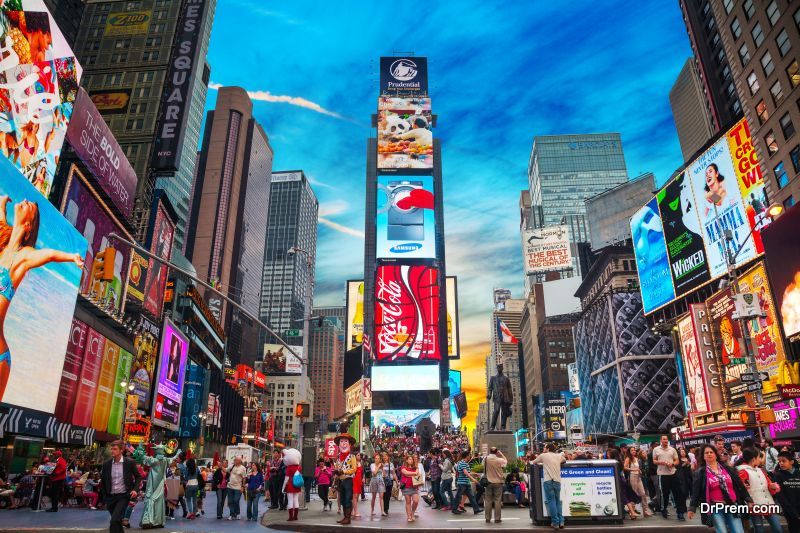 Here are some of the most typical sites included in hop-on, hop-off Manhattan bus tours:
Times Square. The usual starting point and return-to point. Seeing it lit up at night is especially impressive.
Macy's Department Store. A quick shopping spree at Macy's is a staple for any New York trip.
The Empire State Building. You may well get a chance to get out and catch a wide view of Manhattan from the building's Observatory.
The 9/11 Memorial. A sobering but key component of touring the city.
Some bus tours schedule in a stop here for some authentic Chinese dinner (New York style Chinese, that is). A stop-off at Little Italy is another common option.
Museums, such as Metropolitan Museum of Art, American Museum of Natural History, and Museum of the City of New York.
Manhattan Bridge, Brooklyn Bridge, the U.N. building, and excursions to various stops outside of Manhattan are also sometimes included. The view of the city's skyline, Central Park, the Hudson, and New York Harbor are as much a part of the experience as any of the official stops. You can get to all of these breathtaking views in comfort and without the stress of potentially getting lost simply by booking a bus ticket.
Article Submitted By Community Writer