Singapore has some of the Asia's finest theme parks. From small independent parks to giants such as Universal Studios, thrill-seekers and visitors of all ages are guaranteed some fund adventure. Fly to Singapore now and unleash the daredevil within you! Here's our pick of 5 must-go theme parks in Singapore:
1. Universal Studios Singapore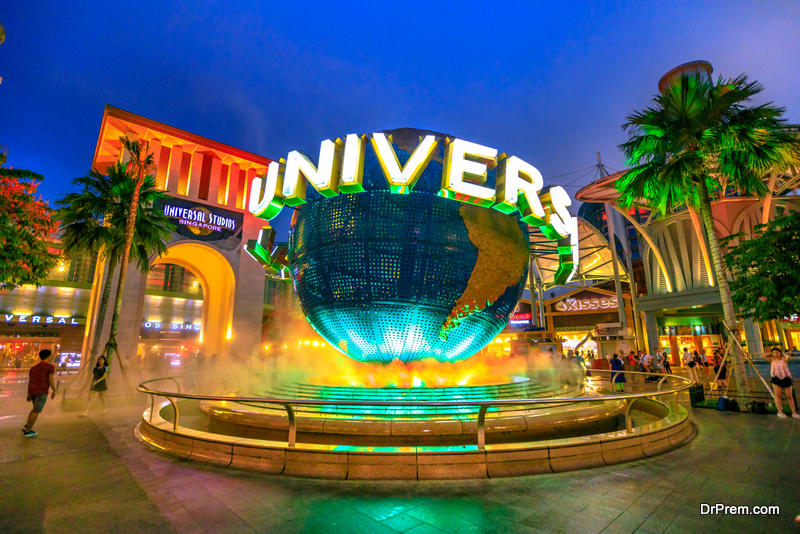 How to Get There: Alight at HarbourFront MRT Station and take the mono-rail train to Sentosa Island.
Ticket Info: Adult (Age 13-59) – S$81; Child (Age 4-12) – S$61; Senior (Age 60 and above) – S$43
2. Wild Wild Wet
Looking for some watery fun in Singapore? Wild WildWet is your ideal destination to spend a full day for some slippery adventure. The waterpark has wet-and-wild rides as well as pools and slides to cater to family members of all ages. Some of the hair-raising rides including Vortex, Ular-Lah, Free Fall, are ideal for thrill-seekers. Imagine taking a nearly vertical plunge down on one of Asia's longest slides, or a thrilling flume ride with your companions that will get your soaked, or electrifying 360° loops ride at a breakneck speed! Apart from exhilarating slides and rides, visitors can also enjoy some gentle family-friendly alternatives. Professors Playground offers many small slides, ladders, water cannons and paddling pools for some family fun, great for parents with younger children. After some intense and adrenaline-filled rides, why not sit back and relax at the park's Jacuzzi before you go? It's an adults' favourite to catch their breath and sooth their muscles after a long day.
How to Get There: Alight at PasirRis MRT Station and take the free shuttle bus at PasirRis Bus Interchange.
Ticket Info: Adult (Age 13-54) – S$24(Off-Peak), S$32(Peak); Child (Age 3-12) & Senior (Age 55 and above) – S$18(Off-Peak), S$24(Peak)
3. Skyline Luge Sentosa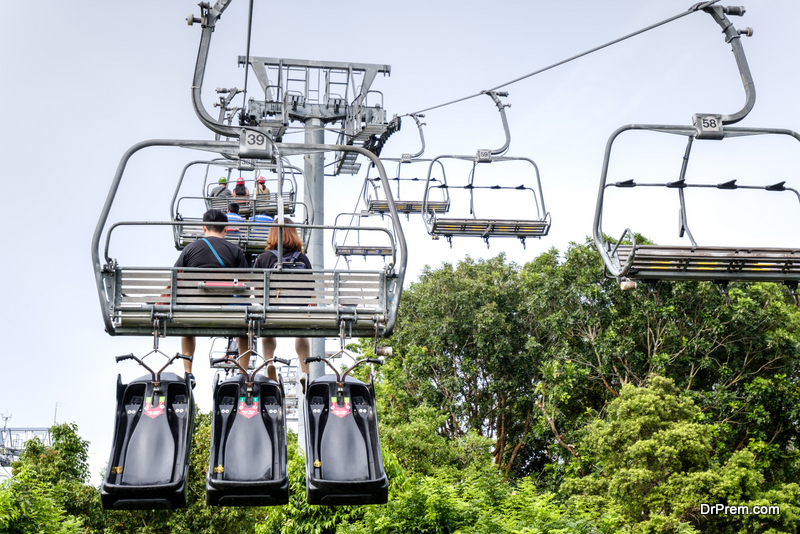 Opened in 2005, the lodge situated in Sentosa has four tracks, namely the Jungle Trail, the Dragon Trail, the Expedition Trail and the KupuKupu Trail. Unleash the daredevil in you while racing on long tracks with mind-blowing views. Each of the tracks has different features that will promise you a different scenic adventure! After taking the Skyride to the top of the tracks, you will ride in one of the Sentosa Luges to embark on your racing dream. KupuKupu Trail is the track suitable for beginners as lugers rides through the lush forests of Sentosa; the Dragon Trail is full of bends and twists, which is somewhat challenging and more exhilarating; the Jungle Trail features less twists and turns but lugers are pushed at higher speed on its straighter parts of the track, allowing for a fast and whirlwind experience; the Expedition Trail is the longest among the four as well as the most challenging, filled with hairpin turns and featuring long tunnels and slopes. To make the experience even more exciting, you can ride the luge at night!
How to Get There: Take the Sentosa Express and alight at the Beach station. Alternatively, you can go by bus or tram.
Ticket Info: 2 Luge & Skyrides + 1 FREE ride – S$24; 3 Luge & Skyrides – S$27; 4 Luge & Skyride – $30
4. G-Max Reverse Bungy
For the ultimate adrenaline junkies, don't miss G-Max Reverse Bungy – Singapore's first ever bungy. Compared to traditional bungy jumps, G-Max Reverse Bungy gives you an even more exhilarating experience by pulling you back up after being hurled down at full pelt. Passengers are jostled at a speed of 50 metres per second to a height up to 60 metres – for around 5 minutes. If that's not satisfying enough, enjoy the nearby GX-5 Extreme Swing! The giant swing falls from a height of 50 metres and reaches a speed as fast as 120 kilometres per hour. From above, you can catch a glimpse of the stunning skyline while screaming your heart out.
How to Get There: Alight at Clarke Quay and exit at Eu Tong Sen Street.
Ticket Info: G-Max Reverse Bungy: S$45; GX-5 Extreme Swing: S$45; Max-Combo (Both Rides): S$69
5. Legoland Malaysia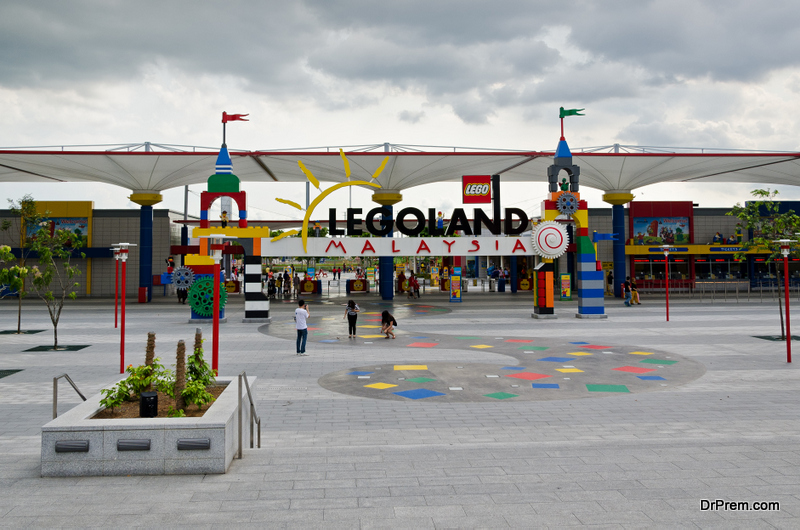 Located in Malaysia, the theme park is only 50-minute driving distance from Singapore's Changi International Airport. No wonder it is frequented by Singaporeans at weekends and holidays. The theme park is divided into eight zones, including The Beginning, Lego Ninjago World, Lego Kingdom, Lego City, Miniland, etc., with more than 70 rides and attractions. Enjoy the world of Lego and a variety of family-friendly rides!
How to Get There: Take a public bus to reach your destination in 2-3 hours; private car or taxi is faster but more expensive (travelling with 5 people or more will be cheaper than public transport).
Ticket Info: A range of ticketing options available for different family size and access to different zones of the theme park. To get the best package type best suited for your needs, check on their official website.
Ready for a fun and thrilling trip in Singapore? Cathay Pacific takes you to the destination on a safe and comfortable flight. Begin your journey by booking your flight now! It may turn out to be a vacation of a lifetime!
Article Submitted By Community Writer