If you are fed up with the cold weather at home, you might want to get away and find some winter sun. The Canary Islands are an excellent choice for catching that sun in the winter as they are off the north-west coast of Africa, which means they boast year-round sunshine and warm temperatures averaging the mid-twenties. Although winter brings some rainfall, you are only likely to experience some showers mostly during November to January.
This island group is a great destination to get some winter sun, read on below to find out more about different places to visit in the Canary Islands or why not check some of the top winter sun destinations here.
Fuerteventura
This island is the closest Canary Island to Africa and is the second largest island of all the Canaries. Fuerteventura boasts of more than 150 beaches to choose from, and this is the biggest draw for beach lovers and sunbathers. Ajuy beach has strange fine black volcanic sand, whereas Parque Natural de las Dunas de Corralejo has a long 11km stretch of fine white sand to enjoy. From there you can also get great views of the neighbouring islands Lanzarote and Los Lobos.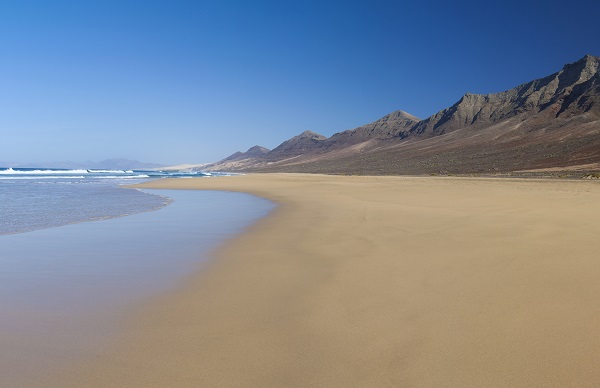 There are also some fantastic activities for children to enjoy on Fuerteventura. Oasis Park Fuerteventura is an excellent place to visit. The park is home to more than 3000 animals, where you can take a camel ride, see an animal show, and enjoy watching the residents within the botanical garden setting. For splashing around there's always the Aqua Water Park in Corralejo. Here you'll find water slides, a wave pool, a special area for small children and out of the water there's a bowling and a miniature golf course.
If you want to explore more of the island there are day trips and activities you can take advantage of. Jeep Safaris will take you on a journey through the volcanic landscape or try taking the route by horse riding. There are also many different water sports available here.
Tenerife
The largest of the islands Tenerife has everything you could want in a holiday. You may say there are two sides to this place. On one hand, there are lively resorts with shopping, attractions and bars and restaurants to enjoy. However, there are also peaceful places to relax and enjoy the sunshine. Tenerife is also the home to Spain's highest mountain Mount Teide.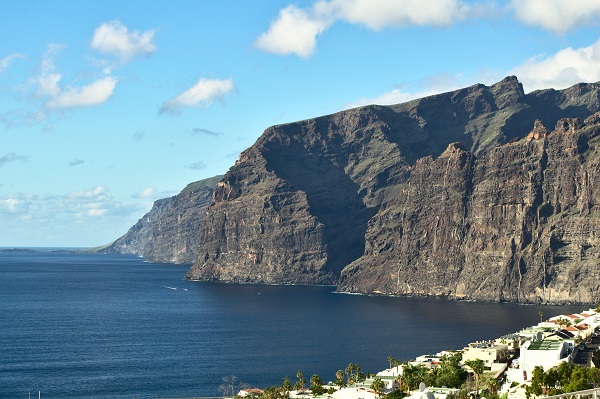 Costa Adeje, Playa De Las Americas and Los Cristianos are the more lively spots and are found on the South-West coast of the island. Whereas Los Gigantes, Puerto de Santiago and Playa De La Arena are more peaceful. Part of the island enjoys an excellent breeze which makes it a great place for windsurfing and kite surfing. For kids, there's Siam Park which is a huge Thai themed waterpark plenty of fun rides to keep everyone entertained.
The best way to get around the island is by car. You can take a drive up through the lovely Masca Gorge where you can get amazing views of Mount Teide and over the Atlantic Ocean.
Gran Canaria
The south of the island is where the action is, including the popular resorts of Playa del Ingles and Puerto Rico. There are busy beaches with plenty of things to do.  Families with small children, however, prefer the quieter resorts of Puerto de Mogán and San Agustin as they are better for the younger ones and more family friendly.
Not only does Gran Canaria has beautiful beaches and scenery, there's also lots of history and culture to discover. Las Palmas de Gran Canaria is the capital of the island and the place to go if you want to find out all about the history of the island. There are museums and galleries to discover and you can visit the Cathedral de Santa Ana in Vegueta which is found in the picturesque old town.
Diving and snorkelling are popular activities here as the sea is great for seeing all kinds of sea life. An excellent place to visit and soak up in the winter sun. The place is so diverse that it is often compared to a continent all of its own.
Lanzarote
The stunning landscape is the first thing you'll notice about Lanzarote and you'll see why UNESCO has listed it as a World Biosphere Reserve. There are sweeping mountains, black rock formations, sprawling lava fields and craters, reminding you that the island is home to over a hundred volcanoes which are called the Fire Mountains.
As well as the amazing mountains and volcanoes there are many beautiful varied beaches to discover. In the south, there are some of the best beaches on the island. These include Papagayo which is a white sand crescent moon shaped beach hidden in the Los Ajaches nature reserve. There you'll find lots of places to enjoy and relax, and plenty of water sports to choose from too.
If you want a taste of traditional life in the Canaries, then Lanzarote is the island to choose. There is the town of Costa Teguise and Puerto del Carmen where you can sample the local cuisine at the traditional restaurants. The village markets are also great places to watch local craft makers at work and see the items, which have been made from locally sourced materials by local people.
La Palma
As one of the smaller islands, La Palma is a lesser known destination in the Canaries. When you visit this island, you will see what all of the Canary Islands were like before commercial tourism. The resort is very different from others and if you want a nice peaceful holiday then you'll find quiet cobbled villages and small coves to explore.
Although there aren't any long sandy beaches that you might expect in a beach resort, there are plenty of other sceneries to enjoy. La Palma is the world's steepest island standing at 2,426 metres at its peak and the whole island is full of undulating mountains and rising forests. If you like to hike and explore then this place is well worth exploring.
Fuencaliente on the south coast is an excellent choice for a relaxed and off the beaten track winter sun stay. The town is set between forests and vineyards and of course volcanoes. You can hike the local walking trails, visit the 18th-century church and explore the tiny black sand bays and coves. Los Cancajos is a popular place with families as there are three Blue Flag bays here to enjoy, though you shouldn't expect golden sand there as the beaches here are dark and volcanic but soft enough to walk and laze on.
Which Canary Island would you choose?
Well, with so many places to choose from, which would you like to spend some time in getting that winter sun? You can enjoy relaxing on the beach, hiking and exploring mountains or taking part in some water sports, the areas are so diverse you can do it all in one holiday.  Whichever kind of traveller you are, there is a resort for you. From the family-friendly Fuerteventura, lively group holidays in Tenerife, or a couples haven in Lanzarote, you can enjoy some sunshine on holiday this winter in the Canary Islands.
Article Submitted by Community Writer.