Holidaying in Vietnam with your kids could be one of the most memorable holidays of your entire family. Vietnam has exciting activities for children, apart from the temples and other historical places it is well-known for. You should try to visit all of Vietnam, as each city/region has some unique features. The way to enjoying a nice holiday in Vietnam with kids is to mix the sightseeing with fun activities, to keep them interested and happy. Check out some cities in Vietnam which has many adventurous and novel activities for children, which you must visit while traveling with family to Vietnam:
Tips for traveling with family to Vietnam
Experience cyclo-rickshaw rides in Hanoi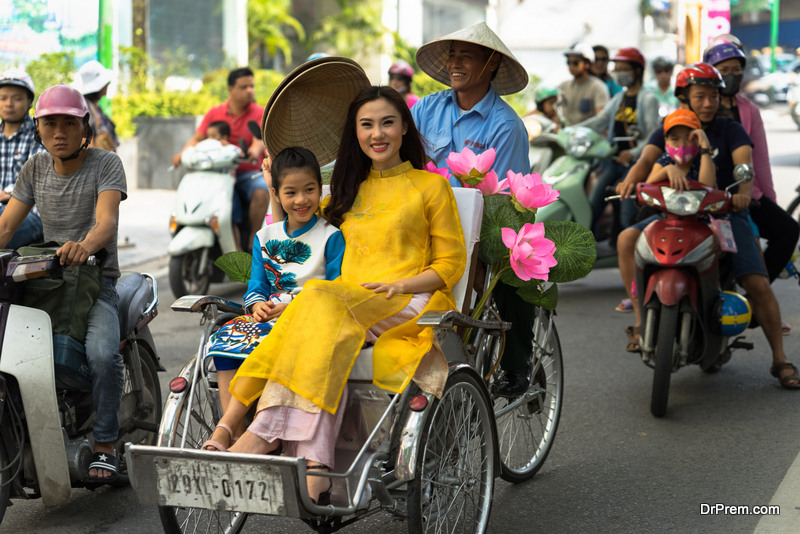 Vietnam's capital, Hanoi is an elegant and beautiful city. Your kids and you would love to explore this city which has 1,000 years of history. It's one of the best places to visit with your entire family, to learn about the ancient culture while picnicking on the shores of the lake Hoan Kiem Lake. The kids would enjoy watching the colorful and clever street performers while interacting with the friendly people of Hanoi.
One of the must-do things while on holiday with children to Hanoi is to hire a cycle rickshaw and take a tour of the city. It's really fun and a unique way to experience Hanoi's parkland and lakes. Take your children to the art galleries, as the children should definitely know about the native art of the country.
Out of the things to do with kids in Hanoi is to watch the amazing water puppet shows. Puppetry art is passed down generation to generation and it is an art which is simply spellbinding.
The Ethnology Museum provides in-depth knowledge about Vietnam (and has an indoor playing area for children). Take your kids to Bat Trang Pottery Village to learn pottery techniques and the entire family can make ceramic products to take back as mementos.
Catch the water puppet shows, 3D paintings, and Amusement Parks in Ho Chi Minh City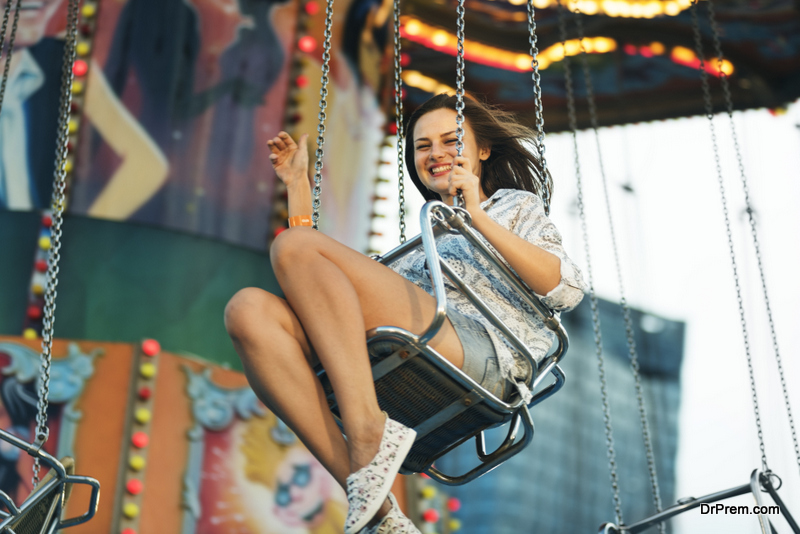 As in Hanoi, when you're traveling with family to Vietnam, you have to find exciting things for the kids to enjoy. Usually, they will be content to sight-see for an hour or two, but after that boredom sets in and you have cranky kid/s on your hands. To keep the kids happy, Ho Chi Minh City is one of the best places to visit.
The Artimus 3D Museum Saigon has some wonderfully vibrant 3D paintings of popular landmarks, sculptures, and wildlife. It's open every day, and the children would love at the results of the clicks here – the 3D background comes alive in the photos. Clever and fun!
The Saigon Zoo, as well as Botanical Gardens, is known as one of the oldest zoos in the whole world. A holiday with children in Vietnam warrants a visit to the Suoi Tien Cultural Amusement Park, where the entire family will be thrilled by the statues of mythical creatures, such as tortoises, phoenixes, etc. Roller coaster rides, 4D theatre, and an aquarium are things to do here. And of course, the wave pool and the Flying Fox water ride at the Dam Sen Water Park will make your kids never want to leave the city!
Cruising in Halong Bay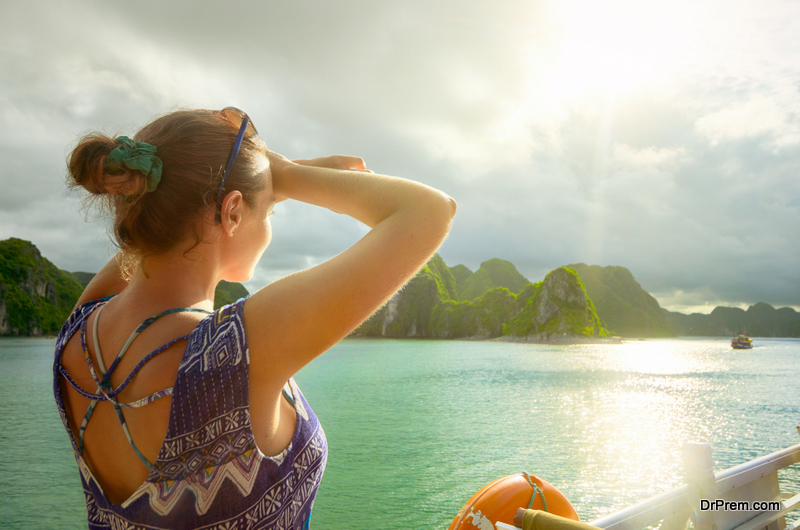 While traveling with family to Vietnam, you can't miss visiting Halong Bay. The bay's fascinating green waters, stunning rock formations is an unforgettable sight which will make you and your children wonder at the magnificent beauty of nature.
One of the things to do with kids is to take boat cruises and exploring the hidden caves. It will give the entire family to bond and come closer in the tranquility of Halong Bay. Another unique experience is to visit the floating islands in the ocean, an opportunity for you to experience a completely different way of living while traveling with family to Vietnam.
Crabbing and basket boat ride in Hoi An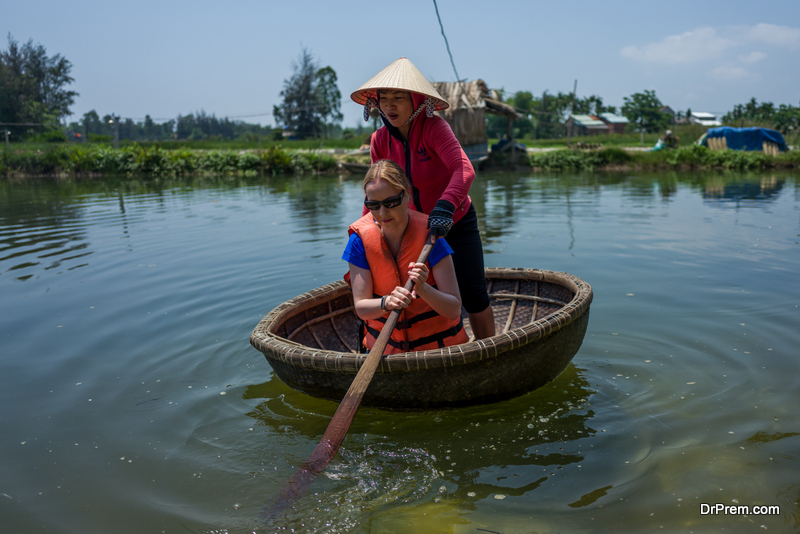 Hoi An has much to offer, both in town and in the outskirts. The town is extremely pretty with wooden shop facades and bustling local markets. You can sample the delicious Vietnamese cuisine in the sensational restaurants. Scroll down to the end of the article to find out more about the foods you can indulge in while traveling to Vietnam, and where to find them.
Make an adventure out of your trip to Hoi An by going to the outskirts. Here, the children can enjoy fun-filled rides in basket boats in the paddy fields. The kids and you can fish for purple crabs hiding in the bamboo stems too, Vietnamese style. Then lunch at a local restaurant and cycle through the friendly villages with exquisite scenic views.
Our children are quite entitled these days and used to having everything. Children need to see simpler lifestyles, and a homestay in a Pu Luong village home can be a real eye-opener. This will make them more empathetic to people who have less, but still, are very happy. They can help to cook dinner over an open fire, sleep on a mattress on the floor, inside a mosquito net. It's an experience which the kids will remember for a while. A holiday in Vietnam is an amazing experience for the entire family!
Foodie destinations you can find in Vietnam
Vietnam is a destination that foodies must visit at least at once in their lifetime. The cuisine is more than a part of Vietnam culture and history. The styles of restaurants and food vary between regions. Visitors can find dishes that feature a variety of ingredients including black pepper, chilies, freshwater fishes, prawns, crabs, sweet flavors, and coconut.
Cities like Hanoi, Saigon, and Ho Chi Minh house plenty of street-side cafes where you can enjoy local cuisines and dishes. Some famous restaurants in Vietnam are:
French Grill, Hanoi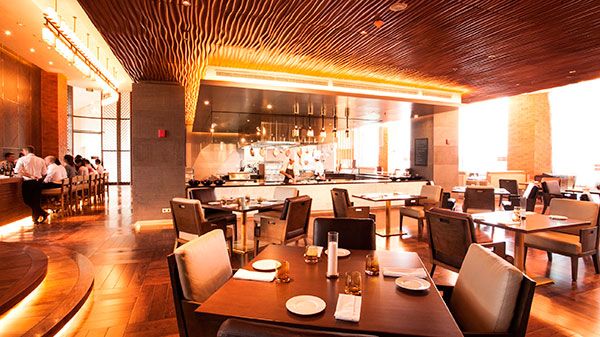 French Grill restaurant in Hanoi offers great local food to its guests. This includes French classics and amazing flavors, which will satisfy your taste buds. Visitors can enjoy different cuisines in a vibrant and lively atmosphere. French Grill can accommodate more than 80 people at the same time and can serve the best food to them. The restaurant is featured with private dining room, a largest open kitchen, and a walk-in wine cooler.
The Gourmet Corner Restaurant, Hanoi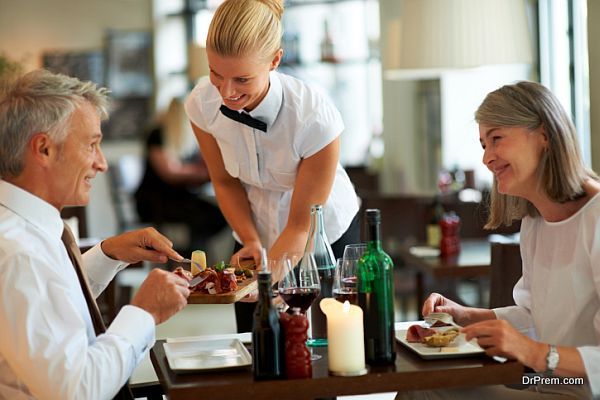 The Gourmet Corner Restaurant is located in Hanoi. It offers traditional food of Vietnam to its guests. Visitors can try different cuisines and enjoy your drink at the terrace bar to see the panoramic view of the river and the lake. The restaurant offers full meals during the day and offers a special menu at night.
Morning Glory Street Food Restaurant, Quang Nam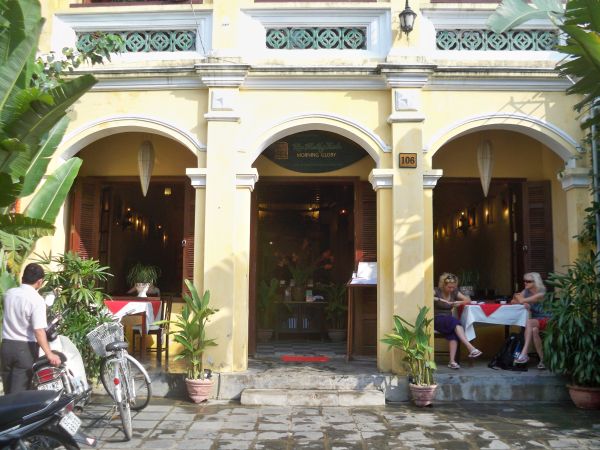 Morning Glory Street Food Restaurant is an outstanding restaurant located in Quang Nam. The historic premises of the restaurant offer traditional street dishes from Central Vietnam. You can try dishes like pork-stuffed squid and shrimp mousse on sugarcane skewers. The restaurant also offers delicious vegan food for people and you can choose from a wide variety of vegetarian dishes.
Quan Kien, Hanoi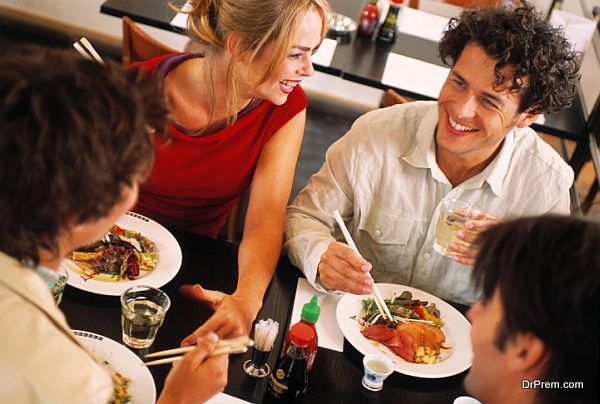 Quan Kien restaurant is renowned for its unique drinking and dining combinations. Visitors can try traditional Vietnamese liquors and a wide range of food and drinks. You can spend an amazing time with your partner and can try delicious wines and traditional drinks in the country. Traditional liquors include liquors made from maze, corn, and cereals.
Au Parc, Ho Chi Minh City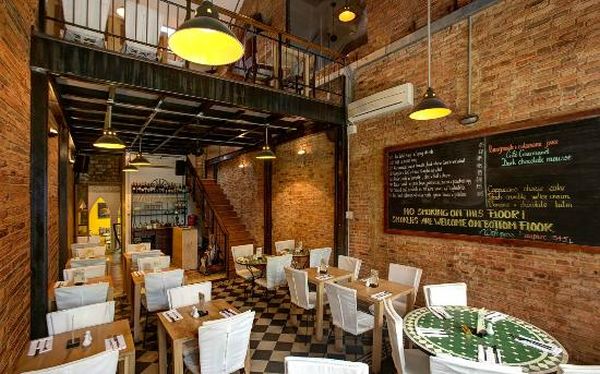 This restaurant offers the most interesting cuisines of the country and world as well. This includes French cuisines, Turkish cuisines, Californian cuisines, English cuisines, and Swiss cuisines. Au Parc restaurant in Ho Chi Minh City is a perfect place to try different cuisines at the same place.
Summary
Vietnam is a great food city, where you can try delicious cuisines of the world. You can discover a number of restaurants in the streets of the region and can try a wide range of vegetarian and non-vegetarian food.