Those that have been to Tuscany, or know some basic details about the popular Italian region, are probably aware of it being not only the birthplace of the Italian Renaissance, but also one of the most prestigious wine-making areas. Particularly beloved for its influence on high culture, fantastic landscapes, artistic legacy, and history, Tuscany is home to numerous small villages and its amazing and verdant terrain, along with its sugary shores.
Amidst all this beauty and appeal, the Maremma is a Tuscany province that feels like a dream come true, especially in the spring and summer months, mainly due to the crystalline waters and sandy beaches that adorn its shoreline. No wonder you find some of the most exclusive and elegant mansions garnishing the lush hills, valleys, and adorable countryside.
Of all these properties, some manage to combine both the exquisiteness of the Tuscany scenery with the magnificence of the Tyrrhenian Sea, offering guests unique experiences and the widest range of VIP amenities to ensure a luxury and utterly rewarding stay. Today, we are talking about Villa Tombolino that welcomes guests at picturesque Bolgheri, Maremma.
1. Tranquility & Privacy Meet Style & Top-Tier Facilities
Guests staying at Villa Tombolino admit being overwhelmed by a soothing, and, at the same time, empowering and incredibly rejuvenating sensation that creates emotions of bliss and euphoria the moment they lay eyes on the iconic mansion. Indeed, Villa Tombolino has been specifically designed to feel Like the Garden of Eden has landed on earth and made a home for everyone wishing to escape the hustle of the busy, modern lifestyle and the noise of the big cities.
The 600m2, 6-bedroom villa greets with an open floor plan and more conveniences and modern comforts than one can count, including lavish indoors and outdoor areas, a fully equipped kitchen with breakfast bar, chic en-suite bathrooms and charming bedrooms with stunning window views, and even guest baths and a kids' playroom with a kitchenette for those quick snacks you will probably want to make to satisfy the little ones as they enjoy their play time. Everything is tastefully decorated with a romantic rustic style, with exciting mixes of pastels and bright colours and details that complement each area's particular style.
2. Matching the Grassy Countryside With the Powdery Coast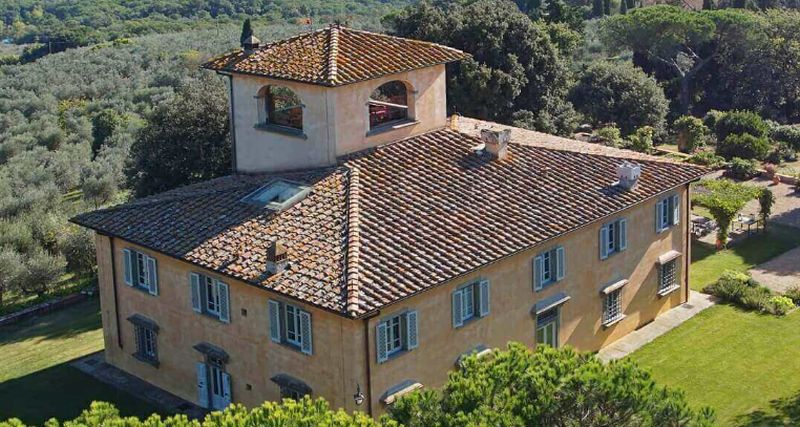 Stepping outside Villa Tombolino is when all the real magic happens. Surrounded by tall trees, well manicured lawns, and green bushes, the mansion sits in the heart of a real-life utopia. Feel free to take a refreshing dive in the private pool, sharpen your ping pong skills, sip your morning cup of coffee under the pergolas, organise a BBQ, or soak up some sun at a lounger or the adjacent sitting area and let your molecules recharge with positive energy. And, if you feel like invigorating your body and mind with a swim in the cobalt waters of the Tyrrhenian Sea, you are only a few minutes away from the shore. Can one ask for something more soul-pleasing!
Villa Tombolino is provided by esteemed luxury property rental agency Kinglike Concierge, who have become a point of reference for anyone wanting to experience VIP holidays at world-class destinations like Tuscany, Italy and Mykonos, Greece. Serving a huge VIP clientele, they also pamper with complementary services that range from a private chef and VIP reservations to personal trainers and private helicopter rides, while listening carefully to their clients' needs and desires through 24/7 guest support.
Article Submitted By Community Writer